News
Tiger's Still No. 1 In Making Money (But Just Barely)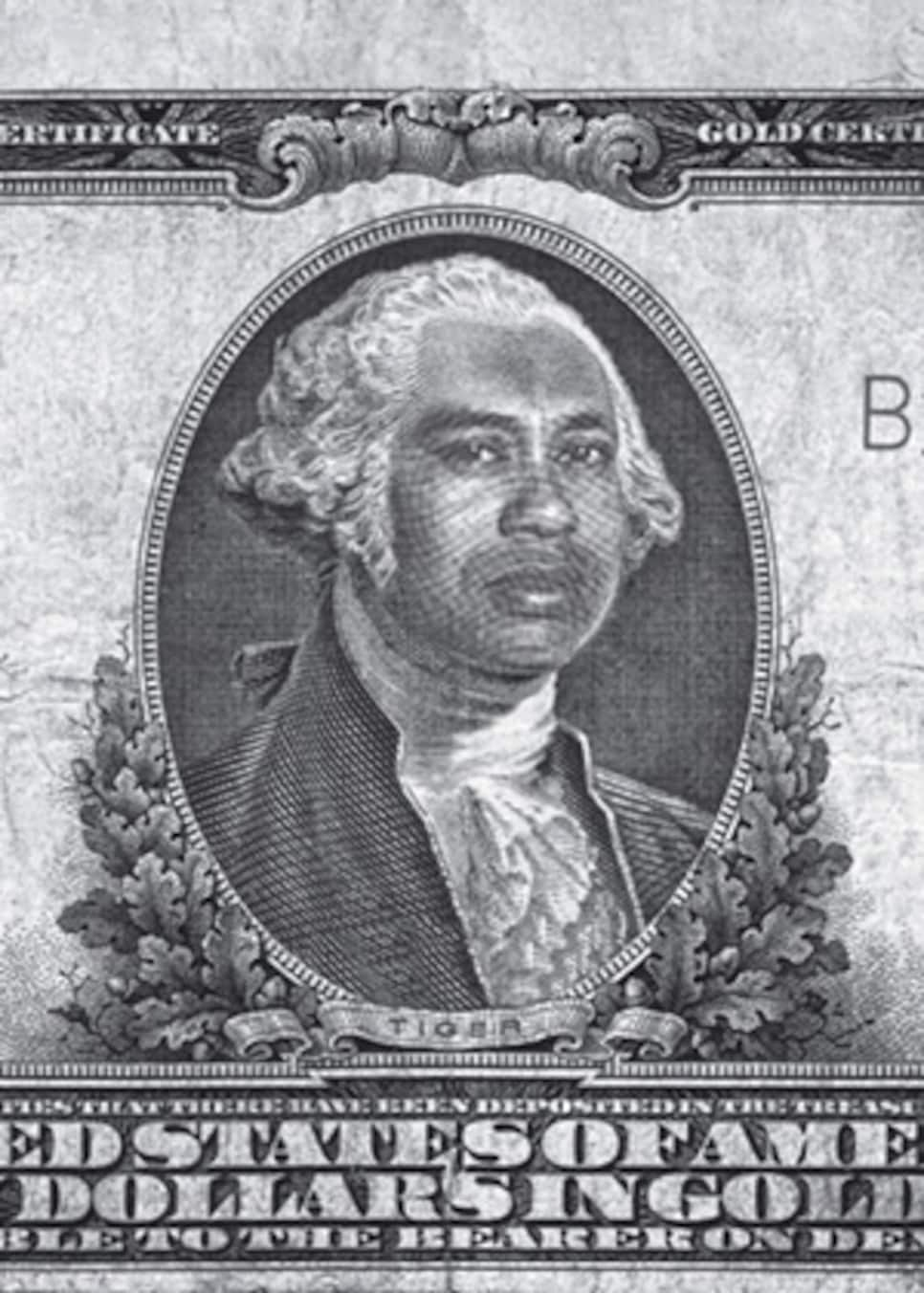 From the moment tiger woods stepped to a podium on Aug. 28, 1996, with $67 million in Nike and Titleist money in his pocket, leaned into a microphone and said, "Hello, World," he has been the highest paid golfer and one of the richest athletes on the planet. And as a rarity in an over-hyped world, he exceeded expectations.
But just as Tiger is no longer No. 1 on the golf course, falling to No. 34 in the World Ranking as he entered 2015, he is no longer the runaway leader in earnings. After dominating the Golf Digest 50 money list from its inception in 2004, Woods had his slimmest lead ever in the 12th annual listing of winnings and off-course earnings, edging Phil Mickelson and Rory McIlroy.
Woods, who won only $610,775 in an injury-plagued 2014 season, topped the list with $55.1 million. Mickelson was second at $50.7 million and McIlroy third with $49.2 million. Compare that to Tiger's 2009 earnings—before scandal and injuries started to take a toll—when Woods totaled $121.9 million, with $21 million of that coming in on-course winnings. That year, his GD50 lead over No. 2 was $80 million. Entering his 20th season as a pro, Woods, 39, has earned more than $1.3 billion in his career, with all but $155.8 million of that coming off the course (see charts).
Those chasing him are younger, more global and more talented than ever. Eighteen players on this year's GD50 are 30 or younger, representing seven nations. Eleven of those 18 are American, including Stacy Lewis, Michelle Wie and Paula Creamer, the only women on the list.
"Golf has been in a generational bear market, but someone always comes along," says Casey Alexander, an analyst for Gilford Securities Inc., who specializes in golf stocks. "It almost takes the decline of the previous generation's heartthrob to create the conditions for a new dominant force to emerge.
"Palmer overlapped a little with Hogan, Jack with Arnold, and Tiger with Jack in that he's chasing that 18-majors record," Alexander says. "There are a lot of young players out there representing the global marketplace who have the talent to be that guy."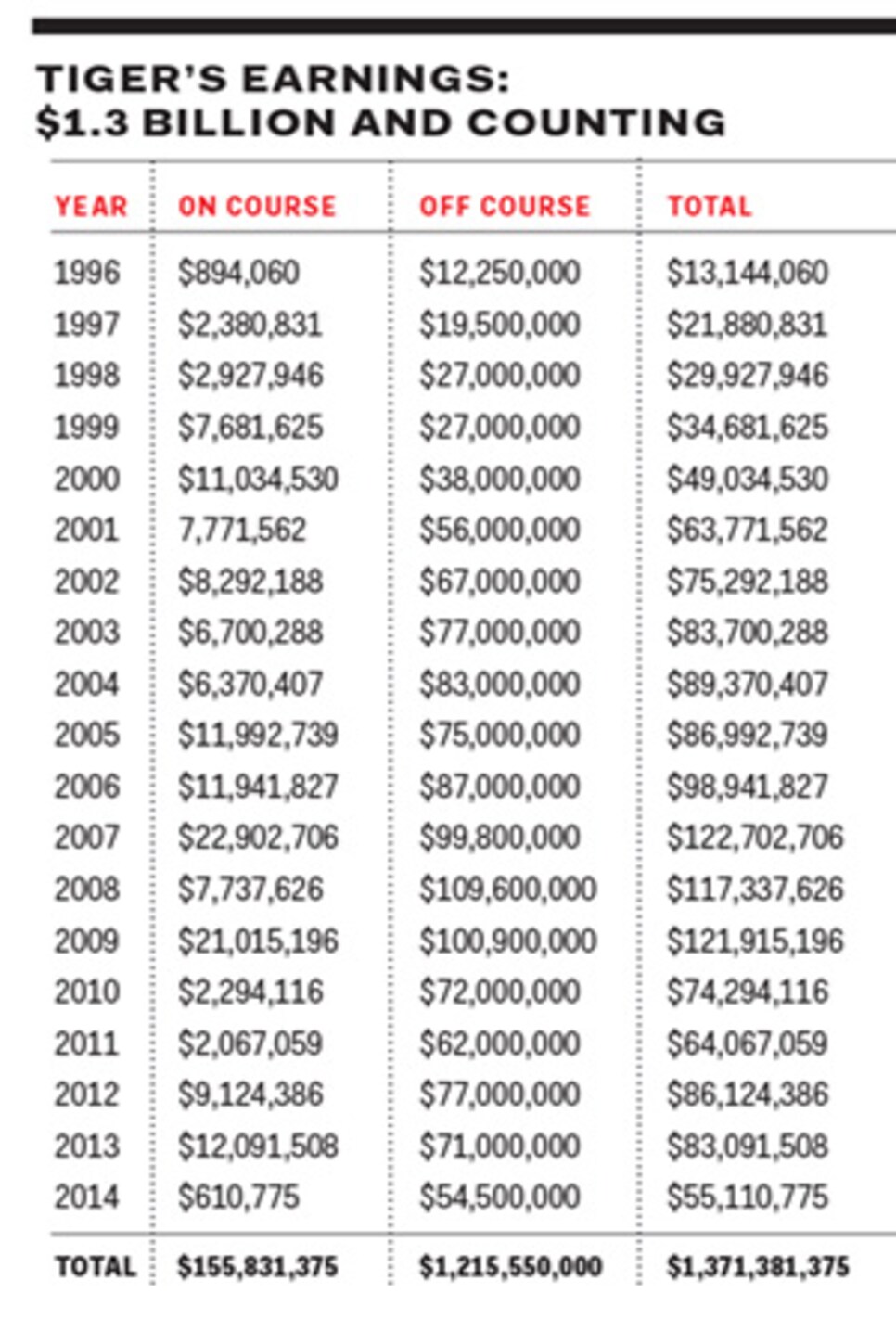 Mickelson, still a force at 44, appears likely to transition nicely into an elder statesman in the game and maintain the financial impact of icons like Palmer (No. 4 at age 85), Nicklaus (5), Gary Player (11) and Greg Norman (17), who continue to benefit financially in design, licensing and endorsement deals long after their competitive days.
McIlroy made it to No. 3 in part because of highly lucrative deals with Nike, Omega and Bose and because his two major victories in 2014 propelled him to more than $14 million in on-course earnings. McIlroy was surpassed in winnings only by Billy Horschel (6), who earned more than $15.5 million, thanks to the $10 million FedEx Cup bonus. McIlroy, 25, and Horschel, 28, are part of the youth movement that is invigorating the game. No. 12 Rickie Fowler is 26, No. 16 Jordan Spieth is only 21, and No. 19, U.S. Open champ Martin Kaymer of Germany, is 30. Lewis, turning 30 in February, is the highest-ranked woman, at No. 41; Wie, 25, is No. 42; and Creamer, 28, is No. 47. Lurking just outside the top 50 are Inbee Park, 26, and Lydia Ko, 17, who already has five LPGA career wins and is almost certain to crack next year's GD50.
Other young stars making this year's list: Americans Dustin Johnson, Chris Kirk, Keegan Bradley, Webb Simpson and Patrick Reed, Jason Day of Australia, Seung-yul Noh of South Korea, Victor Dubuisson of France, and Hideki Matsuyama and Ryo Ishikawa of Japan.
'ANOTHER STRONG MOVE FOR NO. 1'
Five years after his scandal, Woods has yet to reclaim his aura of invincibility. Despite eight victories in that span—a great career for many players—he has not won a major since the 2008 U.S. Open, leaving him stuck at 14.
At one point, Woods' endorsement partners included Accenture, American Express, AT&T, Chevron, EA Sports, Gatorade, Gillette and General Motors. The list in 2014 included MusclePharm (a sports-nutrition brand), Kowa (a Japanese textile company), NetJets, Nike, Rolex (the biggest name he has added post-scandal), Tatweer (the golf community in Dubai that was abandoned in 2011 when the real-estate bubble burst but for which he is still being paid) and Upper Deck, plus other design work and lucrative appearance fees. Nearly half of Woods' $54.5 million in off-course money comes from his Nike deal, which at one point accounted for only about 20 percent of his endorsement/design/appearance income.
"Consumers' memories tend to be short, and they routinely focus on success, as well as turnarounds and compelling stories," says David Carter of The Sports Business Group and the University of Southern California's Marshall Sports Business Institute. "Add to this the perspective of the global marketplace, and it's possible he can regain much of his earnings power."
Alexander says that between Nicklaus' two major victories in 1980 and his Masters win in 1986 at age 46, his off-the-course revenue was "declining precipitously, but he clearly was only one major away from a lifetime of endorsement opportunities. The '86 Masters made a huge impact in design and endorsement opportunities for Nicklaus. And if Tiger wins a major now, he's not coming back from his personal problems, he's coming back from injuries, and that will be perceived more positively."
Late in 2014, Woods announced a business deal with Hero MotorCorp, a motor-cycle manufacturer based in India. His agent, Mark Steinberg of Excel Sports Management, says injuries cost Woods "big, big, big appearance money in Asia" late last year but says at least one more deal will be announced in 2015.
"It won't be over," Steinberg says. "He'll make another strong move for No. 1, another move for multiple years." Steinberg also says that Woods will focus more on licensing deals, which are less time-consuming than endorsements, each of which involves a commitment of several days a year. "It's the Arnold Palmer model," Steinberg says of pursuing licensing arrangements.
Far more than just himself, Woods helped make all the stakeholders in the game a lot of money. "Yes, he did bad things, but he was also tremendous for the game," one agent says. "If Tiger had the kind of season Rory had [in 2014], think what that would have meant for the game of golf—think where we would be right now."
The Palmer-Nicklaus-Player-Norman group shows the enduring earning power of golfers. Woods and Mickelson will almost certainly follow that path.
Mickelson has Barlcays, Callaway, Exxon-Mobil, KPMG, Rolex and Amgen among his business partners. "Phil is the full package when it comes to someone to represent our brand," says Shawn Quill, director of sports marketing and sponsorships at KPMG. "What makes Phil really great is that he is more than a brilliant golfer. He understands business, he understands economics, he is so well-read, and he can have conversations with business executives about anything. That makes him unique. Building relationships with very senior executives is tough. Golf is a great venue for that. The course is a great place to do business, and Phil helps us do business with those companies."
Realizing the value Mickelson provides in connecting with business executives led KPMG to a relationship with Lewis. "We had never sponsored a female athlete before," Quill says. "We noticed in our outings with Phil that we weren't getting as many female executives as we wanted. And there are now more female executives."
KPMG has taken that commitment to the next level, and this year begins a five-year deal to sponsor the KPMG Women's PGA Championship, increasing the purse of what was the LPGA Championship by more than 50 percent, to $3.5 million, and getting weekend network TV exposure on NBC in addition to Thursday-Friday on Golf Channel.
"We want other tournaments to raise their purses like we did," Quill says. "That's the only way to get more women on the Golf Digest 50." The tournament at Westchester Country Club this year will include a one-day summit on empowering women. "We want to increase the number of women in leadership positions," Quill says. "Stacy says, 'I have a dream that one day our tour will get there.' What's driving us is to realize that vision she has."
For McIlroy, whose representatives declined to speak for this article (likely because he was engaged in a lawsuit over his finances with past business associates), 2015 could be an important year. After he won the 2011 U.S. Open by eight strokes, his first major victory, McIlory played the next five majors without finishing inside the top 25. Then, after winning the 2012 PGA Championship, also by eight strokes, he fell from No. 1 and went six majors without contending before winning the British Open and PGA last year.
"Rory has been the optimum of a streak player," Alexander says. "His cold streaks have been as cold as his hot streaks have been hot. And now there is starting to be some conversation about him and the Nicklaus record. That will take guts, but if he can live up to the challenge and achieve consistent greatness, then the sky is the limit for him."
McIlroy goes into Augusta National having won two majors in a row and needing the Masters to become only the sixth player to complete the career Grand Slam. And imagine the buzz if he goes to the U.S. Open at Chambers Bay in June chasing the Rory Slam, trying to match Woods' feat of winning four majors in a row.
No one really ran with Woods to challenge him for No. 1, but you get the feeling someone—or more than one—will keep pace with McIlroy. There is too much young talent out there for that not to happen, and there are dozens of businesses with millions of endorsement dollars just waiting.