News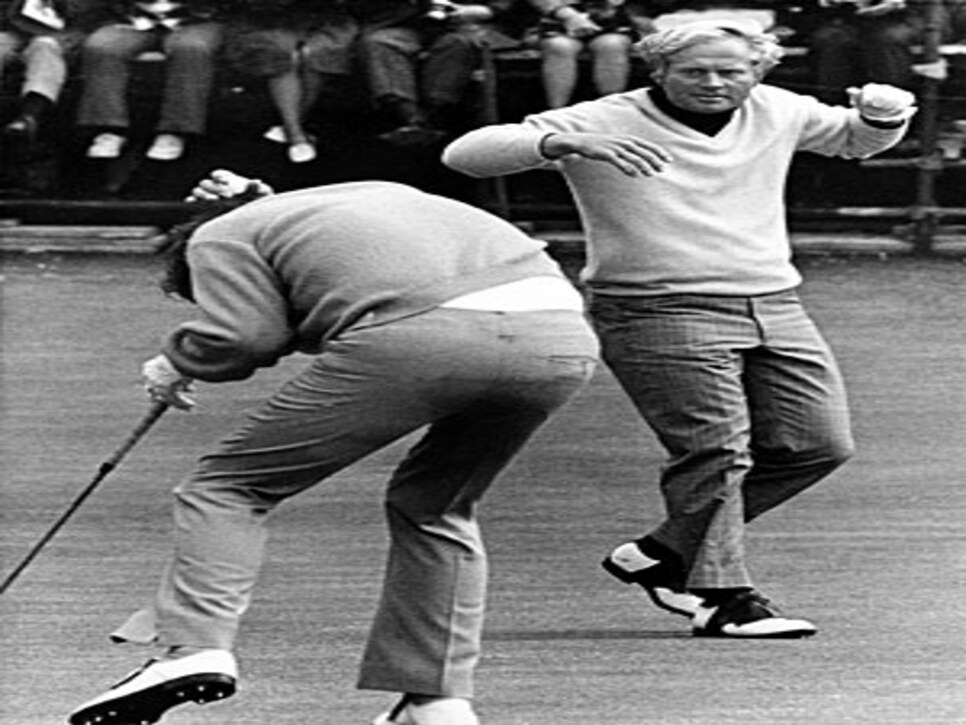 Sanders ducks out of the way of the putter Nicklaus tossed in celebration of his win.
ST. ANDREWS, Scotland -- The final round of a British Open at St. Andrews is always a poignant day for Doug Sanders. It was in 1970 that he missed a 3-footer on the home hole of the Old Course to fall into a playoff with Jack Nicklaus, which he lost by a stroke the next day. Since then, Sanders has admitted that his mind wanders to the putt "only about every five minutes."
But Sanders, 78 this week with residences in Houston and Palm Springs, has made a point of coming to the old grey town all seven times it has hosted the British Open since. He sees old friends and rivals, but he feels warmest when he is recognized by regular townspeople on the streets.
"People say, 'Mr. Sanders, we're so sorry you missed that putt,' and a lot of them have forgotten that the guy that won was the greatest player in history," he said during a brief conversation before the leaders teed off Sunday. "It's almost like for them, I was the winner."
All week he was a smiling, brightly dressed fixture on the often gray and grim practice tee, his good looks still evident. On Sunday he sported a white pullover with the grapefruit-sized figure of a red rooster sewn in, white pants and red shoes. He hung back at a respectful distance from the event's main performers, but whenever a player or swing coach initiated eye contact, Sanders would invariably engage them. Some understandably had little time for diversion, but many were soon both listening and laughing.
Spotting Padraig Harrington working with Sam Torrance despite having missed the cut two days before, Sanders said, "I love that guy because he works so hard and made himself a champion." It also prompted him to access his mental Rolodex of jokes. "Did you hear about the Irishmen who worked in a distillery and fell in a 1,000 gallon vat of lager and drowned? When his co-workers told the man's wife, she said she hoped he hadn't struggled much before expiring. The co-workers said they didn't think so, because before expiring he'd gotten out twice to relieve himself." Or words to that effect.
Sanders won 20 PGA Tour events and finished second in four major championships, a record that so far has left short of serious consideration for the World Golf Hall of Fame. Nevertheless, he is considered by astute observers like legendary instructor John Jacobs to be among the great shotmakers in golf history. Known for his ultra-short backswing, Sanders points out that he had perhaps the longest through swing, and takes his familiar wide stance to demonstrate despite recent surgery on his left shoulder that included a metal implant. He still plays in corporate outings, occasionally breaking par from the forward tees, and remains unerringly straight. "The only times I left the fairway was to get a phone number," he cracks.
At St. Andrews, Sanders did not speak with the player he is most intrigued with, Tiger Woods. "I would love to have three 30 minute conversations with Tiger," said Sanders. "I could help him. With his game, and with his life. I was married to a wonderful woman for many years, but I made the biggest mistakes of my life, and she divorced me. She's still my best friend, but I have so many regrets, and I would do so many things differently. I know Tiger respects the guys who have been there. Well, all the girlfriends I had, who has been there more than I was. Who better than me?
You know, time moves on, and you get forgotten. That's all right, but I'm at the stage where all that matters is giving back. When you die, the only things you keep are what you gave away."