News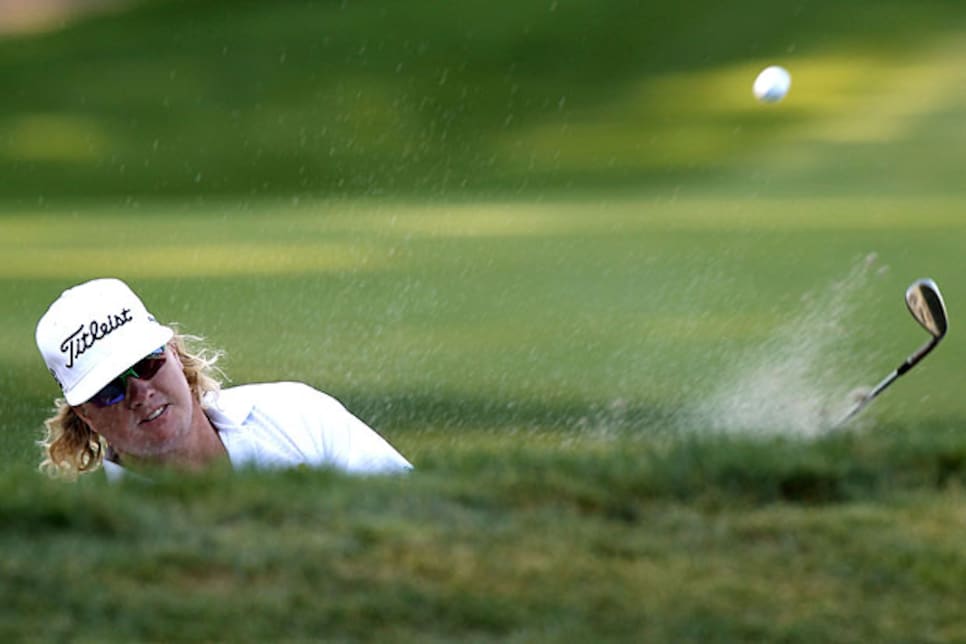 A holed bunker shot on the 13th hole put Hoffman in the lead for good.
NORTON, Mass. (AP) -- Charley Hoffman was rolling in so many putts he lost track of how many birdies he made Monday. His final stroke on a Labor Day masterpiece was his 11th birdie, more than enough to win the Deutsche Bank Championship.
The question is whether it was enough to make him a last-minute pick for the Ryder Cup.
Hoffman ran off four straight birdies early to erase a four-shot deficit, seized control by holing a bunker shot on the 13th and closed with a 9-under 62 on the TPC Boston for a five-shot victory over Geoff Ogilvy, Jason Day and Luke Donald.
Tiger Woods had three rounds in the 60s for the first time this year. He closed with a 69 to tie for 11th, and kept his No. 1 ranking in the world when Phil Mickelson imploded again.
Mickelson needed only to finish fourth to become No. 1 for the first time in his career. Instead, he took two double bogeys on the back nine and shot 76 to tie for 25th. A month ago, Mickelson had an equally good chance at Firestone and shot 78.
Even if he doesn't make the Ryder Cup, the FedEx Cup is looking pretty good for Hoffman.
He was No. 59 in the standings and arrived at the TPC Boston wanting to make sure he advanced to the third round of the playoffs next week outside Chicago. He wound up a winner, moving to No. 2 in the standings. That assures him a shot at the $10 million bonus, and puts him in all four majors next year after not playing any of them this year.
As for the Ryder Cup? U.S. captain Corey Pavin will make his four selections Tuesday morning in New York. The frontrunners are Woods, Zach Johnson and Stewart Cink, with no one standing out as the fourth choice.
Pavin had said earlier in the week that no one should assume a good week at the Deutsche Bank would put him on the team.
Hoffman, oozing California cool with his blond locks flowing from under his cap and kelly green pants to match his shoes, made a strong impression with his game and his words.
"No question I think I can contribute to that team," Hoffman said. "If I can shoot 62 here in the playoffs, I'm pretty sure I can handle the Ryder Cup."
Hoffman tied the tournament record at 22-under 262, winning for the second time in his PGA Tour career.
He looked plenty strong on a gorgeous Labor Day in New England. Starting the final round four shots behind Day, Hoffman began his first big run with a two-putt birdie on the par-5 second, and a pair of 10-foot birdies sandwiched around a perfect tee shot to the front of the par-4 fourth green.
Hoffman must have known it was his day on the 13th, as Ogilvy was hitting his stride. He blasted out of the front bunker, trying to nestle it close on greens that were firm and fast, then climbed out of the trap pumping his fist when it fell for an unlikely birdie. He followed that with a 5-foot par save on the 14th, an 18-foot birdie on the next hole and a 7-foot birdie on the 16th.
Day was wild off the tee early, then struggled with his putter coming in. He shot an even-par 71. Donald, who also had a share of the lead early, remained winless on the PGA Tour since 2006 when he settled for a 69.
Ogilvy closed with a 66, and the runner-up finish moved him from No. 52 to No. 9, assuring him a spot in the Tour Championship. It was Ogilvy's first top 10 on tour since he won at Kapalua in the first tournament of the year.
He played alongside Hoffman and appreciated what he saw.
"I had the best seat in the house to watch that," Ogilvy said. "He hit great shots all day. He putted really well and as soon as he got himself in trouble he'd go and hole a bunker shot or something like that. So it was a pretty class act and he never looked like doing anything but winning after about three holes."
The top 70 in the standings advance to the BMW Championship, which starts Thursday.
Andres Romero, who only started these playoffs at No. 115 and only got to the TPC Boston with a 40-foot birdie putt on the final hole last week, shot a 72 and narrowly made it at No. 68. The surprise was Tom Gillis, was at No. 92 until a 65-65 weekend gave him a tie for fifth and moved him to No. 48.
Steve Marino shot 76 and John Rollins had a 79 to fall out of the top 70.
The heartbreak belonged to Kris Blanks, who closed with a 70 and appeared to narrowly make the field in Chicago until Charlie Wi birdied the last hole to bump him out.