News
Farewell: Paying Tribute To Those We Lost In 2012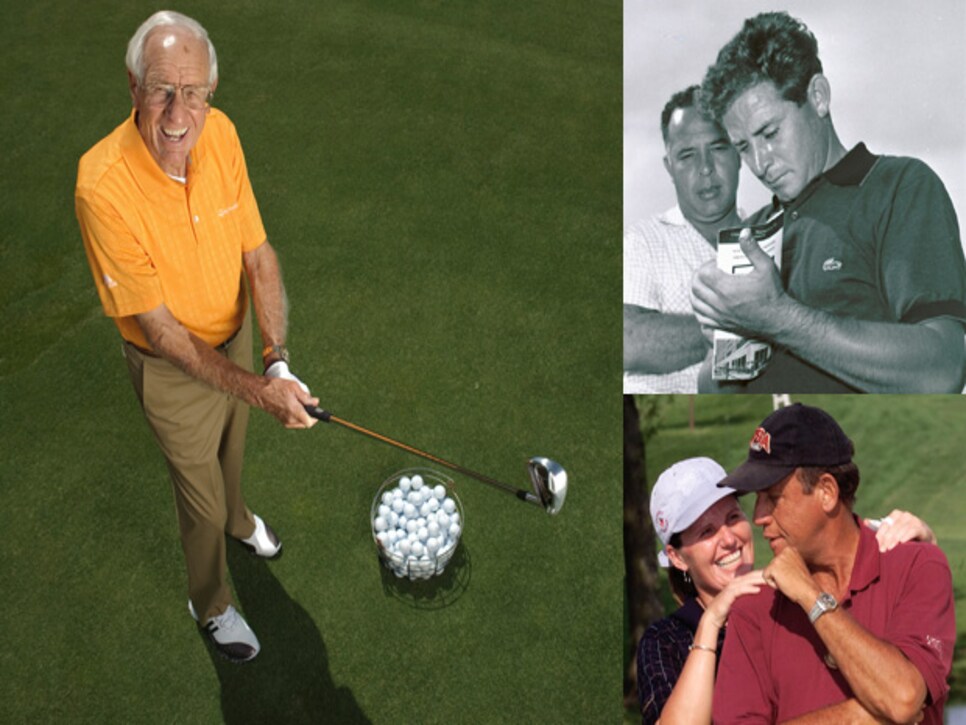 Contributors All: The golf community lost individuals who impacted the game in many ways, from (left to right) hands-on instructor Jim Flick, player/mentor Ramon Sota (AP) and popular official Doug Brecht (AP).
A course-rating committeeman for the Metropolitan Golf Association. At age 81, March 27.
The 1935 Michigan Amateur and 1938 Western Amateur champion is in the Michigan Golf and University of Detroit halls of fame. At 96, Jan. 24.
A versatile sportswriter for the Quincy (Mass.) Patriot Ledger, he won several writing and lifetime awards as its golf editor and was president of the Golf Writers Association of America from 1969 to 1971. At 92, Jan. 22.
Owner of Golf World from 1978 to 1988. At 84, Sept. 15.
The legendary Atlanta-Journal Constitution columnist was as regular at the Masters as the azaleas, covering the tournament for 62 years (1950-2011) and writing the book, The Masters, Augusta Revisited: An Intimate View. At 93, March 18.
The former collegiate player and coach became an LPGA Tour rules official in 1993, earning wide respect and admiration for his character. At 62, Oct. 12.
Media relations director for 27 years at the PGA Tour event on Hilton Head Island. At 92, June 5.
The North Carolina native ran the American Golf Association for senior events and created the Joe Cheves Jr. Invitational. Full name was Joseph Monroe Carter Cheves. At 56, April 11.
Prodigious course architect also wrote the definitive architectural history book, The Golf Course, with Golf Digest Architecture Editor Ron Whitten. At 97, Feb. 10.
__ DR. WILLIAM (BILL) DICKEY__
The PGA Tour, PGA of America and USGA honored the insurance and real-estate executive for his work in diversifying golf and improving minority involvement. At 84, Oct. 16.
The IBM executive was the USGA's first minority Women's Committee chair was also president of the National Minority Golf Foundation. At 69, Jan. 27.
The golf-retail business changed forever when the first of his chain of off-course discount stores opened in 1978 in Santa Ana, Calif. At 81, Aug. 28.
The Boston-area sportswriter was USGA assistant executive director under the legendary Joseph C. Dey from 1949 to 1959. At 101, March 6.
The three-time PGA Tour winner still reigns as the oldest Champions Tour winner (age 63) when he won the Hilton Head Seniors International in 1985. At 89, March 8.
A World Golf Teachers Hall of Famer, he roomed with Arnold Palmer in college, taught Jack Nicklaus in his senior years and was a Golf Digest stalwart on the page and at its schools, teaching the grass-roots player. At 82, Nov. 5.
Steely-eyed husband Raymond only had eyes for her, and his career benefited; she helped organize the PGA Tour Wives Association. At 69, Sept. 7.
A one-time faculty member at the New Jersey Agricultural Experiment Station who was instrumental in turfgrass breeding. At 84, Oct. 4.
__ NADINE MARIE GASCH-CYBYSKE__
Her work as a team leader to implement golf course rating in coastal North Carolina was part of her behind-the-scenes work with the Sea Trail Ladies Golf Association and the North Grand Strand (NC) Inter-Club Golf Group. At 61, May 17.
__ CAMPBELL (SONNY) GRANT__
Carolinas competitor won the 1967 North Carolina Am. At 83, May 21.
Golf Digest associate editor who chronicled the rare feats and on-course games of the common golfer. She was an organizing force behind the magazine's Annual Record Book and Almanac product. At 79, May 21.
Coached Cal State-Stanislaus from 1966-2008, during which the Division III school won 12 NCAA titles. At 86, May 28.
Executive producer of New York Times television productions in the 1980s. At 88, April 8.
Golf course architect who was lauded for his attention to environmental concerns. At 53, May 24.
Son of seven-time PGA Tour winner and two-time U.S. Open runnerup Clayton Heafner, Vance moved from a standout amateur and college career to the PGA Tour. He won the 1981 Walt Disney World National Team title with Mike Holland. He later was director of golf at Prestonwood C.C., Cary, N.C. At 58, Sept. 26.
Emmy-winning sportscaster with TNT who excelled at essays and who wrote a book on Tom Watson's run at the 2009 Open Championship. At 67, Jan. 2.
__ CHARLES (CHICK) HUNTER__
Longtime golf participant in Carolina Golf Association events. At 77, Oct. 10.
President/CEO of the Western Golf Association and the Evans Scholars from 1988 to 2009. At 77, May 24.
A founding member of the Indiana Golf Course Owners Association who received its 2011 Outstanding Contributor Award, which has since been renamed in his honor. At 72, Oct. 12.
Piggly Wiggly grocery executive founded the Riverside Golf Club in Robbins, N.C. At 76, Jan. 4.
For 50 years ran the Skokie, Ill., Pro Shop World of Golf; in the 1990s the shop did $8 million in business annually. At 89, April 9.
A former USGA executive committee member and president of the Pennsylvania Golf Association, he was a member at Oakmont, where he was general chairman for the 1962 and 1973 U.S. Opens, and the 1969 U.S. Amateur. At 95, Dec. 7.
Was Vice President/Championship Management for the PGA Tour in the early 2000s. At 50, Jan. 29.
A member of the Metropolitan Golf Writers Association for more than 30 years. At 85, April 28.
A popular impressionistic artist, mainly in the sports realm, Neiman did three art themes for Golf Digest pieces in the mid-1970s. At 91, June 20.
Golf course architect in the design firm of Nelson & Haworth; he did extensive new and remodeled designs in Hawaii and eastern Asia. At 61, Nov. 19.
Stepped down in 2006 after 14 seasons and three NCAA appearances as Oregon men's coach; Casey Martin followed him. At 74, July 6.
The accountant was hailed as Kentucky's greatest amateur, but his game could travel: He won the 1984 British Senior Am. He co-founded the Society of Seniors in 1983. At 85, Oct. 7.
The town justice and Winged Foot member was a longtime Metropolitan Golf Association rules official. At 97, June 21.
Served as the educational director of the New Jersey State Golf Association Scholarship Program for 37 years. At 77, April 26.
These club pros were PGA members for 50-plus years: Paul Allen (age 82), Jack Bell (83), Jim Brass (81), Bill Brunsman (93), Ross Carley (80), Brien Charter (85), Paul Falls (91), Leon Faucett (84), Tom Foree (93), Victor Giron (75), Ted Graygor (82), John Heller (80), Dan Herring (88), Charles F. Lewis Jr. (94), Errol Marshburn Jr. (87), William Mattson (77), Joseph Mazur (84), Joe Mihelich (96), Chesney (Chet) Munson (91), Bill Nary (96), Stanley Parsons (93), William Polumbo (95), Boots Porterfield (84), Bob Schuh (78), Dean Shortridge (87), Joseph Sodd (89), Gene Sullivan (82), Bob J. Thomas (79), Ken Tucker (99, see separate listing), Ray Vennewitz (83), Joe Walser (79, see separate listing), Danny Williams (89).
__ DOROTHY GERMAIN PORTER__
Five-time USGA champion also ruled women's golf in her native Philadelphia and Pennsylvania. At 88, July 20.
The patriarch of a talented golf family, he won several New England championships. At 74, Jan. 2.
__ WALTER (YIPPY) RANKIN__
Through marriage to LPGA great Judy Rankin, he was a goodwill ambassador for the women's tour. At 71, Feb. 24.
Led the Long Beach State golf program (and future tour star Mark O'Meara) from 1975 to 1980. At 92, April 9.
The owner of Chicago's Northwestern Golf Company, which his father started in 1929. At one time the company was the leading seller of clubs in the industry. He was inducted in the Chicagoland Sports Hall of Fame and National Italian American Sports Hall of Fame. At 83, Nov. 1.
Metropolitan Golf Association Executive Committee member from 1978 to 1986. At 92, Jan. 31.
__ CHARLES (BILL) SESSUMS __
Golf course superintendent for 43 years, including at Pinewild C.C. and Duke University Golf Club. At 75, March 16.
Coached Michigan's golf teams from the mid-1970s to 1982; in his youth he caddied under Byron Nelson when Lord Byron was the Inverness Club pro. At 83, July 28.
__ THOMAS (SMITTY) SMITH__
The National Black Golf Hall of Fame member was a golf shop owner/operator in Atlanta. At 88, March 29.
An uncle/mentor to Seve Ballesteros, the Spaniard had skill, too, winning five national opens in Europe. At 74, Aug. 28.
Popular pro tour caddie carried for Larry Mize at the 1987 Masters and of late worked for Kirk Triplett on the Champions Tour. At 55, Oct. 19.
Led the Golf Association of Philadelphia from 1975 to 2000. At 78, Oct. 21.
The Jamestown (Va.) High School senior golfer had committed to East Carolina but drowned in James City's College Creek. At 18, May 28.
74-year PGA member was club-pro icon in Pacific Northwest. At 99, March 20.
Popular leader of international teams, she had been manager of the Great Britain & Ireland side in the 2012 Curtis Cup. At 50, Feb. 14.
MGA Tournament Committee member who also served on the New Jersey Seniors Golf Association membership committee. At 74, Jan. 12.
LPGA Tour player who won the 1997 du Maurier Classic and eight other tour events. Her success came in brief stretches of dominant play. Her du Maurier victory came 10 months after giving birth to her son. At 56, Dec. 11.
An accomplished golfer in his youth in Oklahoma, he culminated a great management career as vice chairman of Landmark Golf. At 79, May 10.
A former NFL player under Vince Lombardi, he became a PGA member in 1985 and played senior tour events. At 78, May 21.
Popular celebrity host of the San Diego PGA Tour event from 1968 to 1988. At 84, Sept. 25.
__ PHYLLIS (PHYL) WYLIE__
The oldest surviving Curtis Cup player, she had played for Great Britain & Ireland in 1938. At 101, Oct. 3.
Director of the USGA's Green Section Mid-Atlantic Region, he had first joined the association in 1971. At 63, Aug. 28.