News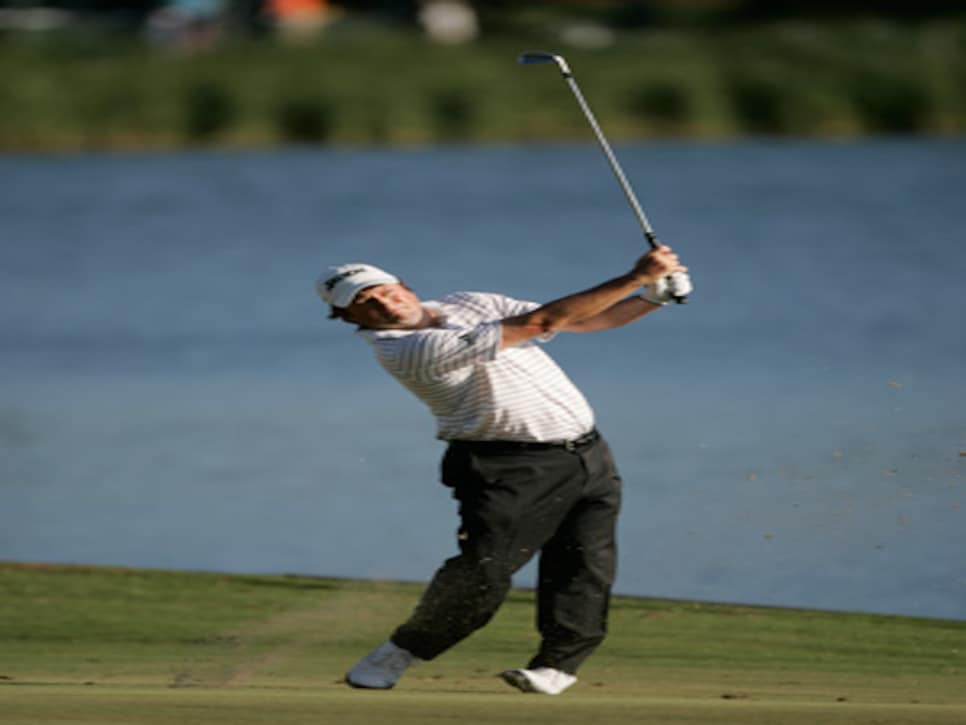 Clark was in fine form when he won the 2010 Players, but an elbow injury has limited him to only three starts this season.
When the 38th edition of the Players begins May 12 at the Stadium course at TPC Sawgrass, there will be 156 men coveting one of the most prestigious and richest titles in golf. But maybe they shouldn't be.
In case you haven't noticed, winning the Players has a way of turning able-bodied and talented golfers into alligator bait once they claim the title at the PGA Tour's flagship tournament.
Golf course designer Pete Dye has been haunting pro golfers for years, but apparently he has found a way to make it stick in Ponte Vedra Beach, Fla. Or perhaps that $1 fee that Deane Beman paid for the swampland that Dye turned into a masterpiece carries interest and penalties far above market rates. Or maybe Jerry Pate diving into the water in 1982 after winning the first Players staged at TPC Sawgrass was an affront to the golf gods; an injury prevented him from defending his title the following year.
Should the surgeon general slap some kind of warning on the tall, crystal decanter-like trophy that goes to the Players champion?
Tim Clark's prospects of defending his first tour title are considerably less than optimal because of an elbow injury that has limited him to three starts in 2011. Tough break. Maybe he should have seen it coming. Has he looked at the carnage that preceded him?
Henrik Stenson has slipped from No. 4 to 103rd on the World Ranking since his 2009 win. Former No. 2 Sergio Garcia (2008) took a two-month sabbatical last fall to nurse a dented psyche and depressed ranking. The rest of the injury report: Phil Mickelson, psoriatic arthritis; Stephen Ames, back injury; Fred Funk, knee; Adam Scott, slammed finger in car door, now seeking spiritual renewal with a long putter; Davis Love III, ankle surgery, stopped making Ryder Cups until they named him captain; Craig Perks, crashed out of competitive golf; Tiger Woods, just crashed; Hal Sutton, crashed as Ryder Cup captain; David Duval, bad back, plummeted from No. 1 all the way to 978th. If this continues, the only title less popular will be the Masters Par-3 Contest.
Adverse effects aside, there's no denying that a victory in the Players is worth a certain amount of cachet and prestige. As Lee Janzen, the 1995 winner, notes, "I won two U.S. Opens, but very seldom does it not come up that I also won the Players Championship. It might not be a major, but it carries almost as much weight."
He's right. Just like a major, the Players always attracts one of the best fields in golf, including most of the top 100. Then again, unlike a major, the current No. 1 is taking a voluntary pass. Maybe Lee Westwood is buying into this "Curse of The Players" theory.
But if a curse is a trade-off for a $1.71 million first prize and a three-year exemption into the majors, we bet there will still be plenty of takers. But with Westwood and No. 6 Rory McIlroy sitting out, and with No. 7 Woods questionable with knee and Achilles injuries that forced him to withdraw from the Wells Fargo Championship -- hey, didn't he hurt his neck at last year's Players? -- we're going to predict that this year's winner comes from a certain select group.
But, first, a few qualifying points. Current form doesn't always augur success, but there's something about playing decently before arriving at tour headquarters. Of the past 15 winners, only Garcia didn't have a previous top-10 finish on the season. Meanwhile, 12 of the 15 had at least one top-five, including the now-retired Perks, who had only five in his career. But only one man, Duval, had more than one victory going in. Sorry, Mark Wilson and Bubba Watson.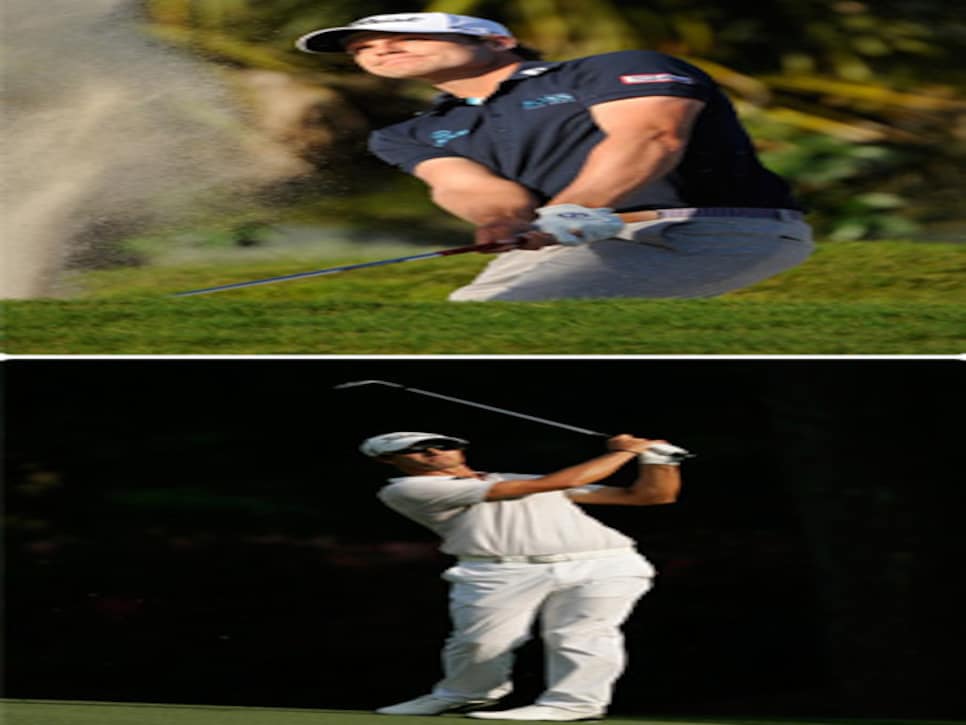 group of contenders at this year's
Players, where good iron shots and decent
play coming in always seem to be a
deciding factor. (Charles Laberge; JD Cuban)
Only four men older than 40 have won at TPC Sawgrass. K.J. Choi, Mickelson and Steve Stricker have to buck some serious odds.
Seven of those 15 winners hail from outside the U.S., but five have come in the last seven years, with Mickelson and Funk the only American winners. So think hot, foreign born. Not Penelope Cruz, boys.
No one has won the Players more than twice at TPC Sawgrass, which knocks out Love, Fred Couples, and oft-injured or ill (hmmm) Steve Elkington. Jack Nicklaus is the only three-time winner, but never at the Stadium course -- and only competed there 10 times. Nicklaus is still the clubhouse leader in TPC Sawgrass quotes, however, remarking after a missed cut in the 1982 debut, "I was never that good at stopping a 5-iron on the hood of a Volkswagen."
Actually, he was. Next week's winner won't have to hit it like Jack, but he will need to find lots of greens. As Dye explains, his design tends to funnel tee shots into the same areas, so the Players, in essence, becomes a short- to mid-iron second-shot contest.
"I've redone the place five times [the last in 2006]. We should have 90 holes out there by now," the 84-year-old architect quipped. "But what hasn't changed is that the course evens things out, no matter how far these guys hit the ball today."
"Someone who is willing to submit to what Pete wants you to do is probably going to be successful," said Love, who won in 1992 and 2003. "It's like Harbour Town. You can go ahead and hit driver everywhere and bang your ball off of trees or you can play smart and take what Pete gives you. Maybe that's why any kind of player can win there, but if you win, you know you've hit it well that week, given yourself a lot of opportunities, putted well and handled the mental challenges."
Mix the aforementioned factors into a vat, including the key stat, birdie leaders from the fairway, and the result is a relatively logical list of contenders. The international roster: Scott, Luke Donald, Martin Laird, Aaron Baddeley, Jason Day and Justin Rose. Top American hopefuls: Brandt Snedeker, Nick Watney, Matt Kuchar, Hunter Mahan, Dustin Johnson, Gary Woodland, Rickie Fowler, Bill Haas and Steve Marino.
Ever heard of the phrase, "Be careful what you wish for"? We can't prove it, but we think Pete Dye made it up.