News
My Town: Dan Forsman's Provo/Salt Lake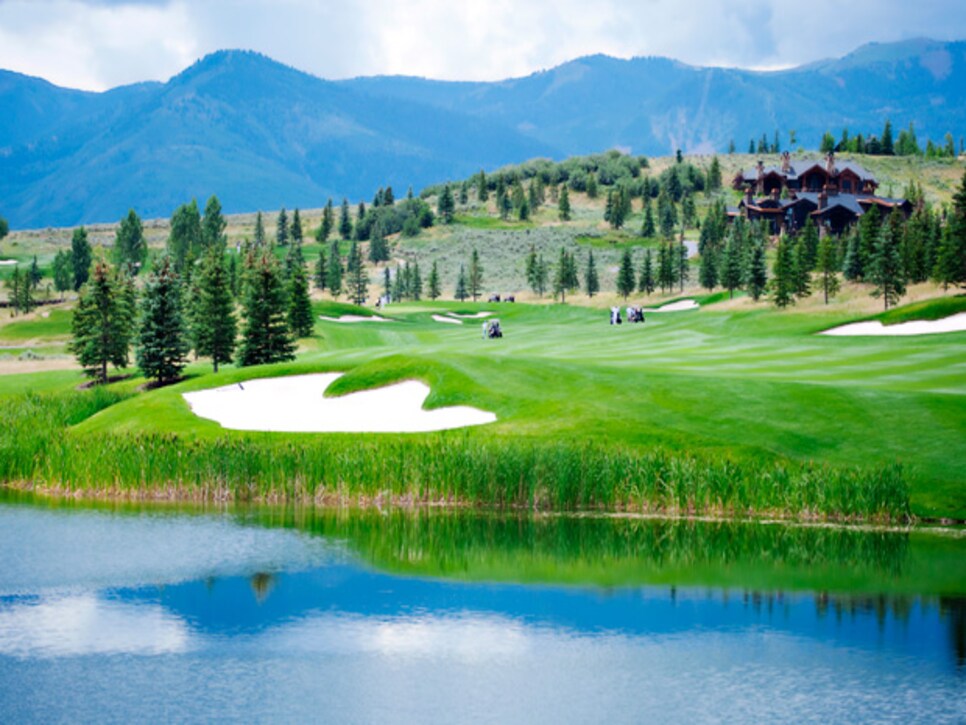 One of Forsman's favorite area courses is Tom Fazio's Glenwild GC in Park City.
Although he was born in Wisconsin, five-time PGA Tour winner Dan Forsman grew up in Northern California, where his father, Dave, introduced him to golf at Los Altos G&CC
not far from their home in Mountain View, Calif. After going to college at Arizona State, Forsman joined the PGA Tour in 1983 and a year after that Forsman and his wife, Trudy, settled in Provo, Utah.
It was a case of Forsman trading one scenic locale for another. "California has some of the greatest golf on earth, but thankfully Utah has some great golf too," he says. "I have fallen in love with the state, and it's hard to beat finishing an enjoyable round while viewing a stunning sunset against some of our glorious mountains."
The golf in Utah is varied, from valley to mountain courses, and there are many other outdoor activities for visitors to tackle, regardless of the season. "If people spend some time here, they'll know why I call it home," Forsman says.
The majestic Wasatch Mountains are ever-present no matter where you play. One of my favorite private courses is a Tom Fazio gem, Glenwild GC
in Park City. It's not unusual to finish an evening round surrounded by grazing deer and moose. Another course I love is my own Riverside CC
, a 45-minute drive from the Salt Lake Valley. The Provo River (known for world-class fishing) runs throughout the course, which sits at the base of Mount Timpanogos.
, located up Parley's Canyon, just east of Salt Lake City, or those at Wasatch Mountain State Park in Midway, which meander near the north side of the Wasatch Mountains offering views of the Heber Valley. Nearby Soldier Hollow
features two challenging, links-type courses. If your time in Salt Lake is brief, try Wingpointe GC
, both with excellent views of the Great Salt Lake.
The Grand America Hotel in Salt Lake, is a gorgeous, European-style hotel complete with restaurants, shopping and spa. Little America across the street is also wonderful. In Park City, the Stein Eriksen Lodge is a sanctuary of luxury. Closer to my home is Sundance Resort, with its mountain lodges, cottages or private home rentals.
In the heart of the city there's the classic New Yorker or, for authentic italian pizza, Settebello Pizzeria. Tony Caputos Market & Deli in down- town Salt Lake has gourmet specialty foods. A local favorite is Café Rio, a Mexican-style grill. For a memorable meal try the pork served enchilada style. Also great is Mrs. Backers Pastry Shop, which has been around more than 65 years. Closer to Provo, Robert Redford's Sundance Resort is a must. Enjoy fine dining in the Tree Room or casual dining in the Foundry Grill.
I don't frequent sports bars, but Green Street in Salt Lake and the Desert Edge Brewery at the Pub at Trolley Square are big. Be sure to wander through quaint Trolley Square, a marketplace of shops and eateries housed in converted trolley-car barns.
See a Salt Lake Bees AAA baseball game at Spring Mobile Ballpark. The mountain backdrop at dusk is beautiful. In Sandy, Real Salt Lake plays major-league soccer at Rio Tinto Stadium. Utah Jazz games are always good too.
I love to fish and nothing's better than the pristine Provo River for brown, rainbow and cutthroat trout. Rafting the Provo River is fun as is mountain biking at Sundance. The Gateway is Utah's most popular outdoor shopping center. Features include the Clark Planetarium, which has an IMAX theater, and more. On a rainy day, visit the LDS Church Temple Square. Tour the gorgeous conference center and, if you're lucky, catch a performance by the Mormon Tabernacle Choir.