News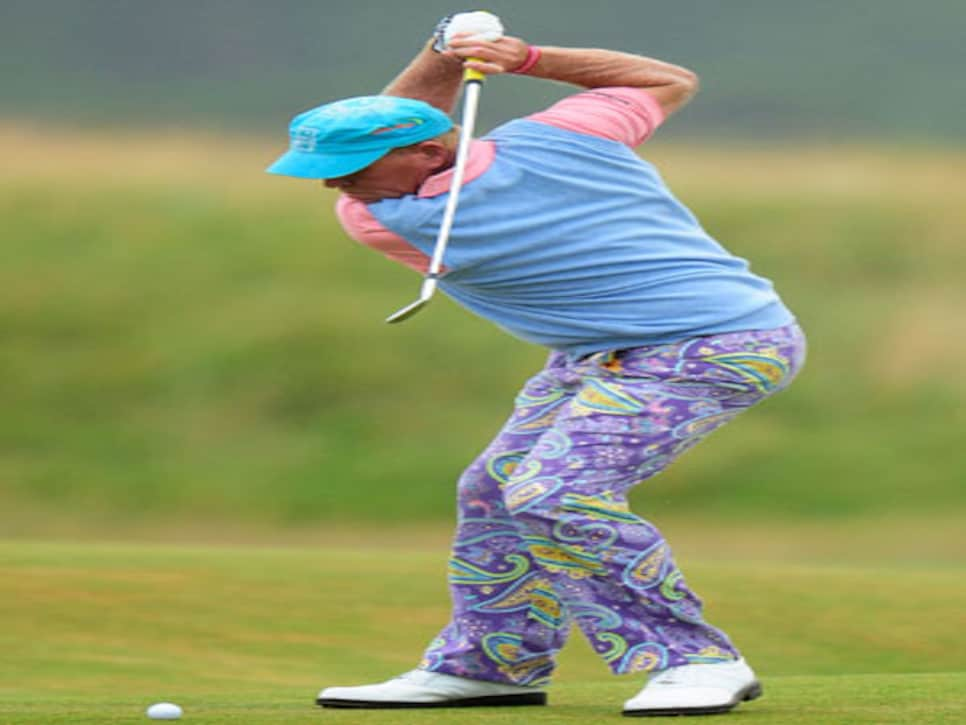 Daly has won two majors, including the 1995 British Open at St. Andrews.
ST. ANDREWS, Scotland -- We have always expected the train wreck when it comes to John Daly. A sad headline on the CNN crawl. A Breaking News alert via ESPN. E-mails with the subject line, "Did you hear about Daly?"
Somehow here he is again, defying the betting odds of a hard life lived. Another low round in a major championship giving him one more shot at redemption toward potential never realized.
Daly's six-under-par 66 in Thursday's opening round of the British Open on the Old Course at St. Andrews had the galleries cheering golf's everyman once again. For at least one day, his game created buzz of yet another comeback.
Gone were the memories of drunken stupors, the remnants of trashed hotel rooms. Gone were the suspensions and behavior that led one to believe the only ending to the Daly story would be tragic.
Instead we witnessed the long drives and deft touch that led him to two majors, including the '95 Open Championship right here at the birthplace of golf.
"I've never ran from my mistakes," Daly said after a round in which he posted seven birdies and just one bogey. "I've always kind of been the man that you're supposed to be when you screw up, and I've screwed up an awful lot, not just on tour, but in other aspects of life.
"Like I've said before, it's how you come back and deal with it."
The circus seems to have followed Daly since he burst onto the scene by winning the 1991 PGA Championship at Crooked Stick. The years that followed were littered with hard drinking and partying under the spotlight, consequences of poor decisions, then numerous interventions from friends and occasional flashes of self-discipline.
He was the "Wild Thing" in some circles, an embarrassment in others.
"I'm 44 years old and I've learned a lot," Daly said. "I've always been honest (with the media) and everybody around me. You know, it's how you come back. This is, well, for me, I'm on a comeback. I've been hurt for a good three years (various injuries). It makes it very tough to play, get your confidence up, when you're working around injuries."
Earlier this year he spoke of being tired and on the verge of leaving the sport. He has quit on the course and off it more than a few times. Again, we rolled our eyes.
"I worked so hard on my game in the off-season and, in the past, when I've worked hard on my golf game, I've gotten results," Daly said. "This time, I think I just wanted the results quicker ... I talked to Tim Herron and he said, 'I wanted to quit a million times.' There are a lot of guys that say it. But I just love the game too much, and I think there are not too many players who have said it. But I was just the idiot to say it on TV."
The sideshow remains and was in full force Thursday. Wearing an outfit that looked as it were designed by Peter Max on acid, Daly was nothing short of brilliant during a round that saw him for a time in the lead and eventually three shots behind Rory McIlroy. Having shed more than 100 pounds thanks to lap-band surgery, he walked the Old Course with confidence of a man in full.
A man that hasn't seemed to run out of chances.
Maybe it's St. Andrews. Maybe it's maturity. Maybe it's because he owns up to his numerous bouts with disaster. Combine Thursday's round with a claim of sobriety, and once again there seems to be hope returning to the House of Daly.
"There's just something peaceful about this place," he said. "It's just one of those places that I just love. It's more peace than anything else."
We've witnessed the comeback before. Maybe this time it stays on track.
-- John Marvel is Managing Editor of Golf Digest Digital Properties.