News
Couples, Woods To Play Practice Round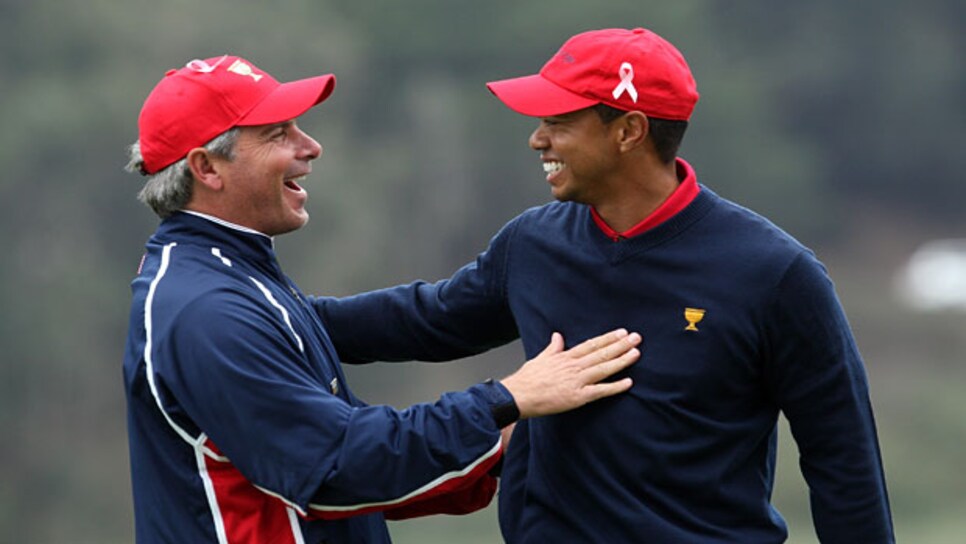 Fred Couples was Woods' captain at last year's Presidents Cup.
HUMBLE, Texas (AP) -- Fred Couples is scheduled to play a practice round for the Masters with Tiger Woods at Augusta National on Monday.
"This is not going to be questions and answer," Couples said Wednesday at the Houston Open. "This is going to be strictly golf. I play with him a lot at Augusta. This is not unusual."
Woods is making his return to competitive golf next week at the Masters after months of seclusion following revelations that he cheated on his wife.
Couples said Wednesday he would be playing in a foursome with Woods, though he did not know who the other two golfers would be.
"He's the best player in the world. He plays Augusta extremely well," Couples said. "We play and we try to learn a little bit."
Couples wasn't sure what time the practice round would begin. Woods has a news conference scheduled for 2 p.m. that day.
"I'm looking forward to it for sure," Couples said. "I'm excited to see him play and the reaction (from fans) and how he's hitting."
Couples said he and Woods had been exchanging texts during Woods' period of seclusion.
"We stay in touch," Couples said. "He teases me about winning a couple of times on the Champions Tour. He needs shots is what he's telling."
Couples, who will be returning as captain of the U.S. Presidents Cup team next year, said he expects Woods to commit to play in the event in Australia.