News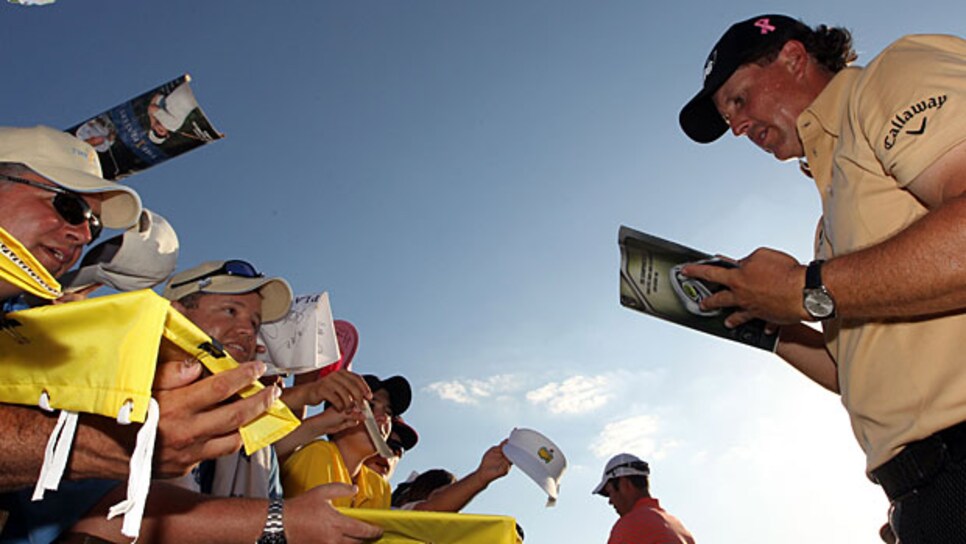 Fans and fellow players have rallied around Phil Mickelson as his wife and mother battle breast cancer.
FORT WORTH, Texas -- The Official World Golf Ranking made its debut on April 6, 1986, with Bernard Langer as No. 1, a spot he held for only three weeks. The ranking has now appeared 1,256 times and on nearly half those occasions -- 601 weeks -- the top-ranked player was Tiger Woods, including the last 259. That streak could end this week at the Crowne Plaza Invitational at Colonial.
Only a dozen players have been No. 1 in the 24 years of ranking and absent among them is Phil Mickelson. But if Lefty wins this week at Hogan's Alley, with Woods off practicing in preparation for his latest return next week at the Memorial, he will become the lucky No. 13 to hold the top spot. And even if Mickelson doesn't win here, a good finish will give him enough points to make passing Woods seem like only a matter of time.
"That'd be pretty cool," Mickelson said Wednesday at Colonial about taking over the top spot. "It's something we all as golfers strive for, and it's something I've never done. But it's easier said than done. I'm looking forward to that challenge and the opportunity to take over the top spot. This is a course I like and where I have had success."
Based on the way Woods played at Quail Hollow, where he missed the cut, and the Players, where he quit with a sore neck, there is little reason to think he will turn his game around by the Memorial. That's especially true when the perfect storm of Woods' current life is considered. There are problems with his swing, questions about his knee and neck, and there is surely ongoing emotional stress as rumors swirl about an impending divorce.
As chaos has swirled around Woods, Mickelson has floated through a sea of calm, refining his golf game while dealing with his own personal issues -- breast cancer for both his wife, Amy, and mother, Mary -- with a quiet dignity. While some have suggested Phil should become more active in replacing Woods as the face of the tour, he has taken the high road, and wisely so.
Mickelson didn't add the season-opening SBS Championship to his schedule, which some thought he should do to help the Tiger-less tour. And when he started his season at Torrey Pines, Mickelson read a statement about Woods and that pretty much was that.
Phil had only one top-10 finish in his first seven events this year and was not one of the favorites going into the Masters, where Woods made his return to competition. But while all the talk was Tiger, Mickelson put together two 67s on the weekend and won his third green jacket.
At the Quail Hollow Championship, the talk was once again all Tiger as Woods melted down and missed the cut. Then on Sunday, all the rage was 20-year-old Rory McIlroy, who closed with a 62 to win. The runner-up was a virtually unnoticed Mickelson. Phil played very well the first three rounds at the Players, but faded with a Sunday 74 to finish T-17.
All this leads to a feeling that this might become Mickelson's career year. He's going to turn 40 the week of the U.S. Open, and imagine what the buzz would be like going into the British Open at St. Andrews if Lefty gets halfway to the calendar-year Grand Slam with a win at Pebble Beach. How ironic would it be if in the year that was supposed to be set up for Woods in terms of major championship venues, it was Mickelson who made history?
Colonial is the logical place for the next step if Mickelson magic is truly building. It would be a totally fitting place for him to replace Woods as No. 1. Lefty is playing in this tournament for the 14th time and won here in 2000 and '08. He was absent last year even though he was the defending champion because Amy and Mary had just received their diagnosis. Players honored the Mickelsons' fight by staging a Pink Out on Saturday, with almost all players wearing pink in a sign of solidarity.
"Last week, Amy and I were commiserating over the one-year anniversary [of her diagnosis]," Mickelson said. "This event helped us get through. What they did last year even though I wasn't able to be here was fantastic. I certainly feel a lot of loyalty to this event."
Woods, meanwhile, has appeared at Colonial once, finishing T-4 in 1997. If there are two places where the fans are unquestionably more for Phil than for Tiger -- even before Nov. 27 -- it is the New York City area and any of the four tour stops in Texas. In both places, the fan-friendly Phil plays much better than the aloof Woods.
Two homes near Colonial have signs reading "Welcome Back Phil" and "We Love Phil and Amy," both adorned by the pink ribbon symbol that represents the fight against breast cancer. For the second straight year, a Pink Out is planned.
"The challenge for me is to wear pink because I know I don't look good in pink," Mickelson joked when asked if the Pink Out this year will be an emotional reminder of what Amy is going through.
Despite his 38 PGA Tour victories and four majors, there are still some who feel the Mickelson resume could be better. Getting to No. 1 in the Official World Golf Ranking would be a great addition, as he would join Greg Norman (331 weeks), Nick Faldo (97), Seve Ballesteros (61), Ian Woosnam (50), Nick Price (44), Vijay Singh (32), Fred Couples (16), David Duval (15), Ernie Els (9), Langer (3) and Tom Lehman (1) as well as Woods, in holding the title Best Player in the World.
"Thirteen of those years have been Tiger years, so it hasn't been easy," Mickelson replied when asked about never being No. 1. "I have to go out this week and play well, play like No. 1."
Mickelson has handled the situation involving the current No. 1 brilliantly. He has done nothing out of the ordinary to try to hog the spotlight while Woods struggles. Certainly, he is in an awkward situation that will become even more uncomfortable should he pass Woods.
Some will say Mickelson became No. 1 only because Woods' life imploded. Others will say being a great champion involves how you manage your life off the golf course as well as on it.
While there is an element of truth in both, for more than a decade Woods and Mickelson have been No. 1 and No. 1A. If those positions should flip this week at Colonial it will be on merit, with no second-guessing needed. Right now, Phil Mickelson is the best player in the world.