Gone with the wind
Ten myths about golf clubs you should forget right now

Golf is littered with clichés. In some instances they ring true, like "Never up, never in" and "Don't miss on the short side." However, with golf equipment, there is an abundance of words spoken so often that they are taken as fact when they are just folk tales from the fairways. Those who fit golf clubs for a living know what's true—and what isn't. We reached out to 14 of them—all from Golf Digest's 100 Best Clubfitters list—to bring clarity to your understanding of the equipment scene. As one said, "The only rule in clubfitting is there is always an exception to the rule." In other words, don't be that golfer who further spreads golf-equipment misinformation.
MYTH:
ONLY GOOD PLAYERS SHOULD GET FIT
Like public speaking or blind dates, going for a clubfitting can be such an intimidating experience that most golfers decide not to. The common refrain is, "I'm not good enough."
Nothing gets fitters more riled up than this excuse. "The best response to anyone who says they're 'not good enough to get fit' is 'you're not good enough not to get fit!' " says Scott Felix, founder of Felix Clubworks in Collierville, Tenn., who says the majority of those shafts and clubheads lining the walls of your typical fitting center are eliminated from consideration after the first dozen or so warm-up swings a player makes.
Many fitters will make the case that good players are talented enough to play with ill-fitting clubs, but average golfers aren't. "If they're playing with ill-fitting equipment, they're constantly fighting their clubs and are likely to develop swing flaws to compensate," says Ken Morton Jr., director of retail and marketing for Haggin Oaks Super Shop in Sacramento.
Most average or beginning golfers are rightfully hesitant about the expense of getting fit for clubs, and if you've never swung a club before, getting fit is counterproductive. Just go out and see if you enjoy playing. If you're able to hit the ball in the air consistently more often than you top it or chunk it, you're ready to see if a fitting makes a difference.
"The physical benefits, accuracy improvement and mental approach to a player's game can change for the better," says Ben Giunta, owner of The Tour Van in Portland.
THE SHAFT IS NOT THE ENGINE OF THE CLUB. THE CLUBHEAD AFFECTS THE BALL'S FLIGHT AND LAUNCH CONDITIONS MUCH MORE.
MYTH:
YOU SWING FASTER WITH A LIGHTER SHAFT
Liam Mucklow, a Canadian based instructor and founder of The Golf Lab, is a data animal. He has discovered through testing something that might surprise many golfers: A lighter driver shaft doesn't always lead to a faster swing. "Our research shows only 12 percent of golfers swing their fastest with the lightest club," Mucklow says. "When the club gets too light, the swing loses efficiency."
Chris Wycoff, founder of SwingFit on Hilton Head Island, takes it further. "We haven't found many people who swing faster with a lighter shaft," he says. "Club weight is only a small part of the swing-speed equation, and shaft weight is an even smaller part of that, making up 15 to 30 percent of the total club weight.
"The difference between the heaviest and lightest driver shaft is about 30 grams; that's equivalent to 10 pieces of paper with a staple. Relative to the muscles a golfer uses to swing a club, a lighter shaft doesn't affect club speed. What changing shaft weight can impact is the profile and performance of the shaft. Lighter shafts are more flexible and can lead to increased deflection, spin and decreased impact consistency—all things most golfers want to avoid."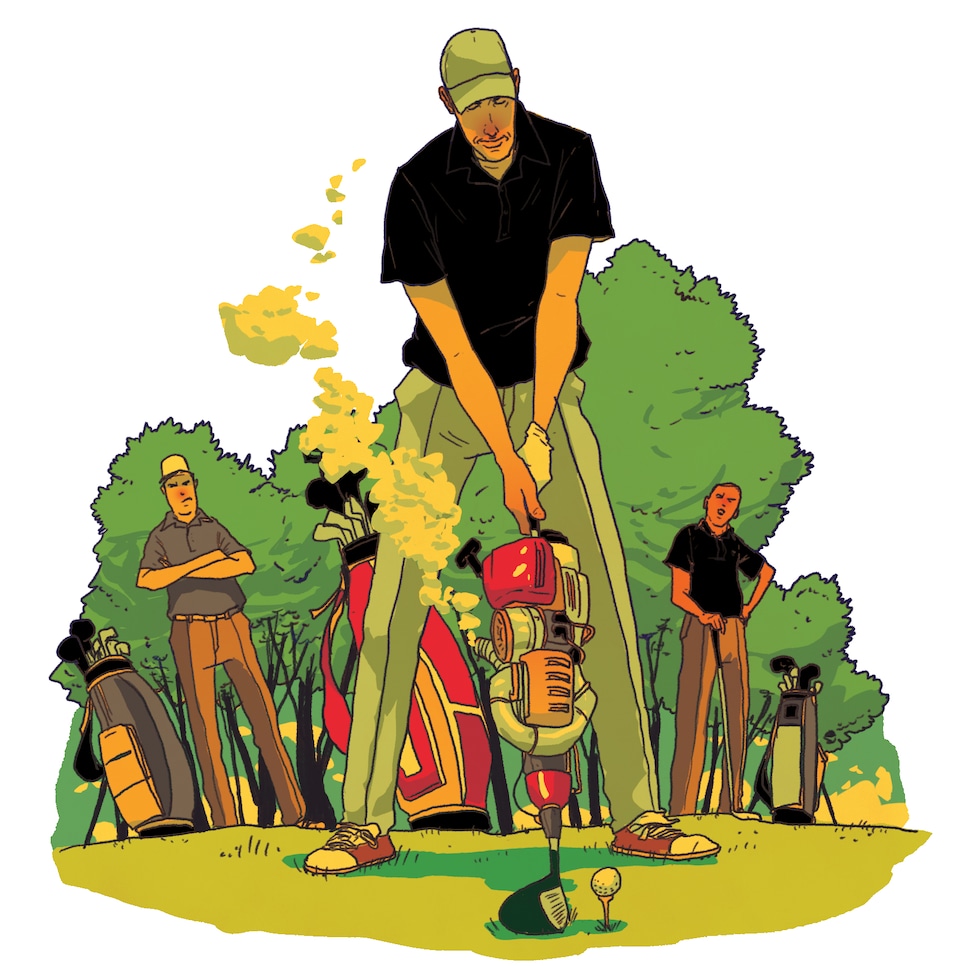 MYTH:
EVERY GOLFER SHOULD HAVE A 3-WOOD
A 3-wood can be a great asset for some golfers, but many would be better off without one. That's because a large number of players don't generate enough speed to create the lift and spin necessary to make a conventional 15-degree 3-wood a helpful addition to the bag.
"Carrying a 3-wood today puts you in the minority," says Chris Marchini, Golf Galaxy's district manager for the Ohio Valley. "Most players actually see distance gains by playing a 4-wood or 5-wood. The high lofts create a more playable flight."
There are intangibles at play, too. Many golfers feel more comfortable seeing a larger portion of the face when hitting shots off the turf. That confidence can lead to a more relaxed swing and better contact.
It's something Felix sees all the time. "Most people hit 5-woods better and farther because it's easier to hit off the ground than a 3-wood."
Even if you have the speed to keep the ball in the air, it doesn't mean the stronger-lofted fairway wood is the right call. Many tour pros (19 at last year's first FedEx Cup playoff event, The Northern Trust, including Brooks Koepka and Adam Scott) had their lowest-lofted fairway wood at more than 15 degrees. The reasons: more height into par 5s and for hitting a specific yardage.
MYTH:
MALLET PUTTERS ARE FOR STRAIGHT-BACK AND STRAIGHT-THROUGH STROKES
Most mallet putters today are available in multiple hosels that produce a face-balanced design or varying degrees of toe hang. (Toe hang is related to the way the toe of a putter hangs open when balancing the shaft, and a face-balanced putter faces the sky.) Generally, toe-hang putters are designed to work with strokes that have more arc, and face-balanced putters work with strokes that are like a pendulum. Giunta calls the mallet straight-stroke idea "a huge myth," but it's not that simple. In Giunta's experience toe-hang or face-balanced stroke matching works only about 60 percent of the time. "Putter fitting is the most feel and looks-based decision of any club in the bag."
Golfers should focus on whether a putter—mallet or blade—fulfills its objectives: improving your aim and allowing you to consistently return the face to square.
"It's your aiming tendencies and tendencies at impact that determine your performance on the greens," says Jason Fryia, owner and general manager of The Golf Exchange in Cincinnati. "Finding a putter that enhances your good tendencies or compensates for your bad ones is usually the one for you."
MYTH:
THE SHAFT IS THE ENGINE OF THE CLUB
The shaft is important for many reasons, but to call it the "engine" is a misnomer. The golfer is the engine because he or she is the chief source of power for every shot. As it relates to equipment, the clubhead is more important than the shaft. "The design of the clubhead has the most impact on ball flight and launch conditions," Giunta says. "The shaft can certainly impact all launch conditions, but typically it's much more subtle."
"Transmission" is a more apt description for the shaft because it's one of the elements that can transfer the golfer's power to the ball. For those still skeptical, Fryia offers a theory that should settle things. "I can give you a modern clubhead with a shaft from 40 years ago and your performance will likely be much better than a modern shaft in a clubhead from 40 years ago," he says.
MYTH:
MOST GOLFERS SHOULD USE A STANDARD SIZE GRIP
For the average golfer, grips receive little attention until they become worn. This is a mistake in more ways than one.
Although the grip is the only piece of equipment the player comes in direct contact with during the swing, its implications go beyond how well a player can hold onto the club. The size, weight, texture and position of the grip should be taken into consideration.
The easiest one of these to address is size. Although some equipment companies are starting to make certain models with midsize grips standard, most still use stock grips that are on the slim side, and stock components do not fit all.
"Not only do hand sizes vary, but how golfers grip the club is a big factor in choosing grip size," Giunta says. "Players can have the grip down in their fingers or high up into the palm."
Additionally, physical issues like arthritis and tendinitis can affect the decision on grip size as can personal preference.
"We fit more mid-to-oversize grips than ever before," Morton Jr. says. "Particularly with senior golfers, a slightly larger grip can assist with things like arthritic hands. A larger grip often allows a golfer to have a lighter grip, resulting in a freer hand movement that makes swinging the club easier."
MYTH:
GRAPHITE IRON SHAFTS ARE ONLY FOR WOMEN AND SENIORS
Possibly nothing has changed as much in golf equipment in recent years as the graphite iron shaft. Originally offered as a lightweight option for players with slow swing speeds, today's graphite iron shafts fit every type of player from grandmother to PGA Tour star.
Graphite iron shafts have dramatically improved in tolerances and materials, especially in the past decade. "More golfers are beginning to view graphite as superior to steel," says Club Champion's Nick Sherburne. UST/Mamiya's Recoil, Mitsubishi's MMT, Accra's iSeries and Aerotech's Steel-fiber composite iron shafts weigh from less than 50 grams to 125 grams, the same weight as many of the steel shafts played on the PGA Tour.
"Advancements in manufacturing graphite shafts have improved drastically the past several years," says Craig Zimmerman, director of retail at RedTail Golf Center in Oregon. "Graphite iron shafts are being produced at tolerances tighter than what is available in steel."
The ball doesn't know it's being hit by an iron with a graphite shaft, and a player shouldn't care what the composition of a shaft is, just whether it produces the most consistent and effective ball flight.
NOT ALL GOLFERS SHOULD CARRY 14 CLUBS. A QUALITY FITTER CAN HELP YOU DETERMINE THE RIGHT DISTANCE GAPS BETWEEN CLUBS.
MYTH:
EVERYONE NEEDS 14 CLUBS IN THE BAG
Perhaps the worst rule in the game for average golfers has nothing to do with a limit on driver spring-like effect or how much spin wedge grooves can generate or even the stroke-and-distance penalty. No, it's the 14-club rule—and not because golfers should be carrying more than that.
The most important part of a good clubfitting that average golfers overlook is set makeup, Marchini says. He once sent a regular customer home with a full set that only had 12 clubs. When he was questioned about it, Marchini said, "Go play, and let me know if you notice any gaps in your distances." The only call that ever came was to say, "Thank you."
"The right number is what is playable," Marchini adds. "They all serve a purpose, fill gaps and match your needs."
The better the player the more likely the need arises for clubs to fill specific needs. The key is to have a good understanding of how you play. Craig Allan, director of the Golf Performance Center in Sea Island, Ga., says a simple trick is to take the driver and shortest wedge distances and find out if the remainder of the clubs have 11 substantial distance gaps between them.
"Many golfers just don't generate enough speed to create adequate distance to need all 14 clubs," he says.
Round-tracking apps and devices like Arccos or ShotScope V3 might enlighten a golfer and fitter about where the holes or redundancies in a setup might be. It might show a need for 14 clubs, or 12 or even 11.
"Some players might not have the skill or desire to use their imagination for all 14 clubs," Giunta says. "I recommend players find 14 distinct clubs in the bag that they have for specific situations. Anything that simplifies this game, including having fewer than 14 clubs, can be advantageous."
FORGED IRONS DON'T NECESSARILY FEEL BETTER THAN CAST CLUBS. TECHNOLOGY AND DESIGN HAS CLOSED THE GAP.
MYTH:
CAST IRONS ARE MORE FORGIVING THAN FORGED IRONS, BUT FORGED FEELS BETTER
Let's blame the influence of better players for this one. Historically, elite golfers played only forged muscle-back blade irons, and beginning players and average golfers on a budget tended to play cast irons for the game-improvement features (larger size, cavity-back shaping, etc.) and for the less-expensive cost. But those average golfers were always impressed and jealous of how the better players talked about the feel of a forged iron.
However, dozens of blind tests have revealed that players are unable to tell the difference. Think of it this way: The single most important "feel" club in the bag is the wedge, yet cast wedges outnumber forged wedges on the PGA Tour and in the marketplace by at least 25-to-1.
It is more challenging to manufacture a cast club that "feels" great. But it's clearly been done. Is it more challenging to make a single-piece forged iron that has the highest spring-like effect and the most stability on off-center hits? Maybe, but forged irons aren't the single-piece muscle-back of decades past, and today through different constructions and materials, their forgiveness, distance and success in the game-improvement category are competitive with cast designs.
"A club's performance and feel are determined by its design and construction, including all components that come together to make the club," Fryia says. "Shaft and grip also play a big factor in the feel of a shot. There are just too many other factors in play to single out one such as forged versus cast as the ultimate characteristic that determines forgiveness, distance or feel."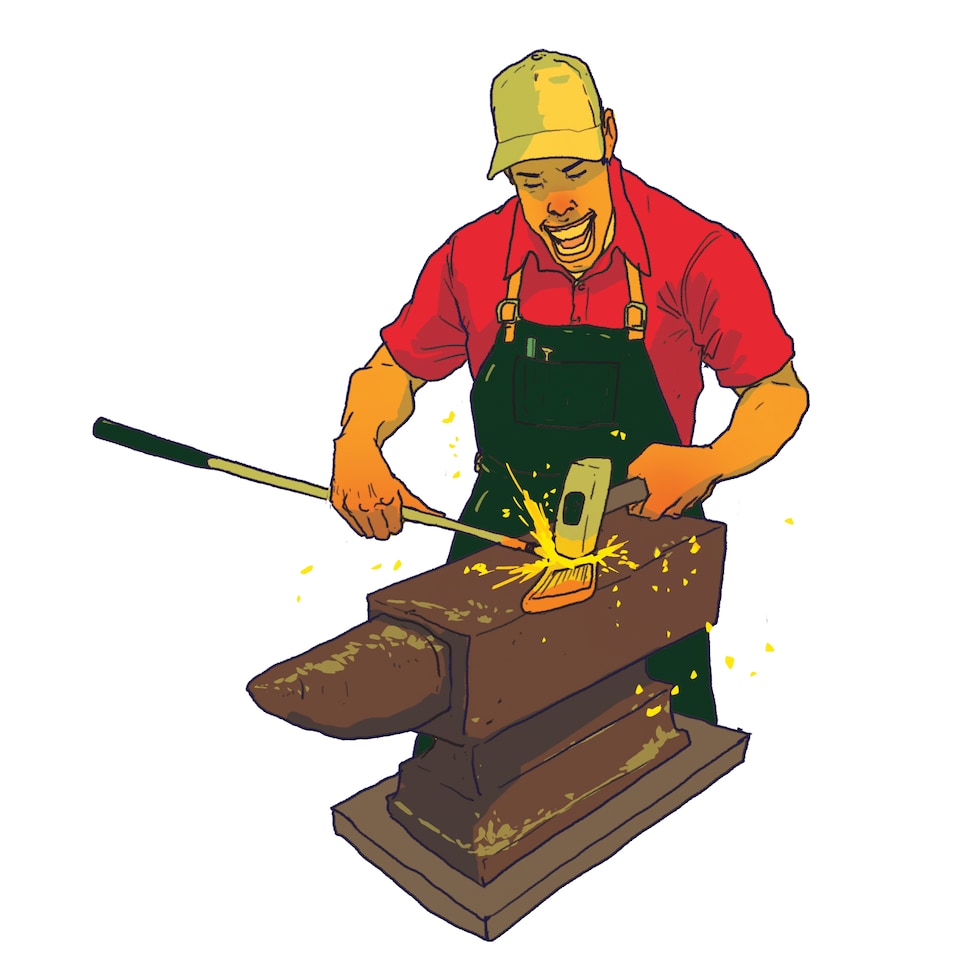 MYTH:
THE BEST TIME TO GET FIT IS AT THE START OF THE SEASON
Regardless of geography, almost every part of this country has a start to its golf season. Not only does that mean you're eager to tee it up again, it sometimes means you're eager to get fit for new clubs—perhaps too eager.
If you read this magazine, you know we're huge fans of fitting, so good for you for taking that approach to new clubs. But there is a right and wrong way to go about it, and getting fit at the very beginning of the season is not recommended.
"It's the worst time to get fit," says Woody Lashen, co-owner of Pete's Golf in Mineola, N.Y. "When booking fittings, we always ask if they have been playing and explain how important it is to a good fit that they are playing and hitting balls. Still, many don't listen. They must think we are miracle workers."
Although the temptation is there to want new equipment to start the season (or to make a change after a poor stretch of play), resist it. The best time to get fit is when you're playing well. The confidence you have in your swing will result in a better fit and get you the results that you're seeking—enhancing your game with new sticks— even if that happens to be in the middle of the season.