News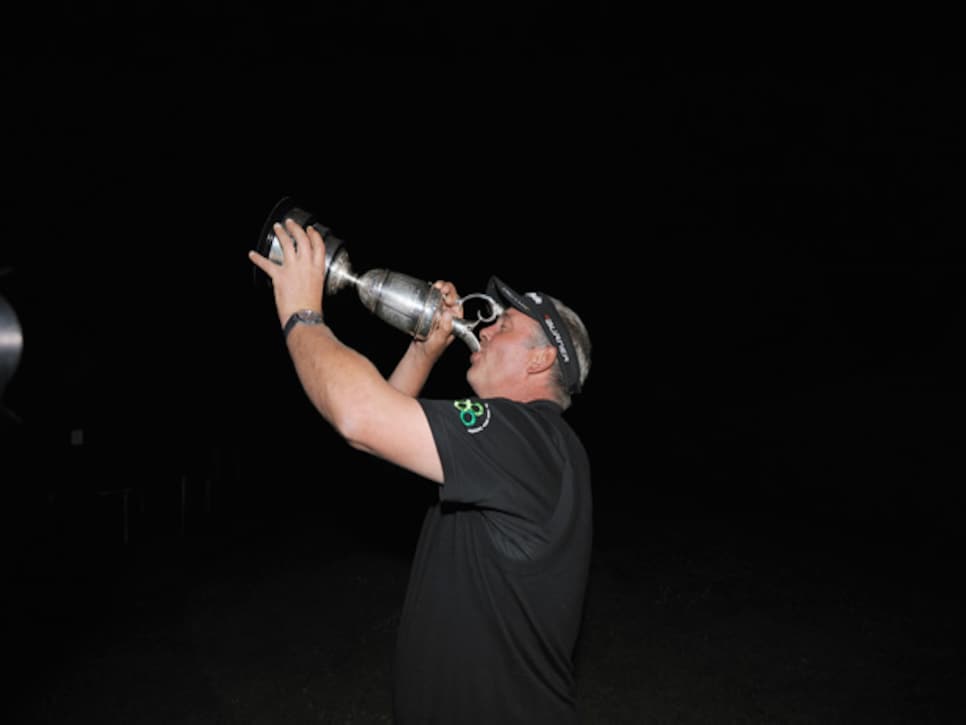 Cigarette in one hand, claret jug dangling in the finger tips of his other and a cold beer close by, Darren Clarke was saying goodnight to his parents late Sunday, the lights from the 18th-hole leader board visible in the distance, their son's name atop it.
In the dark, still wearing his visor, Clarke's ruddy face was aglow. "Only in golf could a 42-year-old man achieve what I achieved today, win the biggest golf tournament in the world," he said. "I'm just a regular guy. I have a smoke, enjoy a pint and look at me, it's obvious I don't spend much time in the gym." What seemed to please Clarke most was the call he received just minutes earlier, which he took in the garden behind the house being rented by his good friend and manager, Andrew (Chubby) Chandler. That call came from Tiger Woods, as did several text messages going into the weekend and again Saturday night, when Clarke held a one-stroke lead.
"I could tell he was extremely happy for me," Clarke said, not sharing the particulars, but smiling broadly when telling the story.
Woods wasn't the only one reveling in Clarke's out-of-nowhere victory (the betting parlors had Clarke at 170-to-1 at the beginning of the week). As Chandler said outside the press tent earlier in the evening, "There are 1.8 million people in Northern Ireland and it seemed like 1.7 million were here today."
Notwithstanding the hardships he endured after losing his wife, Heather, to cancer, the Northern Irishman was loved as a regular guy in a XXL body with a full sense of Irish self-deprecation and humor. Earlier in the week he talked with Chandler about going on Weight Watchers but decided against it, going instead with what the Europeans refer to as "the full Ulster fry" for breakfast Sunday morning before the crucial final round.
Unlike playing partner Dustin Johnson, or even Phil Mickelson -- the two players who were Clarke's biggest challengers before making costly errors on the back nine -- this was almost certainly going to be Clarke's last chance at a major. At 42, he was No. 111 in the world, arriving in Sandwich off a T-66 at the Scottish Open and in one of the dark moods that has earned him the nickname "Prince of Darkness" (hence his Twitter handle, "ThePrinceDC").
Enter Dr. Bob Rotella, who joined Mike Finnigan in Clarke's think tank. "He's doubled up on psychologists properly," Chandler said. Rotella and Clarke are old friends, but since Clarke plays predominantly on the European Tour -- most recently in places such as the Iberdrola Open in Spain, where he won in May the week of the Players -- they don't get together that often.
When they do, it usually frees up Clarke on the greens, which takes pressure off the rest of his game and lets his shotmaking talent pour through. Rotella calls it gaining control by giving up control.
"You've got to feel destined that you're going to win a bunch of these," Rotella said after working with Clarke on the practice green. "He's done a great job of staying with it all week. He walked on the green this morning so happy with himself, saying, 'Who knows what's going to happen today, but I'm going to enjoy myself.' He was more telling me that."
That mood was obvious on the practice tee. With Chandler standing beside him, Clarke striped shot after shot into the hard crosswind. Extremely loose for such a tense moment, he threw a headlock around former teacher Butch Harmon, who was working with Johnson. Both men roared in laughter after Butch told Darren, "Don't be driving it past my man."
At the first Clarke rolled in a 13-footer for par. At the second he drilled one from five feet for birdie. The day before, he missed three putts from less than three feet that could have given him a four-stroke lead. Rotella's point about all this: "When he's unconscious with his putter, he's able to putt nicely, and it takes pressure off his long game."
What really took pressure off Clarke was the bounce his ball took over the cross bunkers at the ninth hole, rolling onto the front of the green for what turned into a round- and major-saving par. That's when everyone, including Clarke, felt his victory was destined.
"It's an attitude I've never seen in Darren before, how relaxed he was, smiling, not letting things get to him, which I thought was very important," said Harmon. "But nobody plays links golf better than Darren Clarke. We've all known that." They've also all known the emotional challenges Clarke has faced in recent years. Eight years ago, he played the 2003 British Open at Royal St. George's with Heather, in the early stages of cancer treatment, walking in his gallery. She died three years later in the summer of 2006, but a month after that Clarke participated, and won three points, in an emotionally draining Ryder Cup at the K Club in Ireland.
As Clarke said after his second 68 gave him a share of the 36-hole lead with former U.S. Open champ Lucas Glover, "Nothing could be more difficult than that particular week," he said.
The reset in Clarke's life occurred when he decided to leave London and move back to Portrush, his adopted hometown in Northern Ireland, so that sons Tyrone, 13, and Conor, 10, could go to school with their cousins. This also coincided with Clarke falling in love with Alison Campbell, a former Miss Northern Ireland turned businesswoman and owner of a Belfast modeling agency. Graeme McDowell set up Clarke and Campbell on a blind date, and they have since become engaged.
The move was also liberating because it took Clarke out of a cushier but less-friendly environment in Surrey, England, and returned him to the windswept links of his childhood. That's where Tyrone and Conor spent the weekend, playing a four-ball match in the mornings and watching Dad bring home the claret jug in the windy, sometimes torrentially rainy afternoons Saturday and Sunday at St. George's.
"I've been doing a lot of practicing in bad weather because that's usually what we get in Portrush," Clarke said early in the week. "That's a little bit harsh. It's not always that bad. But it has certainly been tough conditions practicing, not quite as easy as it was when I was living in London."
Rory McIlroy's win in the U.S. Open was an inspiration, but while Clarke withdrew from the BMW International in Munich to attend Rory's victory celebration at Holywood GC, he was also feeling like a cheerleader to a kid just over half his age. At the Open after-party Clarke laughed that McIlroy -- a member of his junior golf foundation -- could once again cheer for him. In fact the 22-year-old already was on the bandwagon. During the U.S. Open Clarke sent a text message for McIlroy that read "Show Them How Good You Are." Last week McIlroy responded: "Right Back At You."
In his prime Clarke was real good, a world top-10 player for 43 weeks and a European Ryder Cup stalwart for two decades. At the start of Woods' incredible 2000 season, Clarke puffed on cigars and took out Tiger in the final of the WGC-Accenture Match Play Championship.
From that victory came a mutual respect. Afterward, Tiger even took Clarke aside and recommended that it would be better for his career, and health, to lose some weight.
At 6-foot-2 and weighing more -- much more -- than the 200 pounds listed in his bio, Clarke is simply a big boy. "Chubby has said that I play better fat, so I've obviously been adhering to that theory," Clarke said, adding later, "I've played well both heavier than I am now and lighter than I am now, so there hasn't really been any correlation."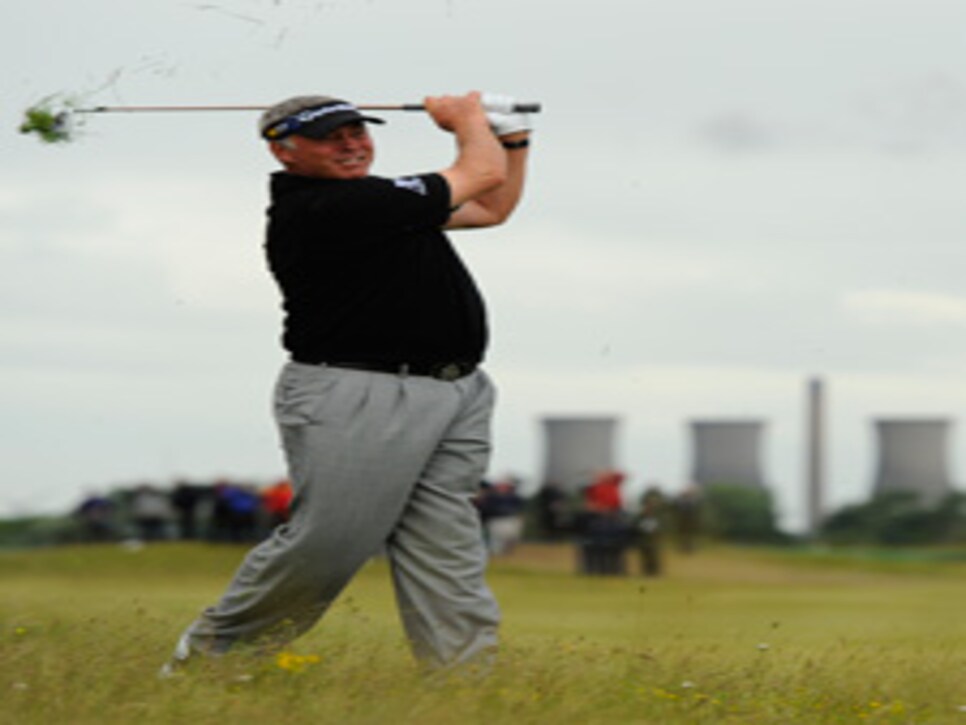 score of the week, but it still allowed him
to win the Open by three strokes.
There has been a correlation between Clarke's recent lack of success and the free advertisement spaces on his clothing, but that should change. The win was worth a seven-figure bonus from Dunlop, and will give Clarke opportunities to win much more than that with a five-year exemption into the majors. Instead of places such as Morocco and Andalucia, his schedule will again include WGC events.
For all the time that was lost with Heather's illness, for all the hard years that turned his hair gray and wrinkled his boyish face, Clarke was essentially being given a new professional life to show Tyrone and Conor what kind of golfer their dad was, and still is. Monday morning at 9, Clarke arrived at St. George's for a closing news conference. Promising, again, to be on Weight Watchers, he already failed to count the points of his breakfast -- mostly because the party didn't end until 8:30 a.m.
How much sleep did Clarke get? "Zero," he said, the lilt even more pronounced, eyes as red as his cheeks. "I've not been to bed yet. There's no surprise really, is there? It's now 10 past nine, and I probably won't get any sleep until tomorrow at some stage. Have to enjoy it when you can."
A party was being scheduled for Royal Portrush GC on Tuesday, with McIlroy among those in attendance, along with Clarke's father, Godfrey, a former soccer player and greens superintendent, and mother, Hettie, a hairdresser who used to dye her son's hair blond. They flew on a private jet out of Kent International after the news conference, back to the world's new capital of major championships.
Before heading to the airport, Clarke thanked them for the hard work they put in supporting his golf career and shared the memory of cutting the grass with his dad at Dungannon GC. "My mom and dad are the same as a lot of people, they're very normal, ordinary, down-to-earth," he said.