News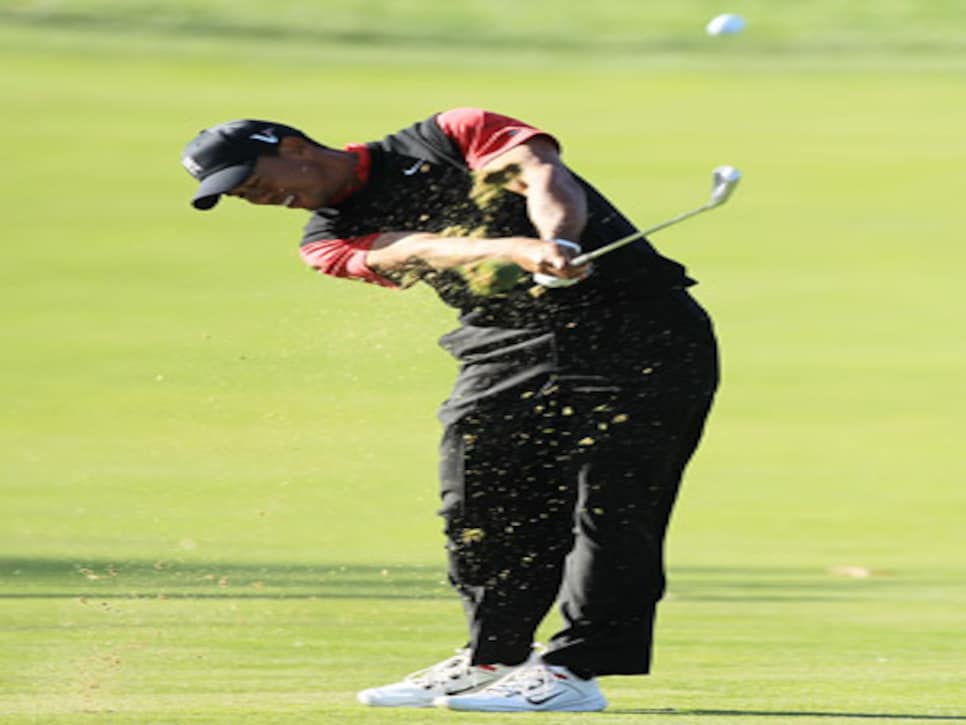 Woods' emphatic birdie-birdie finish hints he has regained his confidence.
THOUSAND OAKS, Calif. -- All week, the crack was back. And on Sunday, so was the stare. The shot making was, at times, of the goose-bump variety; and if not for an erratic putter, Tiger Woods need not have waited until the final hole at Sherwood CC to get his first victory in two years
. While this was not vintage, it was special.
And while redemption and recovery are not one event but a series of events, there was a lot in this singular victory to indicate Woods has turned an important corner on the road back to greatness
. Falling a stroke behind Zach Johnson on No. 16, Tiger finished birdie-birdie, just like he did when he was racking up 71 PGA Tour titles and 14 major championships.
But all those other wins were before injury, before the unraveling of his personal life, before his putting became erratic and before attempts to rebuild his swing joined all those other things to trigger a two-year victory drought. And while Woods tried to paint this victory in the same colors as any other, it was evident how much he wanted it.
Tiger gazed at the ground for an unusually long time before hitting his first tee ball in the final round Sunday at the Chevron. It was reminiscent of the 1996 U.S. Amateur, when he intimidated opponents by going to the corner of the first tee box, turned his back and seemingly went into a meditative state. Back then, facing Tiger was like getting into the ring with a young Mike Tyson. Frightening.
Throughout his career -- when he was the Full Tiger -- Woods maintained that haunting ability to recede into a tunnel of concentration and dismantle his opposition first mentally and then physically with his shot making. On Sunday, Woods had that look in his eye again. And, when it mattered most, he had the shots to back it up.
"My immediate thoughts?" he said, repeating the question when asked what went through his mind after the birdie putt on No. 18 gave him a final-round 69 and a one-stroke victory. "I wasn't really thinking," he said. "I think I was yelling."
Yes, he was yelling, and ripping a pumped first through the air that had the power of a Tyson right cross. When the winning putt dropped, there was an eruption of joy from the gallery as well as from those in Woods' inner circle who have endured an extremely difficult two years. Fittingly, the victory drought ended at a tournament that benefits the Tiger Woods Foundation.
Greeting Tiger on the 18th green were agent Mark Steinberg, president and CEO of the Tiger Woods Foundation Greg McLaughlin and Rob McNamara, an executive with ETW Corp., Tiger's company. They have been with Woods through the incredible ups and improbable downs. Joe La Cava, who replaced the fired Steve Williams, claimed the 18th pin flag as a souvenir of his first win with Woods.
"In order to play the way I knew I could play, I needed to get fit," Woods said after winning. "Starting at the (Frys.com Open in October), every tournament I got better because I was healthy and I was able to get my reps in. This is my third time with a chance to win (Frys and the Australian Open were the others), and I pulled it off this time."
There will be those who will say he only had to beat 17 players in an event that amounts to a year-end bonus for guys who have already had a good year. And there will be some truth to that. Woods still needs to win a full-field PGA tour event for the first time since Sept. 13, 2009, at the BMW Championship. Then he will have to pick up his first major championship since June 15, 2008, in the U.S. Open at Torrey Pines.
But this much was definitely true at the Chevron: The swinging-left move Sean Foley has Woods doing is compressing the ball in a very special way. "I'm longer than I was a couple years ago, yeah," Woods said. "My mechanics were such that I couldn't put any speed into it. I kept slowing it down to get into the right position," he said about his pre-Foley swing.
"Now I can go again," Woods said. "I can be aggressive. It was frustrating because all the strength training I was doing, how the hell am I hitting it shorter? I should be hitting it further. But now I've got the club in the right position, supplement that with my weight training, all of a sudden the ball is flying."
Is this the old Tiger Woods? Well, he hit several shots at the Chevron that were special, the kind that have been in short supply for him for more than two years. There was a high cut 3-iron from 230 yards on No. 5 on Thursday that ended up seven feet from the cup. On Friday, he hit a 5-iron on No. 2 from a lie below his feet out of the rough to five feet.
There were also some special short-game shots that have been rare since he started remaking his swing, and that is perhaps an indication that he has grown comfortable with his new pass at the ball. Yes, he did miss eight putts from six feet and in, but the putter showed up when he needed it most. After Woods fell a stroke behind when Johnson made a birdie on No. 16, he rolled in a 15-footer on No. 17 and then won it all with a six-footer on the closing hole.
While there was a lot here that was like the old Woods, there was evidence of a new one as well. While Tiger will likely never be a mellow individual, he is mellower. Yes, there were a few expletives after disappointing shots and one dropped club after a poor swing, but much less snarling than before and much more acknowledgement of fans.
It is as if in trying to re-find his rhythm for the game, Woods has downshifted time, seeking to resume a dance with greatness for which he had lost the beat of the music. His pre-shot routine has slowed down as he constantly rehearses the couple of feet of the swing immediately before and immediately after impact, making certain his hands are moving left of the intended line of flight during that part of the arc.
At times, before taking his stance, Woods stood behind the ball and stared at the target for a very long time, as if trying to mentally merge with the shot before moving into his set-up position. He did that before he hit his approach on No. 18 inside Johnson, who was sitting 10 feet from the hole.
Still, while focused, Woods is more at ease with the galleries. After he secured the clinching point for the United States in the Presidents Cup, Woods allowed himself to be swallowed up by the gold and green-clad "Fanatics," the avid group of Aussie supporters who show up at all major sporting events Down Under. Woods was all smiles, in sunglasses with a green Fanatics hat on backwards.
And then at Sherwood, he was not only hearing but acknowledging cheers. When a boy of about 5 asked his father, "Is that Tiger?" on Thursday, Woods glanced his way and said, "What's up, dude?" On Friday, a youngster who shouted words of encouragement to Woods as he walked to the tenth tee was rewarded with a golf ball, and another with a Woods tweak of his hat. Those may seem like small moves, but they are major diversions for Woods.
And in what may be an olive branch of sorts with the media, who he sometimes blames for his personal woes, Woods sent champagne to the press room after his victory. Has a corner truly been turned? Maybe. Time will tell, and we have plenty of time to think about it. We likely won't see Woods until the European Tour event in Abu Dhabi the last week of January.
But that will only build the anticipation. One thing Woods did at the Chevron World Challenge was live up to an old vaudeville adage: He left the stage with the audience wanting more. Just like the Tiger of old, he has us all wondering what he will do for an encore.