News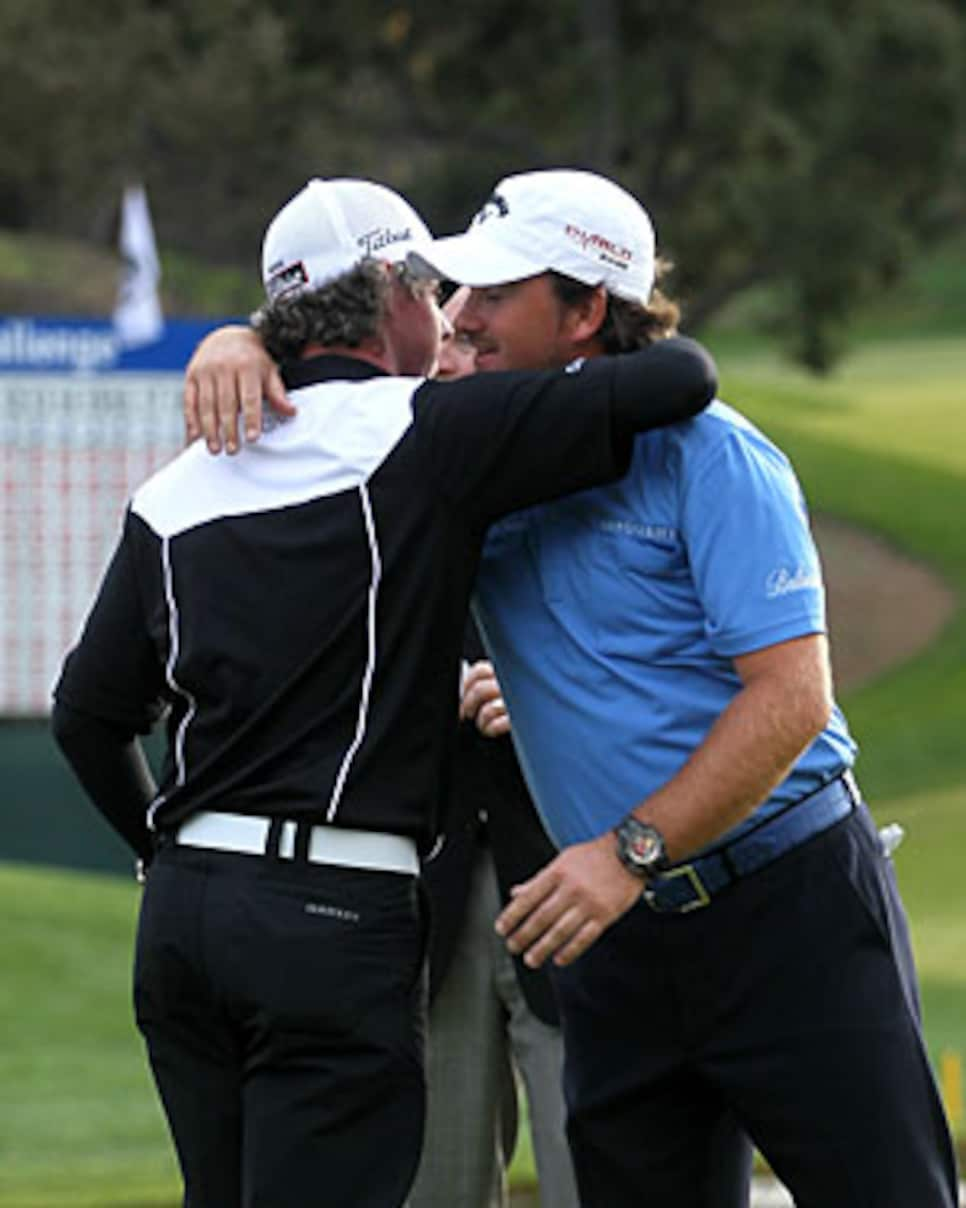 McDowell gets a hug from friend Rory McIlroy.
THOUSAND OAKS, Calif. (AP) -- U.S. Open champion Graeme McDowell capped off his greatest year with two clutch putts that gave him the greatest comeback ever against Tiger Woods.
McDowell holed a 20-foot birdie putt on the final hole to force a playoff Sunday in the Chevron World Challenge, then made another birdie putt from a little longer away to deny Woods a victory in his final tournament of the year.
"It's the stuff of dreams -- 2010 has been the stuff of dreams," McDowell said.
Woods, despite losing a four-shot lead, was poised to end a turbulent year with a victory in his final event. Tied for the lead playing the 18th hole at Sherwood Country Club, he stuffed an 8-iron inside 3 feet for a sure birdie. It was vintage Woods, the kind of magic he has he delivered so often in his career.
But it wasn't the same old outcome.
McDowell, with his own reputation as a tough closer, stayed in the game on the 17th by taking a penalty drop on the 18th tee and escaping with bogey. Then after Woods' great shot, McDowell answered with an all-or-nothing birdie putt.
In the playoff on the same hole, McDowell coaxed in another birdie putt from about 25 feet. Woods had about 15 feet to extend the playoff, but it missed just right of the cup.
"Probably two of the great putts I've made," McDowell said.
It was the first time Woods has ever lost a tournament when leading by at least three shots going into the final round. And it was the first time Woods has lost an event and felt good about himself.
"It was a great week, even though I didn't win," Woods said. "I'm proud of the way I played today, even though I lost."
Indeed, it was the first time Woods like the No. 1 player of old. He opened with three rounds in the 60s, the first time since the PGA Championship last year that he led after the first three rounds.
But he three-putted twice for bogey early in his round, lost the lead with a double bogey on the par-5 13th, then rallied to give himself a chance to win when McDowell paid for a few bad shots.
Ultimately, it was great theater. And for the first time all year, it included Woods.
"He will be back to winning tournaments very soon," McDowell said.
McDowell closed with a 69, while Woods shot a 73 to match him at 16-under 272. They were four shots clear of Paul Casey, who had had a 69 to finish alone in third.
McDowell showed why he is considered such a tough closer, despite letting Woods back into the game late.
He had a one-shot lead - courtesy of Woods chopping his way to double bogey on the par-5 13th - when McDowell pulled his tee shot on the par-3 17th into grass so deep that he took a penalty drop onto the 18th tee. But he dropped only one shot when Woods missed his birdie putt and McDowell pitched over a tree to about 7 feet and made the bogey putt.
Then, Woods had a big advantage again - but not for long.
"We had a good battle out there," Woods said.
Woods was shaky early on with the putter to quickly lose his four-shot cushion, but he didn't fall out of the lead until the 13th.
He took his hand off the club on a poor tee shot that went into the left rough, forcing him to lay up. Then came another poor swing, again letting the club fall from his hands, as his wedge sailed over the green. He chipped through the green, chipped back 6 feet long and missed the putt to make double bogey.
McDowell reached the green in two for a birdie, which was a massive three-shot swing.
It was the first time Woods trailed in the tournament since the 13th hole of the opening round, a stretch of 54 holes.
McDowell needed only four holes to put some tension into this final round, with plenty of help from the host.
Woods three-putted for bogey from about 25 feet on the opening hole. Two holes later, he ran his birdie putt about 3½ feet beyond the cup and three-putted again for bogey. McDowell closed within one shot with a 4-foot birdie on the fourth, and that's the way it stayed for the next eight holes.
Woods probably should have lost the lead earlier.
He holed a tough, downhill putt from 8 feet for par on the sixth to stay one ahead. And on the par-3 eighth, after a flop shop from deep rough sailed 15 feet onto the fringe, Woods again made a key par putt to keep the lead.
Woods was grinding to keep his game together, which was not unusual considering it had been one year and 20 days since he last played in the final round of a tournament with the lead. He never got it back, thanks to the clutch putting from McDowell.
A year ago, McDowell was a last-minute alternate to this tournament when Woods' personal life began to collapse. He finished second and earned enough world ranking points that he eventually got into the U.S. Open, which he won at Pebble Beach.
At a party Saturday night, McDowell asked tournament director Greg McLaughlin if he could at least try to win the tournament. Woods and a four-shot lead used to be a given. Upon seeing McLaughlin after winning, McDowell joking apologized.
It may have ruined a good story for Woods. It capped a dream season for McDowell, who won $1.2 million and moved up to No. 7 in the world.