News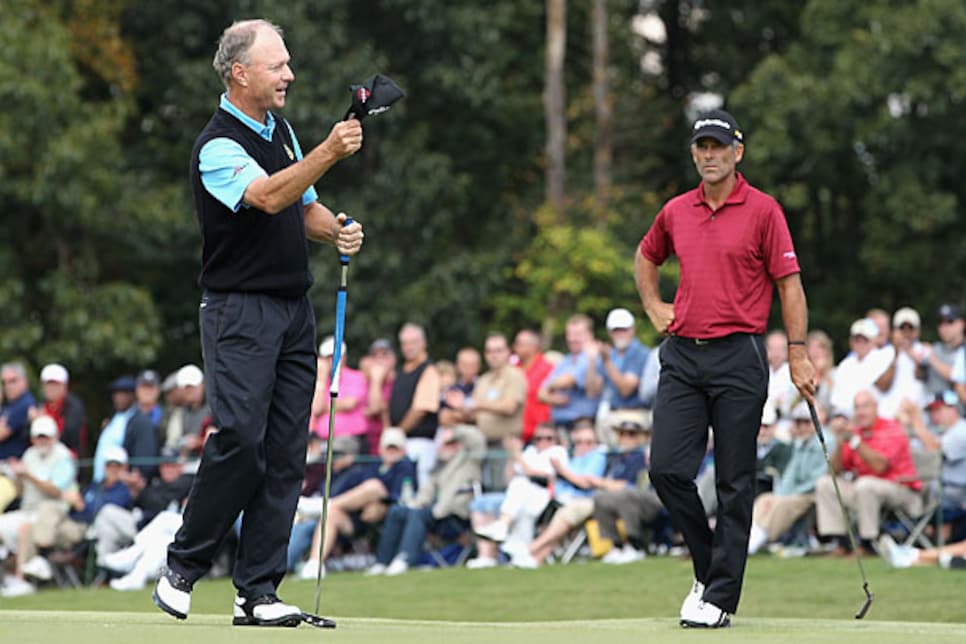 Hallberg had eight birdies and an eagle in his magical final round.
CONOVER, N.C. (AP) -- Gary Hallberg shot a record-setting 11-under 61 Sunday to win the Ensure Classic by one stroke ahead of Fred Couples.
Hallberg finished at 18-under 198, tying the event record at the Rock Barn Golf and Spa and winning his first career Champions Tour title. Hallberg bettered the final-round record of 62, set by Bob Tway earlier Sunday. Tway's round had surpassed the former mark of 64 set by Doug Tewell in 2004.
"You never think you're going to win," said Hallberg, who became the seventh first-time winner on the 50-and-over tour this season. "You look at the players -- guys like Fred Couples and Bernhard Langer -- who are champions, and you think 'Even if I play my best, how am I going to beat those guys?'
"You've got to believe, you've got to have confidence. I've never been the most confident golfer in my career ... but I'm starting to believe in what I'm doing out there. I knew I could win, because I've done it before ... but I didn't know if I could do it here. I'm still stunned by it all."
Hallberg -- whose best finish on the tour had been a tie for second in the 2008 3M Championship in Blaine, Minn. -- tied the overall tournament record, first set by R.W. Eaks in the first round in 2008, and tied a Champions Tour final-round record by a tournament winner, set by Rocky Thompson in 1994 and tied by Loren Roberts in 2006..
Couples, who led the tournament after Saturday's second round, had a chance to force a playoff, but he missed an eight-foot putt for birdie on No. 18. He shot 67 on Sunday, and finished the three-day tournament at 199.
"I was pretty sloppy," said Couples, who had three bogeys mixed in among the eight birdies he made in Sunday's final round. "I'd like still be out there playing Gary, but it's a little disappointing. I played well this week and made a bunch of birdies ... but I hit a lot of really bad shots."
Tied for 10th after two rounds, Hallberg made eight birdies and an eagle on No. 7 during his record-setting round. Yet he had to wait and watch as Couples and Langer -- playing three groups behind -- finished up.
"I thought 18 under was pretty good ... then someone said Freddie birdied Nos. 14, 15 and 16," said the 52-year-old Hallberg, who won $262,500, the largest paycheck of his pro career. "I thought, 'Oh, you've got to be kidding me. ... He'll eagle (No. 18) for sure.'
"But when Freddie missed that putt ... wow, it was pretty amazing. To win by one (stroke), it's just too good to be true."
Langer (67), who now leads Couples by 644 points in the Charles Schwab Cup standings, finished third at 200. Tway (62) was one stroke back, and Morris Hatalsky (68) was two shots behind.
Tway, who was tied for 23rd after two rounds, vaulted into contention with four birdies and a hole-in-one on the front nine of Rock Barn's Robert Trent Jones course. He then made two more birdies and an eagle on No. 18 to cap off what was the lowest final-round score in the event until Hallberg's 61.
Tway's ace, on the par-3, 186-yard No. 9, was just the third hole-in-one recorded in the tournament's eight-year history, and all three came in the final round. Gil Morgan aced that same hole in 2005, and Mark McNulty 1-shotted No. 17 in 2008.