News
Spittle Stuns In San Antonio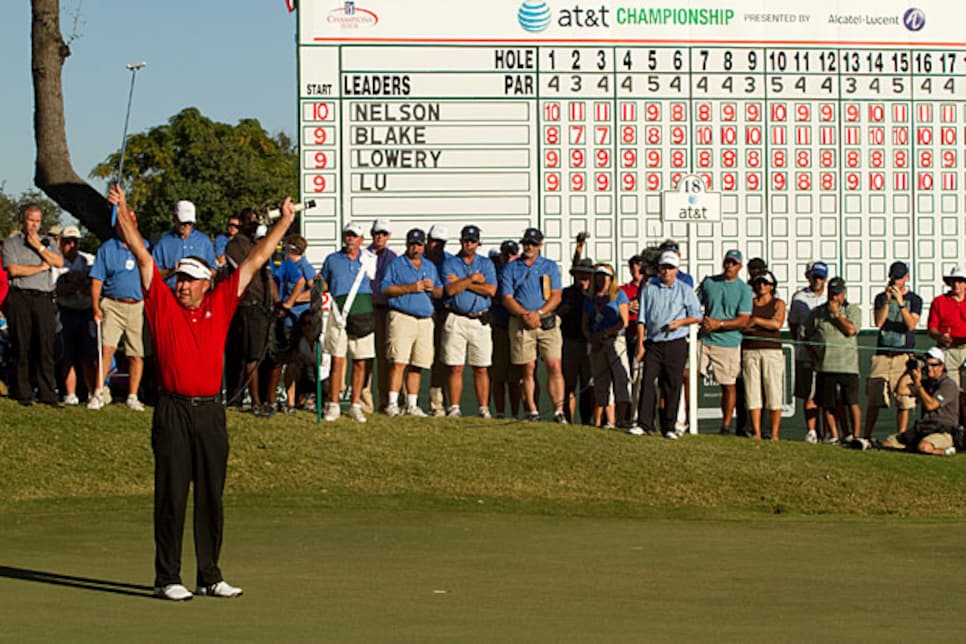 Spittle birdied holes 15-17 in regulation before winning with a par in sudden death.
SAN ANTONIO (AP) -- Monday qualifier Rod Spittle won the AT&T Championship on Sunday for his first Champions Tour victory, beating Jeff Sluman with a par on the first hole of a playoff.
Spittle, a 55-year-old Canadian, and Sluman closed with 4-under 67s to finish at 12 under on the Oak Hills Country Club course. Spittle earned $262,500.
Spittle birdied Nos. 15-17, hitting a wedge shot to 2 feet on the 17th and parred the 18th, while Sluman birdied 15 and 16 and finished with two pars.
"Not to sound corny, but to say this is a dream come true literally is the case," said Spittle, the former Ohio State player who sold insurance until turning pro six years ago. "These are great players out here, and to come and tip-toe in that company is truly amazing."
He's the 11th player to win on the Champions Tour after qualifying Monday and the first since Pete Oakley won the Senior British Open six years ago.
Sluman hit his tee shot into the front bunker on the playoff hole -- the par-3 18th -- and had a bogey putt left when Spittle won with a 4-foot par putt.
Two-time Oak Hills winner John Cook (68), second-round leader Larry Nelson (70) and Chien Soon Lu (69) tied for third at 11 under. Nelson, the 63-year-old Hall of Famer who was looking for his first win in six years, fell out of the lead with a double bogey and bogey on consecutive front-nine holes.
Cook missed an 8-foot birdie putt on the final hole. Cook, Spittle's teammate at Ohio State, led by two strokes after he birdied No. 8, but he had bogeys on 11 and 13.
Corey Pavin (66), Steve Haskins (67) and Jay Don Blake (70) tied for sixth at 10 under, and Charles Schwab Cup points leader Bernhard Langer (69) was another stroke back along with Jay Haas (67).
Spittle's playoff par was set up by a chip with an awkward stance when he had to stand on the lip of a bunker behind the green. Once on the green, after moving the coin to mark his ball to get clear of Sluman's par putt, he had to be reminded by several people surrounding the green - including Sluman - to move the mark back before replacing his ball on the green.
He would have lost the playoff if he putted before returning the ball to its spot, which he admitted he almost did. "It sounded like the posse was coming to get me," he said.
"Fortunately it didn't end on a terrible note like that," Sluman said. "It would have been awful."
The tournament was the final full-field event of the year. The top 30 on the money list earned spots next week in the season-ending Charles Schwab Cup Championship at Harding Park in San Francisco.
Next year, the AT&T Championship will move from A.W. Tillinghast-designed Oak Hills to a TPC course across town designed by Pete Dye. Oak Hills, opened in 1922, was the tournament site since 2002 and was the site of the PGA Tour's Texas Open for 24 years until 1995.