News
Els Ends Drought With Win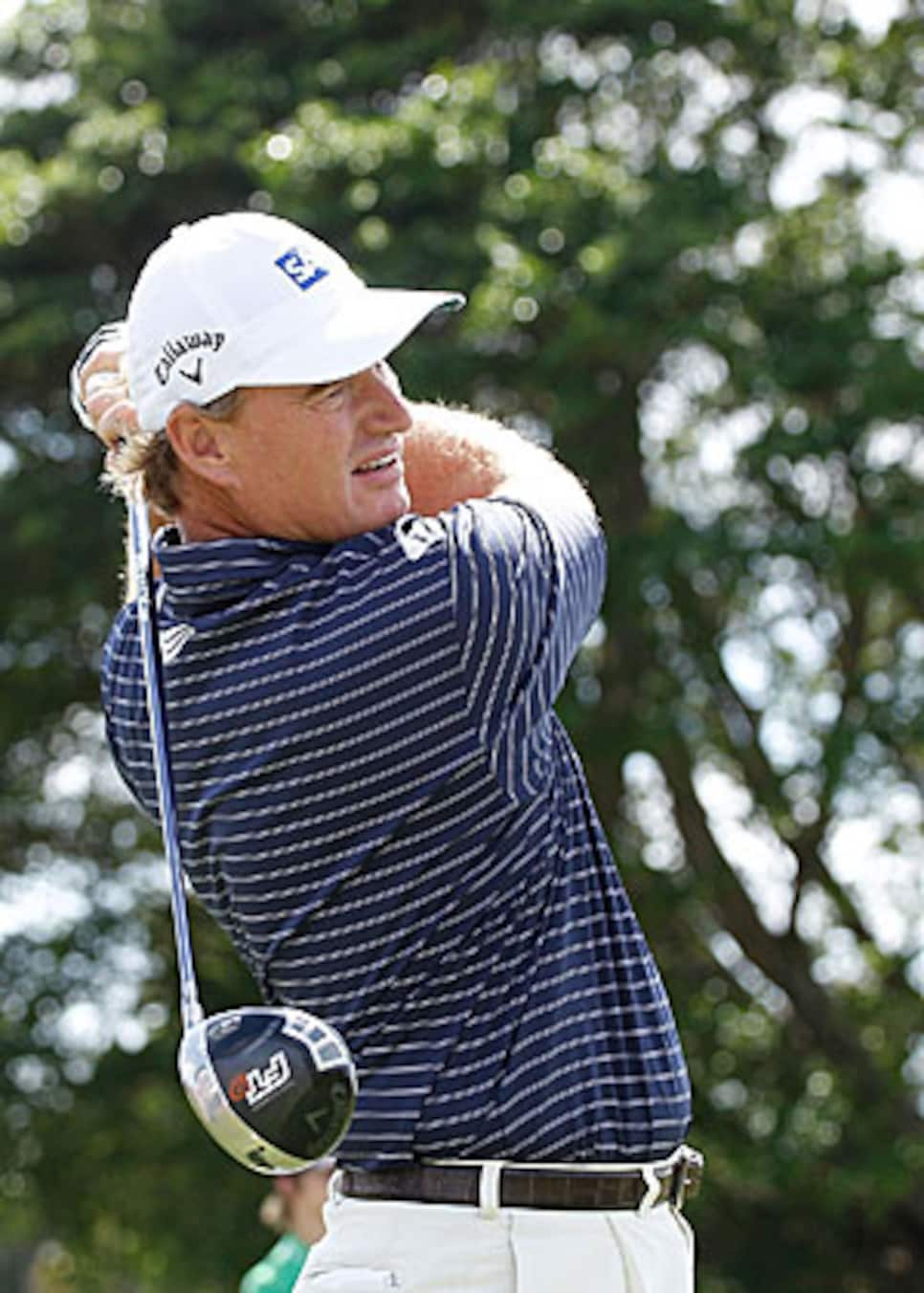 Ernie Els' win in a World Golf Championship was his first in nearly six years.
DORAL, Fla. (AP) -- Ernie Els showed his South African protege what it takes to win a World Golf Championship. Just as important was that he showed himself how to win again, too.
Ending the longest drought of his 20-year career, Els played the final 23 holes on the Blue Monster without a bogey and closed with a 6-under 66 on Sunday to win the CA Championship by four shots over 25-year-old Charl Schwartzel.
It was far closer than the margin suggested.
Schwartzel, in his first time on a world stage, refused to let Els get away from him. Els was clinging to a one-shot lead as he stood over a 25-foot par putt on the 14th hole, and the Big Easy was relieved to see it fall on the final turn.
Schwartzel, a houseguest of Els the last two weeks, caught a bad break on the 15th hole when his ball plugged in a front bunker, and he knocked that into a back bunker on his way to a crucial bogey. He missed short putts on the next two holes and closed with a 70.
That allowed Els a strange sensation, walking up to the 18th green with his cap in hand, waving to the gallery, unable to contain a smile that showed equal parts relief and satisfaction.
"I'm 40 years old. I've had a tough run," Els said. "Whew! The hairs are standing up. It's just great."
Els last won two years ago at the Honda Classic, which he won while warming up on the range for a possible playoff. He became only the fifth player with multiple victories in the World Golf Championships, joining Tiger Woods, Darren Clarke, Geoff Ogilvy and Phil Mickelson.
It was his 61st victory worldwide, and 17th on the PGA Tour, and moved Els to No. 8 in the world ranking.
"My game was in good shape," said Els, who finished at 18-under 270. "I just wanted to prove to myself for once. Charl came at me all day. I had to come up with the goods."
It was a strong effort by Schwartzel, who has considered Els a hero since he first started playing golf. Despite two bogeys on the final four holes, he was the only player to give Els a run. And he was poised to take him down until his tee shot left him little hope in the sand.
"I plugged and that was a killer," Schwartzel said. "For me, it's been the biggest stage I've had. This is a good day for me."
Padraig Harrington fell out of the with three straight bogeys on the back nine, closing with a 72 to tie for third at 11-under 277 along with Matt Kuchar (68) and Martin Kaymer of Germany, who had a 69 and moved up to No. 7 in the world.
Alistair Presnell of Australia matched the best round of the day with a 64 and tied for sixth. Defending champion Phil Mickelson, who was never in the mix, shot a 68 and tied for 14th.
Els could not have imagined being in the final group at Doral with Schwartzel, and to see the two South Africans standing on the first tee under warm sunshine, it was easy to see what the Big Easy meant.
To think that Schwartzel was 2 when his father and Els won a club tournament together, or that he was among the gangly teens who traveled with the Ernie Els & Fancourt Foundation junior team. More recently, Els invited the Schwartzel to stay in his south Florida home while Schwartzel was passing time between two WGC events.
And they stayed together for so much of the final round, trading birdies and keeping their names atop the leaderboard.
Els made birdie from the bunker on the opening hole. Schwartzel answered with a 25-foot birdie on the second. Els followed with two straight birdies, the most impressive on the 223-yard fourth with a shot into 8 feet despite a vicious right-to-left wind. Schwartzel fell three shots behind with a bogey from the bunker on No. 5, only to birdie his next three holes.
No one else joined the chase.
Harrington played bogey-free for 12 holes, but he had only two birdies. Robert Allenby pulled within a shot with an opening birdie, then went 10 holes before making another one. Kaymer went out in 33, then failed to make birdie on the par 5s on the back nine.
It became a South African duel in Miami, and Schwartzel gave Els about all he could handle until the end. After his bogey on the 15th, he left a 10-foot birdie putt short on the 16th, then drove into the palm trees on the 17th and took bogey.
Els suddenly has good vibes as he begins his road to the Masters, the one major that has haunted him throughout his career. His victory was worth $1.4 million, and moved him past Colin Montgomerie and atop the PGA European Tour career money list with about $33.6 million.