News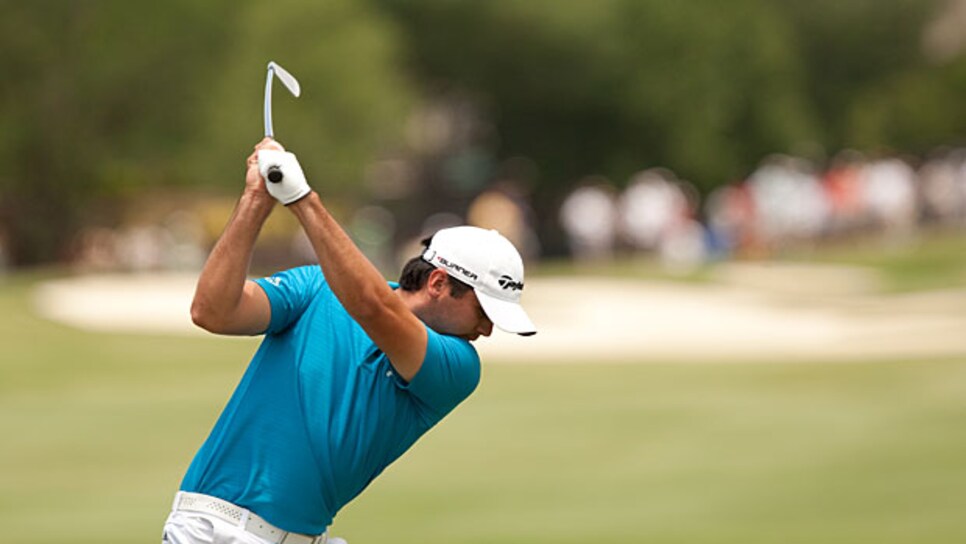 Jason Day sent his approach into the water on 18, but still fended off Blake Adams.
IRVING, Texas (AP) -- Jason Day nearly dropped out of the Byron Nelson Championship before it began. He wound up winning the tournament — even though most folks likely will remember Jordan Spieth as the big winner.
Day fought through a rocky final round for a 2-over 72, but it was good enough to give the 22-year-old Australian the first win of his PGA Tour career.
Still, the 2010 Nelson will go down for the remarkable Tour debut by Spieth, a 16-year-old junior at a local high school.
Spieth was within three shots of the lead on the final nine holes, but dropped back into a tie for 16th. He shot a 2-over 72 in the final round, his highest score of the tournament. His 4-under 276 was six strokes behind Day.
The maturity and moxie Spieth showed was a surprise for someone who spent last week playing in the state high school tournament. He showed it again Sunday, bouncing back from trouble early and late, such as posting a birdie right after his first double-bogey of the tournament.
Spieth, the reigning U.S. Junior Amateur champion, is a high-school junior more interested in playing for the University of Texas than turning pro — at least, he was coming into the week.
"It was awesome ... the entire round, the entire week," Spieth said. "Starting the week, I definitely would've taken a top-20, in a heartbeat. Obviously now, looking back, being a competitor, I look back at the mistakes I made that didn't give me an opportunity to win."
Day isn't exactly an old-timer himself. In fact, when he was 19, he won a Nationwide Tour event, making him the youngest winner of a PGA Tour-sanctioned tournament.
Day has been battling health problems all season, but he got a new diagnosis and a new batch of medicines Monday. The drugs left him so queasy Thursday morning that when he went to get an umbrella from his car, he thought about driving to his home in Fort Worth.
He was part of a seven-way tie for first after the opening round, a shot back after the second round and ahead by himself after the third.
His final round wasn't pretty: six bogeys, including one on 18 after hitting his approach into the water. He got lucky that playing partner Blake Adams, a 34-year-old PGA Tour rookie, also put his approach into the water and wound up taking a double bogey. That dropped Adams (72) into a tie for second with Brian Gay, who shot a 63 Sunday, and Jeff Overton (71).