News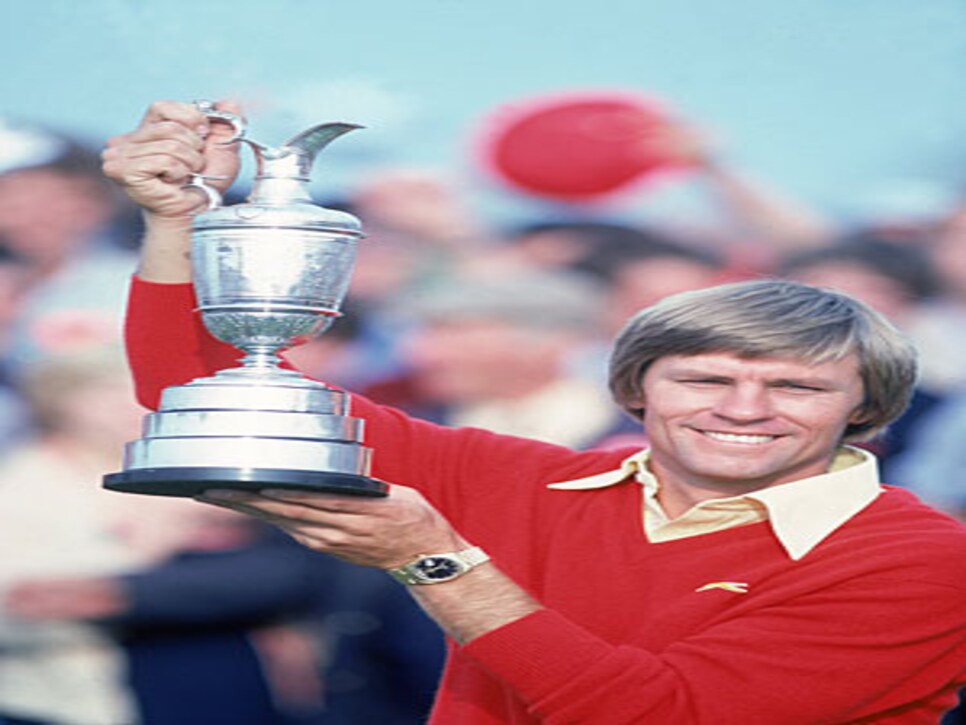 Bill Rogers had four of his six career wins on the PGA Tour in 1981.
SANDWICH, ENGLAND -- The claret jug for winning the British Open is in his office, "tarnished up," with "some cobwebs on it," like the rest of Bill Rogers' old trophies. "To be ceremonial I take a little sip of something from it this time of year," the Texan said from his home in San Antonio Wednesday morning. "I won't be pouring barbecue sauce into it. Wasn't it Stewart Cink who did something like that?"
It was Cink who did, indeed, use golf's most cherished chalice at a July 4th cookout last year. The replica Rogers owns is 30 years old and was won here on the moonscape at Royal St. George's. It sits beside his PGA Player of the Year Award, the result of four victories in 1981 that included the World Series of Golf.
As Rogers said, "life happens in a hurry." And that's coming from a man who made every effort to slow it down by walking away from the game and the time spent away from home.
"Thirty years, are you kidding?" Rogers said. "I feel like I'm still 29, like it was yesterday in a lot of respects. But I'm sneaking up on 60. I'm right up against it."
Rogers has no regrets for the way his life or career turned out after winning the Open by four strokes over Bernhard Langer, one of seven victories on four continents. Nor does he regret the way it ended. Seven years after winning the jug, he was out of golf as a touring professional, a victim of burnout from his own self-inflicted globetrotting.
International Management Group represented Rogers. Appearance fees were becoming popular. He would fly to Japan, Australia, Europe -- anywhere a sponsor was willing to pay for a British Open champion.
"That was how to make money then, you had to travel," Rogers said. "I didn't disappoint them. I liked that money. I was in pursuit of the almighty dollar and IMG could open the doors. I had the decision and I said, 'yeah.'"
The low point was a hotel room in Australia in the mid-80s. Rogers awoke in the middle of the night and literally watched the minutes and hours pass until his final-round tee time. All he wanted to do was get on an airplane and fly home to Texas.
In 1988, he took a position as director of golf at San Antonio CC. He worked there for 11 years, dabbled in golf course design and development, ending up at the University of Texas-San Antonio as Director of Golf Program Development. "I've tried everything there is to try in golf post playing professionally," he said. "I'm grateful to be here. It's a sweet spot for me. Like I tell Curtis Strange, I teach them to hate bogey, not what it should look like at the top of the backswing."
Rogers gets calls whenever the Open returns to Sandwich. Telling the story never gets old. It starts on the putting green before the opening round. Rogers had an 8:22 a.m. tee time. He was talking to a British golf writer, John Whitbread of the Surrey Herald, when Whitebread looked at the draw sheet and informed Rogers it was 8:21. Thinking he was on the tee at 8:44, Rogers jumped a picket fence and made it to the first tee within seconds of being disqualified.
"I think it raised Ivor Robson's voice an octave when I arrived," Rogers said of the already high-pitched first tee announcer.
Dan Jenkins described Rogers as "slender, stylish, gloveless." As understudy to Ben Crenshaw and Bruce Lietzke, Rogers talks today about playing with a little chip on his shoulder. The rough was knee deep in spots just off Royal St. George's craggily fairways, but Rogers grew up on hard ground and heavy winds in Texarkana and learned to hit the ball low through a coach from East Texas named Jerry Robinson.
With an early draw the first day, Rogers shot 72 and returned to his accommodations at Broom Castle, a residence he was sharing with Crenshaw and his former University of Houston teammate Lietzke. "I jumped in the bed with a hot water bottle, turned on the TV and saw a hurricane had blown in. A big old smile came on my face. I watched Jack Nicklaus and everyone get blown around as I nestled up to some hot water bottles."
Rogers was the hot golfer that season, beating Hale Irwin, Craig Stadler, Bruce Devlin and Gil Morgan by a shot at Hilton Head, finishing second to David Graham in the U.S. Open at Merion. So his first major was not that much of a surprise, certainly not on the White Cliffs of Dover in Kent, England. The Brits knew him because of his victory in 1979 at the Suntory World Match Play at Wentworth, where Rogers was five under eliminating Sandy Lyle, five under beating Irwin, 10 under taking out Fuzzy Zoeller and eight under against Isao Aoki in the final.
"I started at the very bottom, was a pure green rookie that went to the mountaintop," Rogers said. "It was rarified air, but a heavy price to pay if I was going to stay there. I kind of thought I didn't' want to do it long haul."
Life may have happened in a hurry, but it turned out all right for Rogers. His daughter Blair, 28, graduated from Texas Tech and is working for a company hat manufactures medical devices. His son, Ben, 25, graduated Texas A&M and works in the oil patch. His wife Beth has hung in there with him for 38 years.
Now all there's left to do is celebrate. What would Rogers drink from the claret jug if he were so inclined this week? "It would probably be an Arnold Palmer," he said.