News
Blasberg's Death Ruled A Suicide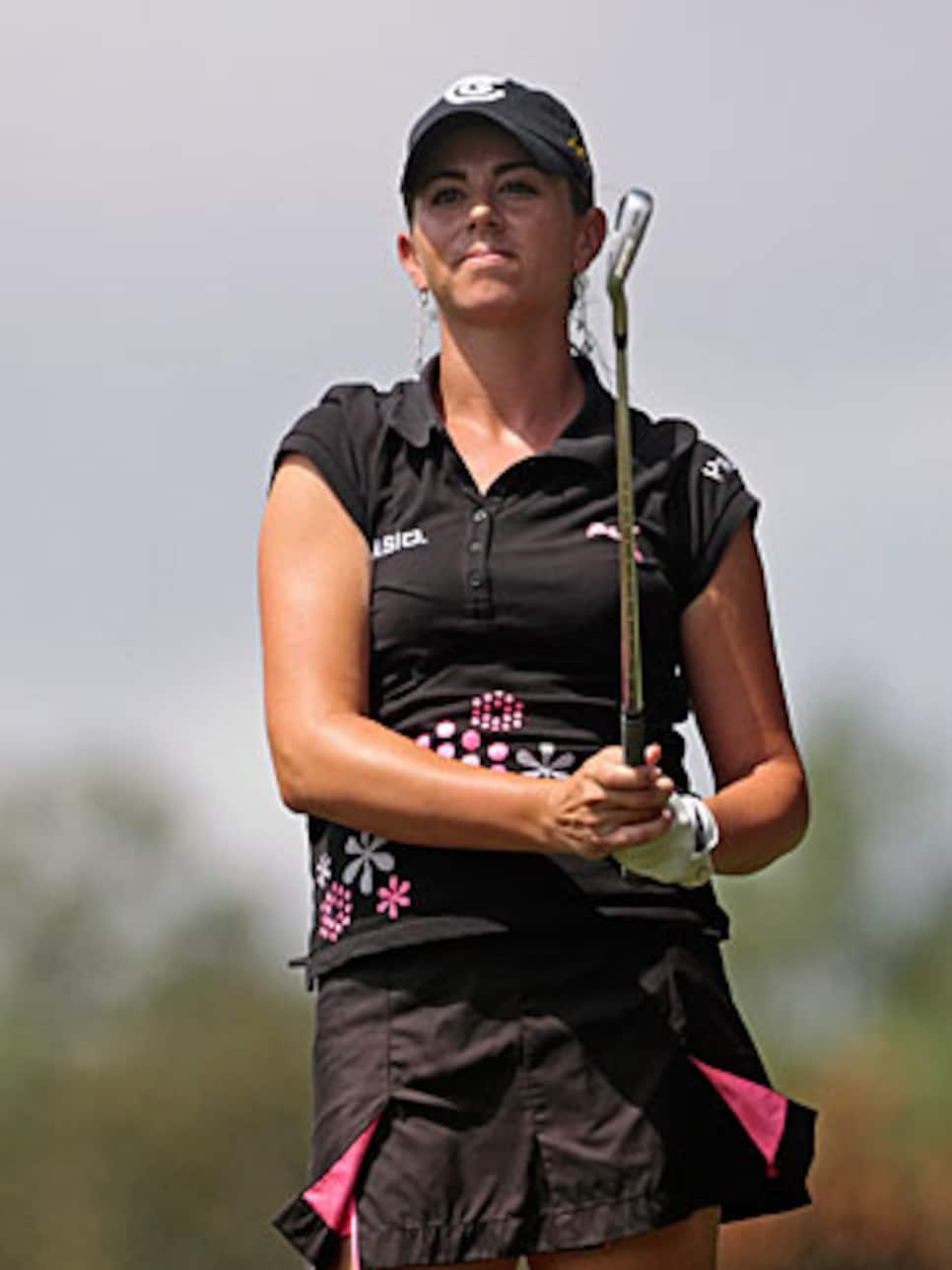 Erica Blasberg was in her sixth season on the LPGA Tour.
LAS VEGAS (AP) -- The Clark County coroner's office ruled Tuesday that 25-year-old professional golfer Erica Blasberg's death was a suicide.
Blasberg died May 9 at her home in Henderson, about 15 miles southeast of the Las Vegas Strip. She was found with a plastic bag secured over her head.
Henderson police said that while no foul play is suspected they have issued a misdemeanor arrest warrant for Dr. Thomas Hess on obstruction charges. Police said Hess, who discovered Blasberg's body, removed items from the scene, including a suicide note.
The contents of the note haven't been disclosed.
Hess turned himself into authorities, was booked into jail and released about 35 minutes later, after posting $637 in bail Tuesday afternoon, Henderson police spokesman Keith Paul said.
David Mincavage, an assistant city attorney in Henderson, said the nonviolent misdemeanor charges against Hess carry a maximum penalty of a $1,000 fine and six months in jail.
Mincavage said he could not comment further on the case, and Paul declined to say whether additional charges were possible.
The coroner's office said Blasberg died of suicide due to asphyxia, coupled with the presence of toxic levels of prescription medication in her system, including prescription headache, cough, pain and anti-anxiety medications.
The drugs in Blasberg's system included butalbital, temazepam, alprazolam, codeine, hydrocodone, and tramadol, according to the coroner, but Nevada law doesn't permit the release of details on the amounts of medication.
"While asphyxia was the primary cause of death, the presence of prescription drugs in Ms. Blasberg's system was a significant factor," Coroner Michael Murphy said.
A 911 call from Hess that summoned police came from the house, and Blasberg was alone when officers arrived, police have said. Blasberg's agent said her bags were packed for a tournament in Mobile, Ala., when she was found.
The death investigation was complicated, police said, because Hess admitted altering the scene -- including the removal of the note indicating Blasberg took her own life -- and he stopped cooperating with detectives. Hess hid the note and prescription medications in his vehicle.
In a 911 call obtained from police by The Associated Press, Hess says he came to the house to check on her after she didn't leave for the tournament.
"I called her yesterday, she was supposed to be leaving for a golf tournament but she didn't," an agitated Hess said on the call. "She picked up the phone and she sounded intoxicated at that time."
Hess said Blasberg had consumed a "couple drinks" and was sad the night before her death, but didn't indicate she wanted to kill herself.
When asked by the female operator whether Blasberg was beyond resuscitation, Hess replied: "I'm a doctor."
But Hess didn't say he was Blasberg's doctor, instead saying he "knew her from the golf club."
When the operator told Hess she was sending police, she asked him to wait outside the house.
"Try not to touch anything," she said.
Calls from The Associated Press to Blasberg's father, Mel Blasberg, her agent Chase Callahan and Hess' lawyer Charles Kelly were not immediately returned.
The Nevada State Board of Medical Examiners in Reno said Hess' medical license is active and he has had no disciplinary action or pending complaints. He got his license to practice in Nevada in July 2003.
Blasberg grew up in Southern California, and was in her sixth season on the LPGA Tour.
She was a former junior golf standout, an All-American in 2003 and 2004. She was the 2003 NCAA Freshman of the Year and 2003 Pac-10 Player of the Year while at the University of Arizona.
She turned professional in June 2004, and won once on the Duramed FUTURES Tour before qualifying for the LPGA Tour in 2005.
Her best year on Tour was 2008, when she earned a career-best tie for eighth at the SBS Open in Hawaii and more than $113,000 in winnings, the LPGA said.
Blasberg played in one event this season, tying for 44th in the April 29-May 2 Tres Marias Championship in Morelia, Mexico.