News
Memorial Service Held For Blasberg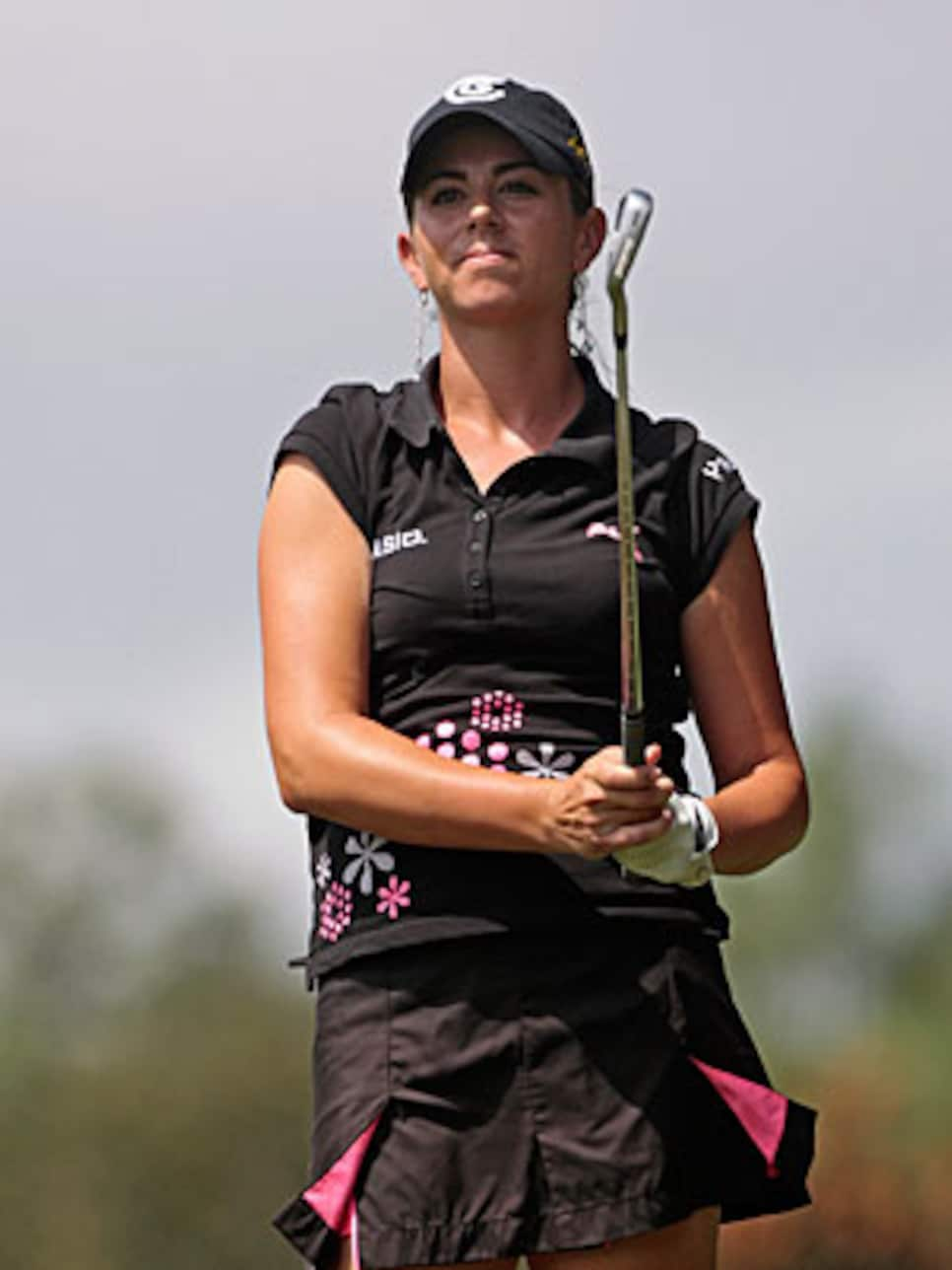 Erica Blasberg was in her sixth season on the LPGA Tour.
CORONA, Calif. (AP) -- LPGA golfer Erica Blasberg, whose sudden death last week at age 25 remains a mystery, was remembered during a public memorial service in her hometown Wednesday as a passionate competitor with a playful side and a generous heart.
Family members, friends and LPGA golfers praised Blasberg in person and on video during the service at Eagle Glen Golf Club in Corona where she played as a high school athlete. Two golf bags stitched with her name stood by her silver coffin.
She was "goofy, fun-loving and ultra-competitive," Chase Callahan, her agent, told a standing room-only crowd.
"She was a machine when it came to smacking drives down the fairway ... she never missed," he said.
Blasberg had her bags packed for a tournament in Alabama when she died suddenly on May 9 at her home in Henderson, Nev., about 15 miles southeast of Las Vegas. The cause of her death has not been stated pending blood and tissue tests that could take a month or more to complete. Police have not said whether they suspect foul play but have not ruled out any cause, including suicide.
Speakers at the service mentioned her drive and the years she spent learning the game. A burial followed in Corona Del Mar.
They also mentioned her puckish sense of humor and childlike side.
Arden Czyzewski, an executive with Puma who helped choose her to represent its clothing line, noted that in her LPGA tour biography she mentioned she loved "drawing hearts and stars" as well as snacking, sleeping, cooking, reading tabloids and added, "I think I'm addicted to shopping."
Her golf coach at the University of Arizona, Greg Allen, said that she loved his wife's homemade cornbread and always had a "perfect bow in her hair to match today's outfit." He also said the woman he knew as Skip -- the nickname given to her because she could not skip -- was so enthusiastic about golf that once she showed up for a 6 a.m. golf tournament at 2 a.m.
Blasberg was "the girl who could floor you with a grin," said friend Shane Bacon.
LPGA players remembered her fondly in videos played at the service.
Friend and longtime LPGA player Irene Cho presented her parents with a flag signed by golf tour contestants that came from Blasberg's last tournament in Mexico.
Her parents wept as they talked about their daughter. Her mother, Debbie Blasberg, held her daughter's Yorkie, Wynnston, in her arms as she urged the attendees to remember their own children, saying that even if their children were only leaving to go to the next room, "just tell them you love them because you don't know the next time you're going to see them."
Her father, who had coached her, said that on the day of her death he texted her "How's everything?" but never got a response. Just before midnight that day he heard a knock at the door. It was the Corona police and he learned she was dead. He and his wife went to Las Vegas and stayed overnight at his daughter's home.
"We had lost something that we had shared and created," he said, including "a piece of our very spirit."
"I love her beyond the bounds of earth," he said.
Blasberg was in her sixth season on the LPGA tour.
She was a former junior golf standout, an All-American in 2003 and 2004. She was the 2003 NCAA Freshman of the Year and 2003 Pac-10 Player of the Year while at the University of Arizona.
She turned professional in June 2004, and won once on the Duramed FUTURES Tour before qualifying for the LPGA Tour in 2005.
Her best year on Tour was 2008, when she earned a career-best tie for eighth at the SBS Open in Hawaii and more than $113,000 in winnings, the LPGA said.
Blasberg played in one event this season, tying for 44th in the April 29-May 2 Tres Marias Championship in Morelia, Mexico.