News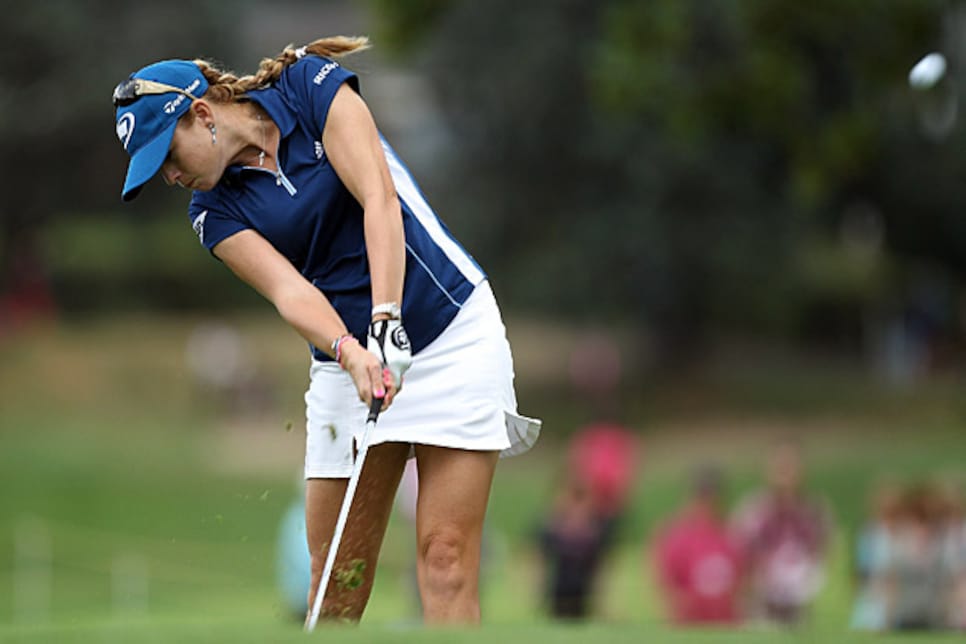 Paula Creamer is just one player who could emerge as a breakout star on the LPGA.
SOUTHPORT, England -- The complicated business model of the LPGA is one flush with opportunity, but still flailing in a sea of confusion. While the international nature of women's professional golf presents broad marketing opportunities, it also creates an identity crisis in the post-Annika Sorenstam era when it is not at all clear who to regard as the face of the tour.
That situation was compounded earlier this year when Lorena Ochoa retired at the age of 28 and left two young Asian stars -- Jiyai Shin of Korea and Ai Miyazato of Japan – as her heir apparents. Missing in the mix were any American players upon whom title sponsors and other corporate supporters of the LPGA could hang their hat.
But as the tour swings into the second half of its meager 24-tournament schedule at the Ricoh Women's British Open beginning Thursday at Royal Birkdale, the sun is breaking through on several cloudy issues for the LPGA. First off, the Americans are starting to be heard from again. And secondly, candidates are emerging to be the kind of dominant stars individual sports desperately need.
Lets deal with the Americans first. After players from Asia won the first eight tournaments on the 2010 schedule, the Yanks have bounced back to win three of the last five, including two majors -- Cristie Kerr at the Wegman's LPGA Championship and Paula Creamer at the U.S. Women's Open. In fact, if anyone is in trouble, it is Europe, Australia and Latin America, who have been shut out 2010. The scoreboard reads: Korea 5, Japan 4, U.S. 3, Europe 0, Australia 0, Latin America 0.
Even last week at the Evian Masters, won by Shin, there was good news for the States. Morgan Pressel, 22, and 15-year-old Alexis Thompson were one stroke back. While Michelle Wie, who at age 20 still has plenty of time to live up to her potential, continues to be ordinary, there are clearly other young Americans to bank on. Creamer turns 24 on Aug. 5 and Kerr is still only 32.
If another U.S.-born player should win this week at Birkdale it would be the first time since 1999 that Americans have won three consecutive LPGA major championships. And while Thompson is not in the field and there is nothing in Wie's recent form to suggest she will contend, Creamer and Kerr have to be considered among the favorites, with Pressel not far behind.
While the resurgence of the Americans is good news for the LPGA, the possibility of the emergence of a rise-above-the-crowd stars could be even more important. All of the individual games -- golf, boxing, tennis -- need that breakout player against whom others are judged, the kind of star who can grab the attention of the marginal fan.
Mickey Wright, the second-leading winner all-time on the LPGA, once told Kathy Whitworth: "Every star needs a chorus line." Right now, the LPGA is an extremely talented chorus line in search of that star. And one thing sports proves time and again is that stardom transcends nationality.
Sorenstam of Sweden, the Mexican Ochoa, Karrie Webb of Australia and Se Ri Pak, the godmother of Korean golf, were all embraced by fans worldwide because they won so much. In Shin and Miyazato, the LPGA has two young talents who could make a run at Hall of Fame credentials and along the way help build the popularity of women's golf.
Shin, 22, grabbed her first LPGA victory two years ago at the Women's British when it was played at Sunningdale. Her win last week at Evian was her seventh on tour to go with more than two dozen other victories around the world. The same word could be used to describe Shin as Sorenstam: Balance.
When she was 15 years old, Shin was hitting balls on the practice range when she was told her mother, brother and sister were in a serious car crash. Her siblings survived but Shin's mother did not. To that point, Shin had yet to win a tournament. Since then -- rededicated and on a higher mission -- she has been unstoppable. Like Sorenstam, neither Shin's swing tempo nor her emotions on the golf course are ever out of control.
Miyazato, 25, became an LPGA member in 2006, bringing with her the enormous burden of having dominated the Japan LPGA and being expected to do the same in the United States. It took more than three years, but her performance is approaching her potential. Miyazato got her first LPGA victory at the 2009 Evian Masters and has added four more titles this year.
Certainly, both Kerr and Creamer are also in the run to be that breakout player. Kerr now had 14 career victories and two major championships while Creamer has nines wins and a major. That's nine wins and a major more than Sorenstam had at the same age -- and she ended up with 72 and 10.
Until Ochoa retired, only she and Sorenstam had ever been No. 1 in the Rolex Rankings. Since May 3, Shin, the current No. 1, has held the titles eight weeks, Kerr three weeks and Miyazato two weeks. Going into Birkdale, Shin, Miyazato, Kerr and Suzanne Pettersen of Norway are separated by only 0.52 points in the Rolex Rankings.
Birkdale is a pure links experience, its only flaw a clubhouse that looks as if it were a prop in Woody Allen's futuristic move "Sleeper." It's been described as looking like an airport terminal, a wedding cake and an aquarium. It's best viewed when looking in the opposite direction.
The last time the Women's British was held here, in 2005, Jeong Jang won, but she has fallen out of the top 50 in the Rolex Rankings. Sophie Gustafson, currently No. 29 in the rankings, won the Women's British at Birkdale in 2000, the year before it became an LPGA major. That gave the Swede the curious distinction of being the defending champion at a major without ever having won a major.
Gustafson could win again this week, as could Pettersen, both of whom can overpower Birkdale's curious two closing holes -- back-to-back par-5s. Yani Tseng of Taiwan, the 21-year-old with three LPGA victories, including two majors -- the 2008 LPGA Championship and this years' Kraft Nabisco Championship -- is also on that short list of contenders. Always a threat is Karrie Webb, 35, the Aussie with seven majors, including the 2002 British.
After a stumbling start to the season, a storyline seems to be developing to this LPGA campaign. While the tour still lacks its transcendent star, a spirited scramble seems to be emerging for that title. If Birkdale can produce another quality winner, the women's game may not yet have its star yet to place in front of the chorus line, but it will have identified several contenders.