News
Peeking Behind The Curtain
Boom camera operators get ready to tape opening sequence of Big Break Ireland.
Sure, I watched the first couple of seasons. I figured it was a fad. Gave it a year or two tops. Nearly a decade later, the show is entering season XVI, and Tommy Gainey is contending for the FedEx Cup and Ryann O'Toole just made the U.S. Solheim Cup team. Shows you what I know.
That's why, last May, I found my cynical self standing, pre-dawn, on a cold, dew-soaked fairway about an hour outside Dublin, Ireland. I was there to answer one question: "What's the deal with Big Break?"
Maybe you're a fan. Judging by the show's ratings -- consistently among Golf Channel's highest -- you probably are. Maybe you're a casual viewer ("a grazer") or maybe you're like a pal of mine who finds the show "irrevocably unwatchable." But whether you love Big Break, hate Big Break or don't have cable, I can tell you this: The thing is a beast. Big Break is a logistics, planning and production Everest.
Take 12 hungry coed golfers, add in wind, rain, sleet and a few panes of glass; toss in a flop wall; ship it all across the Atlantic; deprive it of sleep; sprinkle in a dozen or so cameras and more microphones than a U2 concert; do it all on the wrong side of the road; add more wind; freeze till solid; then edit into 10 neat and tidy 43-minute episodes -- allowing 17 minutes for advertisements and promotions; add Guinness to taste; and you get Big Break Ireland. It's a sprawling effort requiring more than a tractor-trailer's worth of equipment, a traveling army of 75 Golf Channel staffers and freelance professionals, a medic, a rules official -- and, of course, a lawyer -- all of whom gather twice a year, like golf Trekkies, to tape their beloved show.
If the logistics are daunting, the hours are criminal. Many of the cast and crew are up at 4:30 a.m. for two weeks straight (until the trip, I didn't even know my watch worked at 4:30 a.m.). Several routinely work until 2 a.m., and the planning behind it all reminds me of those documentaries where the surgeons split the Siamese twins: Every challenge, every camera move is planned in advance with painstaking, sometimes sadistic precision. In fact, a show about how they make Big Break might be as good as Big Break itself.
The Ireland season, which premieres Sept. 20, was shaped primarily by series co-creators Jay Kossoff and Paul Schlegel, as well as producers T.J. Hubbard and Chris Graham. There are dozens of others involved, but these guys are the brain trust. The group not only determines the final cast, they also cook up the famed challenges. As far as I can tell, there's no specific qualification for these jobs, but it probably helps if you're equal parts Roone Arledge, Allen Funt and trick-shot artist Chuck Hiter.
"There's no one way we do it," says Graham of the challenge-crafting process. "It's an ever-evolving thing. Two days ago I had an idea for a challenge and walked down to Paul's office and said, 'Hey what do you think about this one?' That happens all the time. Then there are situations where we have an actual meeting. It's a big collaboration."
It's easy to imagine a coven of bloodthirsty producers rubbing their hands at the prospect of a thoroughly broken contestant, but a Big Break challenge has to balance severity with practicality. "Doable but still interesting," is how Graham describes the mix. "We want a certain degree of difficulty so that when they're under the gun and they've got to hit the shot, there's a chance they're going to screw it up -- but there's also a chance that they're going to hit an amazing shot."
Virtually all of the challenges are tested firsthand by Hubbard and Graham, both of whom are very good players (Hubbard played four years at LaSalle and Graham, who played for BYU and now freelances for Golf Channel, will be competing full time on the upcoming Hooters Tour Winter Series). Typically, they'll take a trip from Golf Channel's offices in Orlando out to a nearby golf course or to the workshop of the show's veteran props man, Marty Rich, and swing away. Recently the team visited Rich's lab to determine whether it was feasible to break three successive panes of glass, each at an increasing height, testing accuracy, power and trajectory all in one shot.
"Marty made up a bunch of frames and we went out there and started blasting shots," said Graham. "It was a lot of fun. If they work, great. If not, we tweak it or get rid of it." It worked.
Once a destination is determined for the show (venues pay Golf Channel for the privilege), the producers visit about two months prior to shooting. As they develop a feel for the course, the turf, the wind and other factors, including the upcoming show's cast and format, the list of challenges solidifies. They visit again about a week before shooting, which "gives us plenty of time to get everything scoped out," said Graham. "Once we get on-site, we go through everything and test it, and then obviously, the day of, we test it again."
Changes to details such as tee-box placement, hole location and angles of play are often tweaked just moments prior to taping to account for feasibility, gender equity...and, ahem, weather. If that's what you want to call it. After spending 10 spring days on that climatologically depraved isle, well … let's put it this way: I've always loved the people of Ireland, but now I'm actually worried about them. It was abysmal -- but don't take my word for it. An Irishman, Mark Murphy, actually made the cast of the show. At a welcome dinner each of the contestants was asked to stand up and say a few words about the days ahead. With rain and wind abusing the windows, Murphy stood up and said in his endearing brogue, "After years of watching Big Break go to places like Barbados and Dominican Republic, I finally make the cast and it's in...frickin' Ireland." Talk about reality TV.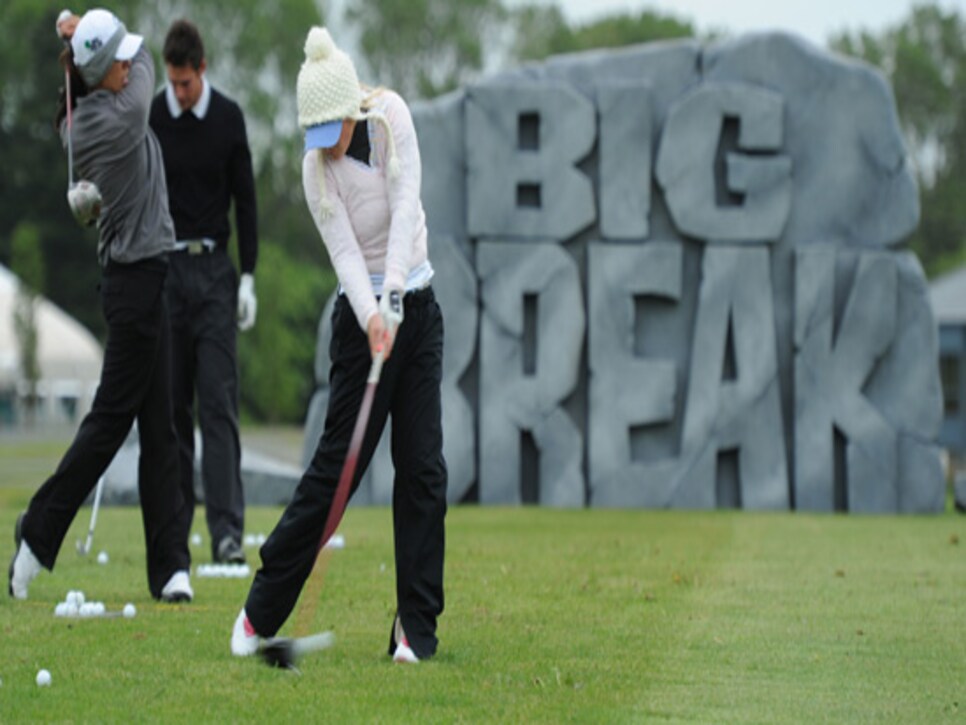 I guess we should expect weather in Ireland, but what I didn't necessarily expect, and what really struck me about Big Break, is the secrecy. That might be the wrong word for a show that's promoted as subtly as a title fight, but until a Big Break season is ready for air, it's all very hush-hush. Golf Channel is extremely guarded about the show and its production. They don't release the names of the contestants until the show is about to air. The contestants themselves, all chosen after a lengthy series of applications, interviews, playing auditions and background checks, are informed of their selection only about three weeks prior to their departure. They sign confidentiality agreements that would make a KGB agent wince. Even the venue remains confidential until the last possible minute. This year's cast didn't know they were headed to the K Club until they were gathered at Newark-Liberty International Airport.
The contestants -- in the case of Big Break Ireland, six young men and six young women -- were allowed to inform parents or a close family member of their whereabouts, but were contractually forbidden from discussing the show, their involvement, the venue or any other details with anybody else. In fact, as soon as the contestants arrived at the hotel, all communication devices -- handhelds, cell phones, laptops, etc. -- were confiscated. "We take away all their civil liberties," chuckled one Golf Channel staffer. A daily five-minute phone call to their one pre-approved contact is monitored by Golf Channel personnel. Consider this: Even though the contestants stayed in townhouses on the K Club's Smurfit course, their names did not show up on the hotel guest manifest. For about 15 days these 12 golfers ceased to exist.
The obsessive confidentiality leaves contestants grasping for cover stories. One of them, 26-year-old Whitney Wright of Greenville, S.C., had been asked by a friend to serve as a bridesmaid in a wedding scheduled while Wright would be in Ireland. Wright declined, but couldn't tell her friend why.
"She's like, 'I don't understand why you can't tell me,' " said an animated Wright. "She's probably gonna disown me, but then when she sees the show she'll understand."
The secrecy is driven by a couple of factors. Most obvious is ratings. The second and less obvious reason for the manic cone of silence is legal. As far as the FCC is concerned, this thing is strictly a game show. That's right: In the eyes of the federal government, Big Break is more Wheel of Fortune than Wide World of Sports. As a result, nothing happens on site without the approval of an on-set lawyer who specializes in game-show law. In fact, one thing you don't see when you watch Big Break is the legal drama that takes place behind the scenes. Prior to the start of production every single individual who will be on the set -- cast, crew and one middle-aged golf writer -- signs a non-disclosure agreement, pledging not to prematurely share details of the event, its locale, competitions, contestants or winners. Furthermore, prior to each challenge the contestants sign individual consent forms declaring that they understand the rules. Only then does play begin.
Even in a crowd, the lawyer, Fatih Gurk, was pretty easy to spot -- he was the only person on a rain-soaked set carrying a leather attaché. Before you snicker, consider that over the last few years, while you were filing TPS reports in your fluorescently lit office, Counselor Gurk has been carving out a pretty sunny niche for himself. Although more litigator than golfer (he confesses only to owning clubs), Gurk and his briefcase have accumulated billable hours in some pretty cushy locales. He's officiated at Big Breaks in Hawaii (twice), Los Angeles, Florida, northern Michigan, the Dominican Republic, the Bahamas and now Ireland. All in the name of justice.
"Little-known fact," says Gurk, whose firm also works on such shows as Jeopardy! and Who Wants To Be a Millionaire? "It's a violation of federal law to tamper with, cheat or attempt to pre-determine the outcome of a game show. It's a federal offense punishable by fine and or imprisonment to rig a game show -- that's the purpose of having an attorney on site." His wife buys it every time.
As Gurk will attest, the show is predicated on contestants being in the dark about the format and the challenges. While most of the production staff has an advance list of the challenges and the locations on the course where they'll take place, these are kept from contestants -- and so is the staff. Aside from huddling for warmth around the coffee cart, crew and cast are kept separate. Fraternizing is forbidden.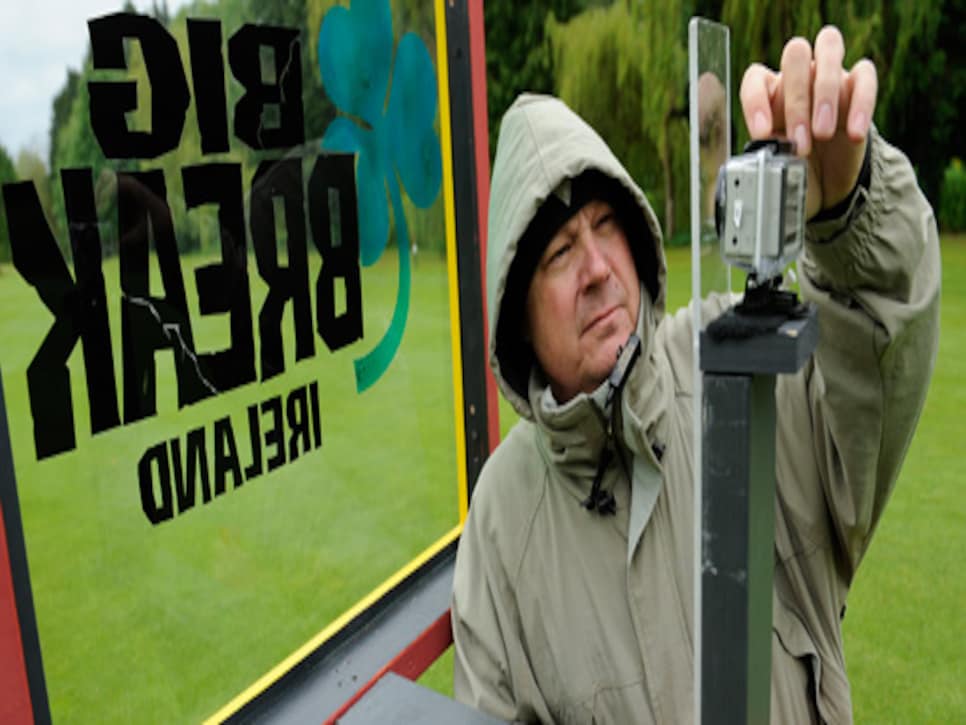 If all this doesn't sound much like golf to you, it's not. Big Break is about as close to actual golf as bumper cars is to actual driving. In real golf, pressure is spread out over, say, 70 or 80 shots, perhaps even several days. Big Break condenses the pressure into one nerve-laden, shudder-inducing swing. In front of the cameras. After sitting in the rain and cold for three hours. After very little sleep. Sometimes that swing will determine your own advancement. Worse yet, depending on the format, it might also affect an entire team.
"You have one shot," says Big Break Ireland contestant Julien Trudeau. "One chance to prove yourself. One chance to not look like a fool on national TV."
Trudeau knows from pressure. In 2009 the Montreal native missed his PGA Tour card by a shot. "I was bubble boy at Q school," says Trudeau. "I can't imagine more pressure than that, and yet Big Break was a whole other world of pressure. I never, ever, ever experienced nerves and putter-shaking so much in my life."
As the contestants arrived May 14 at the bucolic K Club -- wide-eyed and collegial -- it was hard to imagine the hellfire that awaited them. They were videotaped like kids at Christmas, pulling in to the luxe resort and then rifling through their goodie bags. Practice rounds were scheduled for May 15. B-roll and promotional footage was captured as contestants, one after another, posed on follow-throughs. The boys remained snug in their foul-weather gear, while the girls battled for the camera's affections. They were clearly ready for their close-ups: One minute it was 40 degrees and the next I was sitting in a Hawaiian Tropic commercial.
Into the scene wandered Joel Tower, wielding a massive microphone wired up to headphones and an over-the-shoulder portable control board. Tower is lead audio man for the shoot. He was using the practice round to collect a sound library that could be accessed during editing. Tower, a gentle soul and veteran of 13 Big Breaks, was politely asking players to hit drives and putts near his mic so that if during editing the producers needed to punch up the sound on a given shot they could. I asked if they also record chunks and chili-dips. They don't.
Tower's work is only heard, never seen, but spend any time on location with this crew and you'll quickly realize that even though television is a visual medium, the secret sauce of Big Break is audio. There were 12 contestants in Ireland. They were on location for 15 days. Aside from the very few hours they were able to sleep, virtually every word they spoke was recorded by body microphones. Honestly, there were more sound guys roaming the Irish countryside than there were Flanagans.
Typically, there might be 10 or more cameras trained on a contestant during a particular shot. At least one camera will get a usable image of the action, but if a contestant's mic goes out, the show loses a one-shot chance for a compelling outburst. Early in the chilly shoot, one female contestant's scarf was muffling her microphone. Shooting was halted, and she was swarmed by technicians. You would have thought she stopped breathing.
In fact, Kossoff insists it was a single sound bite that gave Big Break its big break. "It was the moment that kick-started the entire franchise," he said with obvious excitement. "It was Big Break III, our first women's Big Break. It was a game of H-O-R-S-E. Our two big characters on that cast were Pam and Danielle and one of our audio guys who was listening in on their mics said, 'They are going at it!' It blew up, and we've never looked back."
If you had only one day to visit the Big Break set, you'd want it to be glass-pane day. As the crew was setting up for what has become the show's signature challenge, I asked how the delicious idea of smashing glass with stingers came about. Kossoff explained that the panes were the lucky residue of a harebrained sponsorship idea. Sony was a sponsor, and Kossoff thought it might be cool to have five or 10 Sony TVs across the fairway for the contestants to smash. Golf Channel's sales department wasn't sold. "So," said Kossoff, "that fell to just creating the windows. You sort of think big and then come back to reality."
7:21 a.m. The crew had been working for three hours. The panes were now assembled on the 16th fairway of the Ryder Cup course. Before the cameras rolled, Schlegel and Gurk distributed the legal waivers and pens. As the contestants signed away, Kent Kahre, the show's veteran rules official, weighed in. Kahre, a hulking Indiana native who spent 20 years with the North Florida PGA, reminded contestants about the 14-club rule.
"The common goal is incredible production under the USGA Rules of Golf across the board," said Kahre. "There's nothing we do here that we wouldn't do at a genuine tournament.
"Now," he concedes, "in tournaments you're not hitting over a flop wall or through glass, but when they put the ball on the ground -- when they're playing -- they're playing golf straight up."
Sort of. There are moments when the time-starved world of television intrudes on the musty old Rules. For one day of taping, the Big Break Ireland ensemble boarded a fleet of trucks and buses and cars and shipped out on what the production schedule referred to as a "full company move." Destination: the coastal Portmarnock Hotel & Golf Links. The wind was interminable, as fierce as I have ever felt on a golf course. It blew so incessantly and dangerously (the boom camera was nearly uncontrollable) that Kahre actually implemented a local rule: If the wind caused a ball to move on the putting green, regardless of whether the contestant had grounded his or her club, a penalty would not be assessed. Good call. A better one might have been a full company move to the hotel bar, but you can't have everything. Had Kahre not stepped up, I have no doubt that we'd still be on location, and this fall you'd be watching re-runs of Don Donatello and Big Break II. Count your blessings.
A typical day on the Big Break set was long hours of tedium in glorious if occasionally windworn settings interrupted by spurts of high drama and rain. The man who keeps it all in tempo is the director, Paul Schlegel, Big Break's Omar Bradley. Having seen the show and having seen him work, it's hard to imagine Big Break happening without him. While a gentle partner at lunch or dinner, he's a focused field general during the shoot, literally calling the shots for almost every single foot of tape over two weeks. (Actually, these cameras don't even use tape -- they record directly to disks. Either way it adds up to a ton of footage: Each 43-minute episode of Big Break is culled from 70 to 80 hours of raw footage).
At each step of every challenge Schlegel barks (if quietly through his own mic) orders to his nicknamed battalion of cameramen, sound guys, producers, assistants and techs. It's a combination of Vince Lombardi urging on his offensive line and Santa coaxing his reindeer. It goes something like this: "Keep working. Everybody's working. You shoot clear through. Miller, give me the hole. Ox, tight face. Monie, you're gonna have this box 90 for me. Ox, you get Kelly crying. You have her. Ox, Kelly's crying. Dondi, Kelly 90. Miller, ball to hole." Then, as a contestant gets close to holing out, "She's gonna tap this in, guys. Same assignments." On Dondi! On Cupid!
Schlegel's job is thinking about everyone else's jobs, only three steps ahead. He can't control the golf action or the weather, but he can and does influence every inch of footage. When you see two opposing contestants slowly scaling a tee box like sweaty middleweights climbing into the ring, that's Schlegel. He's had them standing on the their mark until the crew's inconceivably expensive "red cam" is in place. (The red cam provides that drippingly intense slo-mo footage of a ball being teed with uncertain fingers or a confident last–minute waggle, the stuff that would make John Facenda weep). Then the order comes from Schlegel. "Here they come in 3, 2,..." and with that the action shifts from reality TV to reality. Or is it the other way around?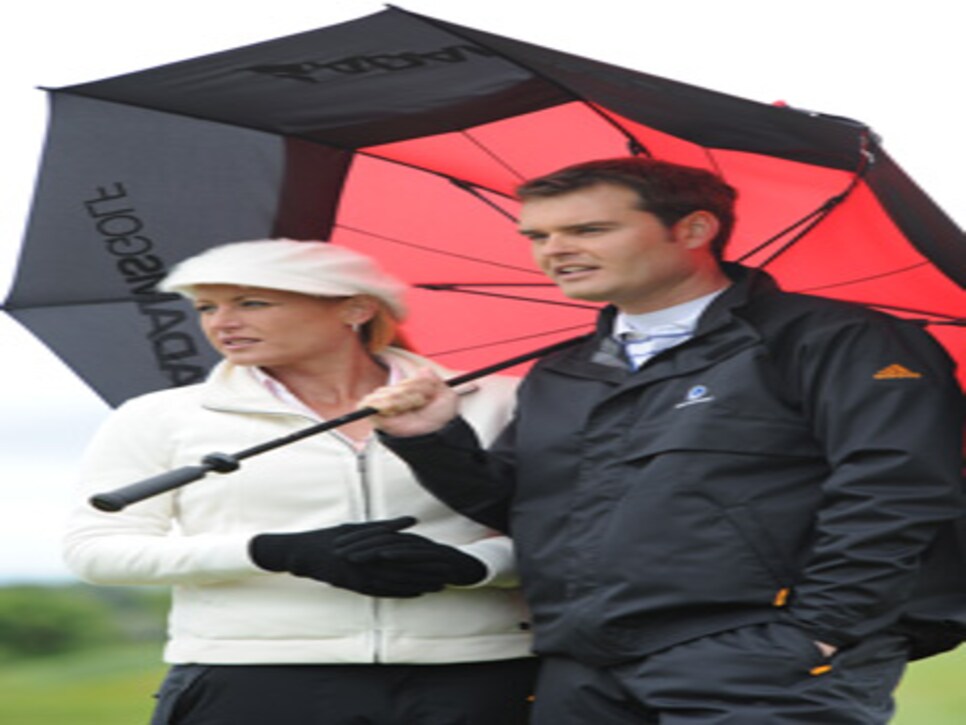 take in the action and the weather.
Schlegel has the hardest job on the show, but not the strangest. No, the oddest job on the oddest set in sports TV doesn't even belong to the person who gets paid to put black masking tape over logos that conflict with the show's sponsors. The most curious job on Big Break is the eliminateds coordinator. When a contestant is ousted from Big Break, you know how he or she takes that walk of shame down the fairway and seemingly back home? Well, the deceased can't go home. Arrival on Mom's porch in less than two weeks would make it clear to family, friends and Mrs. Kravitz that the player had been eliminated. What happens is the "eliminated" takes his faux walk down the fairway, but then instead of boarding a flight home he is actually whisked away by an eliminateds coordinator, and carted to a dumpy hotel down the road until the show is a wrap. In the U.S. we call them morticians. For the first contestant eliminated from Big Break Ireland that meant a couple nights in cushy K Club digs, one day of competition and 12 days passing time in cheap roadside accommodations. How cheap? I stayed there.
There is one significant difference between eliminateds coordinators and morticians: The former actually have to counsel the fares. The ride to ignominy is rarely silent. "There's a lot of that," says Amy Muratore, who pulled elim duty in Ireland. "Just listening. They're upset. They can't call home. They can't tell anyone. They're bummed to be out of it."
So the drama that was envisioned way back in auditions, was planned for in the challenges and educed on the golf course, continues well into an eliminated's afterlife. It all reminds contestant Trudeau of a question that was asked of him early in the vetting process. It was at his audition way back in April in Sun City West, Ariz. The crew had set up on the range at the Corte Bella GC during a Gateway Tour event. Trudeau had already hit dozens of shots for the cameras, and now Hubbard was asking him a series of follow-up questions. Toward the end of the interview, Hubbard looked up at Trudeau and asked one last question. "Can you handle drama?"
The laconic Canadian, who makes Dustin Johnson look jumpy, nonchalantly hunched his shoulders. "Sure," he said, and thought nothing of it.
Weeks later, as the commotion that is Big Break unfolded around him, Trudeau said, "Now, I know why he asked me that question."