News
Laird Survives Wild Sunday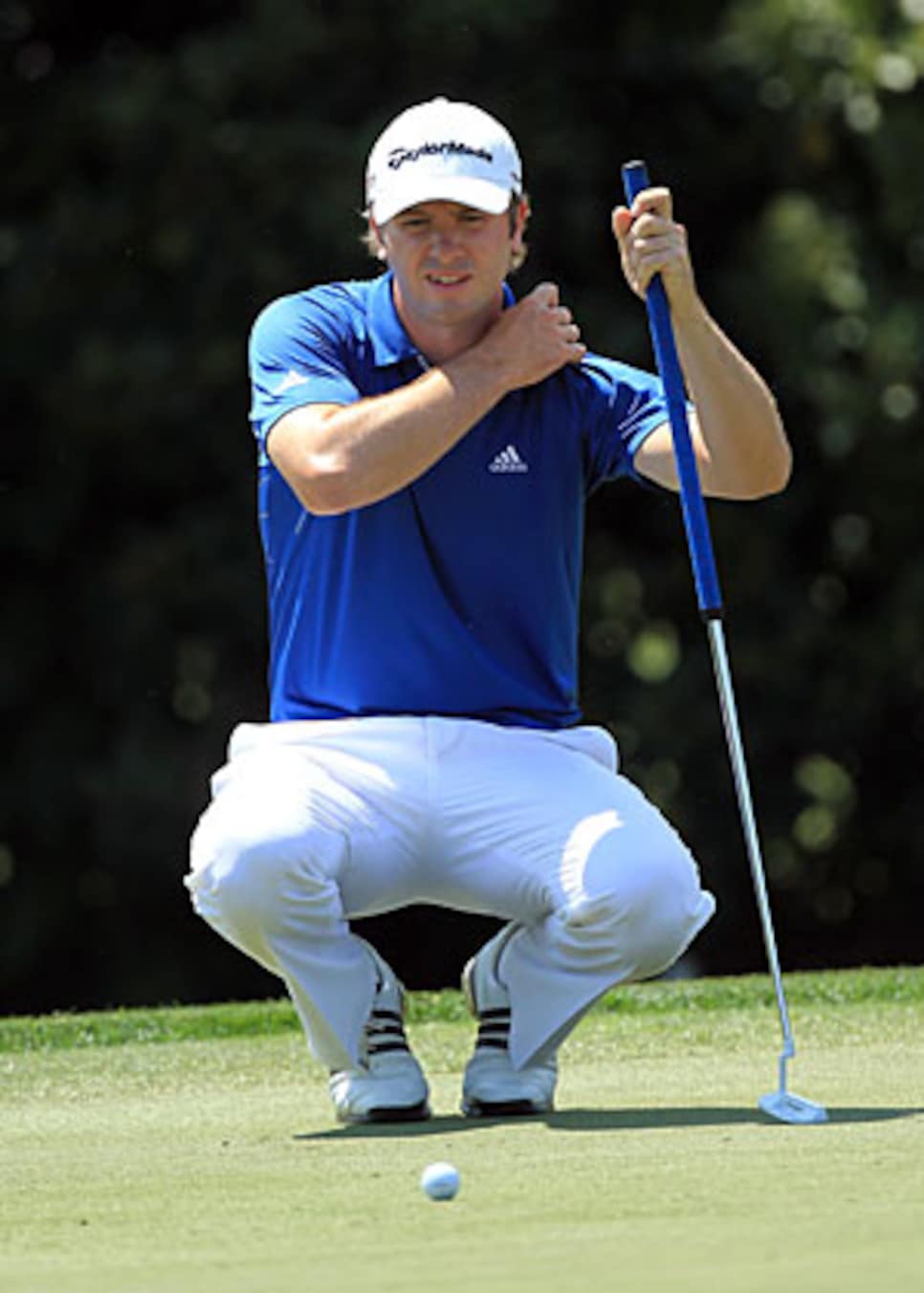 Laird won despite being 5-over through his first 11 holes on Sunday.
ORLANDO, Fla. (AP) -- All that stood between Martin Laird and victory at Bay Hill were two putts from just inside 90 feet on the 18th hole, which didn't seem all that long considering what he already had been through Sunday.
First came a stunning collapse that took him from a three-shot lead to a three-shot deficit in a span of seven holes. He was three shots behind when he walked off the 14th green, two shots ahead as he headed to the 17th tee.
Laird knocked the first putt up to 3½ feet, then jabbed his fist when he rolled in the par putt to win the Arnold Palmer Invitational.
"That was a hell of a day," Laird said. "That was a tough fight out there. It was a battle out there, but you know, it makes it even sweeter at the end when I got this trophy."
In the toughest final round on the PGA Tour this year, Laird was strong at the end with two birdies and two clutch pars to close with a 3-over 75, the highest final round by a winner in the 33-year history at Bay Hill.
That two-putt par on the 18th was just enough for a one-shot victory over hard-luck Steve Marino, who lost three shots on two plugged lies in bunkers over the last four holes. Marino followed a double bogey on the par-3 17th with an all-or-nothing shot over the water at the flag to 8 feet on the last hole for birdie and a 72.
"You just cannot afford to (waste) shots in the final round -- really, at any point in the tournament -- if you want to win," Marino said after his third close call this year. "Unfortunately on 17, that's exactly what I did. It came back to bite me."
Laird, a 28-year-old from Scotland who came to America to play college golf and never left, became the first European to win at Bay Hill. He now heads off to the Masters for the first major of the year, having felt like he just won one.
Considering all the calamity, it felt as though the U.S. Open have moved from June to March. No one in the last three groups broke par, and those six players were a combined 19-over par.
It was a day of survival.
For Laird, it turned out to be a remarkable revival.
When he pulled his approach from a fairway bunker into the water on No. 11 and made double bogey, he already was 5 over for the round. But while he lost the lead, he never lost hope.
"I never thought about not winning," Laird said. "When I saw I was three down, I didn't have a choice. I had to start playing some good golf. I had to make birdies. Steve was playing too good. That was really the focus. It was trying to get this trophy."
First came a handshake and congratulations from Palmer, the tournament host.
"It really doesn't get any better than to meet him coming off as the champion of his tournament," Laird said.
Laird needed some help from Marino, who played beautifully until the last four holes.
Marino went at the flag on the 15th, tucked right behind the bunker, and his ball plugged in the soft sand. He blasted out to 35 feet and made bogey. Then came the 17th, and a 6-iron that he thought was good all the way until the crowd groaned.
He blasted out over the green, putted up the slope to 5 feet and missed the bogey putt.
"I played so well all day, and you know, one hiccup on 17 cost me the tournament," he said.
Justin Rose closed with a 68 and tied for third with David Toms and Marc Leishman, who needed to win to get into the Masters.
Tiger Woods, a six-time winner at Bay Hill, was poised for a second straight top 10 until he made bogey from the bunker on the 17th and hit his approach into the water on No. 18 for double bogey and a 72. In his final tournament before the Masters, Woods tied for 24th, seven shots behind. Phil Mickelson dropped three shots on the last five holes for a 73 to also finish in a tie for 24th.
Laird won for the second time in his PGA Tour career, and the record will show that he won for the first time in three tries when going into the final round atop the leaderboard.
But it wasn't that simple. Not even close.
Palmer prefers a stern test at his beloved Bay Hill, and that's what he got, especially in the afternoon when the wind picked up and the course dried out even more under a hot sun.
"The back-nine pins, they are all bogey and double-bogey pins -- they are not birdie pins," Mickelson said when he finished. "The last eight holes are holes that you have to play 50 feet away if you're playing smart."
Laird finished at 8-under 280, the highest winning score since Ben Crenshaw shot 280 in 1993. Laird earned $1.08 million, and a validation after tough playoff losses at The Barclays and in Las Vegas late last year.
Spencer Levin, who played in the final group and started two shots behind, shot 41 on the front nine and still was in the game toward the end. He wound up with a 76 and tied for sixth.
Laird got off to such a shaky start that it only took an hour for more players to have a chance than who started the final round. He made three bogeys to go out in 39 and was tied with Marino when he headed to the back nine.
Then came more twists than he was expecting.
"No one is going to take a 75 going into the last round of a tournament," Laird said. "but I knew it was going to be this tough to win."
Woods played a solid round until his bogey-double bogey finish. Bay Hill completes a full year since his return from a sex scandal, with not much to show for it -- no wins, only three top 10s on the PGA Tour and not once in serious contention on the back nine.
Next stop: Augusta National.
Such is the state of his game that the six-time Bay Hill winner called this a "very good week, and a week I needed to see."
"It's getting better every week I've played," he said.