News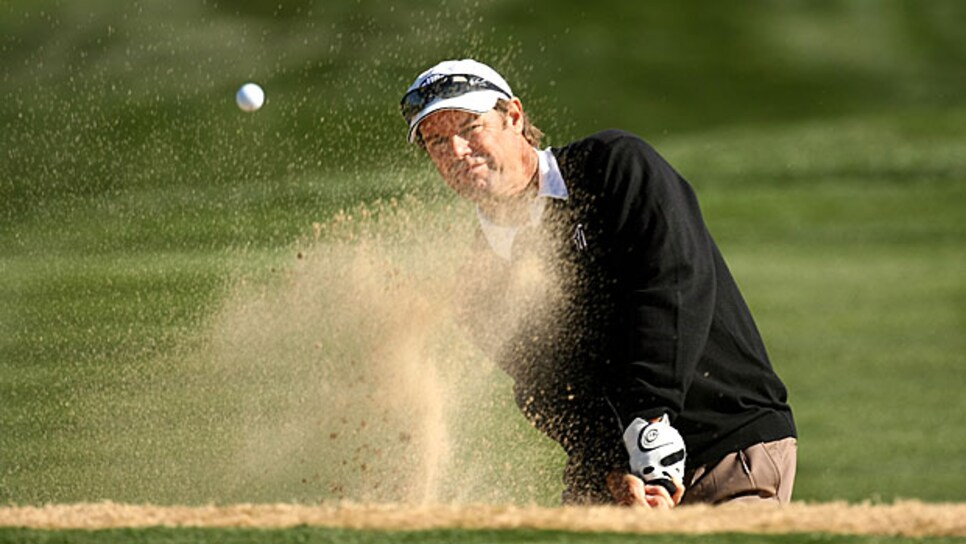 While busy promoting a new book, Paul Azinger has yet to find his groove on the Champions Tour.
LUTZ, Fla. -- Regardless of how Paul Azinger plays in the Outback Steakhouse Pro-Am this weekend, he is going to be signing his name plenty.
Some of those autographs will be for spectators at the tournament, where his image is on the tickets, in part because he lives only 65 miles away in Bradenton, Fla., and is one of the former major champions joining the Champions Tour in 2010.
But 3,000 copies of Azinger's forthcoming book Cracking The Code: The Winning Ryder Cup Strategy: Make It Work For You about how he captained the United States to a convincing victory over Europe in the 2008 Ryder Cup are supposed to arrive at his house Friday, and he has to have them all signed by next Tuesday.
"They'll be cases and cases of books at the house," Azinger said. "How much space do you think that many books takes up?"
Azinger's challenge at TPC Tampa Bay -- and throughout his rookie senior season -- is getting himself as ready to play as his team was at Valhalla, where the Americans snapped a long losing streak to Europe by playing cohesively and playing well. How he got them ready to do that is what he talks about at speaking engagements.
"My message in speaking is that there is challenge, opportunity, responsibility," Azinger said. "That's what it was like with the Ryder Cup. There was a tremendous challenge of figuring out what was wrong but a great opportunity to make changes and fix things because we had been getting slaughtered. The responsibility I felt was to the players to do everything I could to create the best atmosphere and environment. That's also the message in corporate America: They have the same type of challenges, opportunities and responsibilities that I did."
Azinger's challenge as a player on the Champions Tour will be to rediscover what was once one of golf's most formidable games. He earned nearly $15 million on the PGA Tour, winning 12 tournaments, highlighted by the 1993 PGA Championship. But his last victory came 10 years ago, at the Sony Open in Hawaii, seven years after successfully battling cancer in his right shoulder. He quit playing the tour full time after the 2006 season and spent most of the next two years concentrating on his work as an ABC golf analyst and on his captain's duties.
"I didn't really care much about my own game," Azinger said of his priorities prior to the Ryder Cup. "I kind of set it aside. I'm suffering for it a little bit right now. I'm not super-confident and I'm not really sharp, so that's the price I paid. Now I'm trying to get back into that playing mode a bit."
In two appearances on the Champions Tour since turning 50 on Jan. 6, Azinger finished T-21 at The Ace Group Classic and T-65 at the Toshiba Classic and didn't break 70 in either event.
"I'm excited to play," Azinger said. "I've actually practiced a little bit. The first two weeks, all I did was beg off -- 'I'm going to play terrible, I'm going to play terrible.' Now I'll probably play terrible, but at least I've been practicing."
At least when he wasn't busy working on another recent endeavor, an iPhone app called "Golfplan with Paul Azinger," which features 65 quick-fix tips and a program in which golfers can plot their practice progress.
"It's about how do you fix the 12 different ball flights that you might be struggling with," he said of Golfplan. "It's all drills. The drills are video tips that are between 30 seconds and a minute. Just quick, boom. Apple loved it when they saw it. I'm not going to get mega rich off it, or anything, so I realize I'm going to have to practice eventually and try to make some money out here."
As for Azinger's book, he said 25,000 copies are being printed, and Brookstone has already purchased 10,000 to sell in its airport stores. He believes people will be intrigued by how he and therapist Ron Braund got the American Ryder Cuppers to mesh.
"We had the best players out there because the selection process changed," Azinger said. "Then we just got them sold on a concept and got the heck out of their way ... They played great. They deserve the credit, and they get the credit in the book. The story tells how we organized those guys -- how we tried to create the best environment for them and not over manage them but just get out of their way and let them do what they do best."
If he plays up to his potential as a senior, he could have a good time. "If I'm competitive, I'll be happy," Azinger said. "I'm more prepared now than for either of the first two events. I really think I could play well. It's a possibility if I grind it out. I also want to make some putts over 10 feet. That would be nice."
If he doesn't, he knows a drill or two that might help.