Courses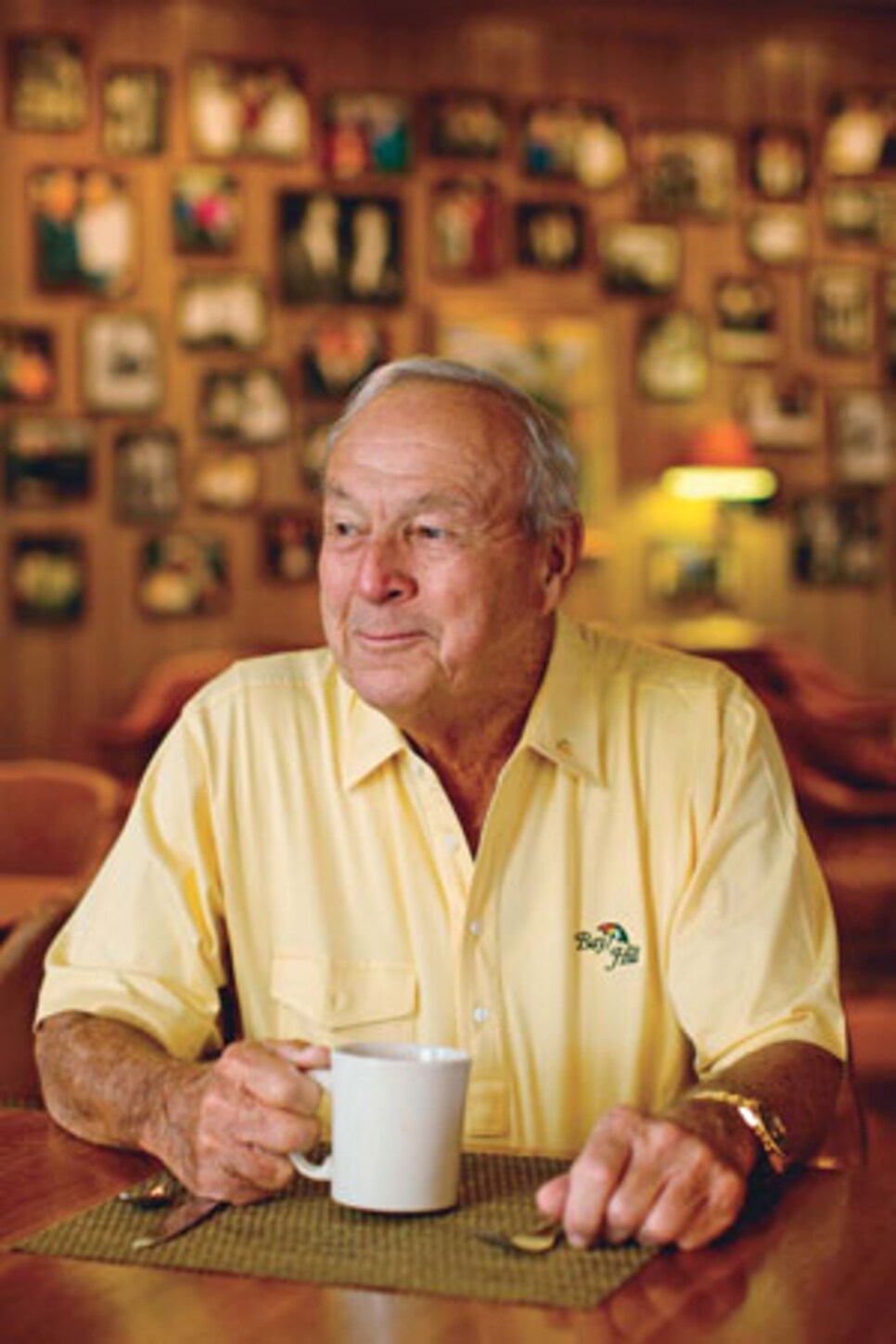 Breakfast Of Champions: Bay Hill is where Arnold Palmer starts most mornings when he's in Orlando.
It's breakfast as usual -- tenured waitresses delivering contagious smiles and topping off coffee for golfers about to battle the elements of agronomy. Four men in khaki shorts and striped shirts get up from their table and head for the range. On their way out, they can't help but stop in front of the big wall of images to pay their respects. It's like they're in the Louvre, the way they drop their jaws, tilt their heads and point to their favorites. Some pictures are black and white, some are in color, but the common denominator is Arnold Palmer. And if this group would just turn around, they could snap one of their own -- because Palmer is drinking a cup of coffee at the table behind them.
Such is life at the Bay Hill Club & Lodge.
"I don't plant myself here for that purpose," says Palmer, "I just happen to be here."
Just 20 minutes from downtown Orlando, Bay Hill has been his home from October through March since 1976. Palmer's daughter and son-in-law run the place. His grandson Sam Saunders, who turned pro last year, can be seen on the range working on his game. And Palmer plays with some of his best friends three times a week.
All he asks is that you kindly remove your cap in the lobby, hallways and dining areas. But Palmer is also clear he doesn't want his resort to feel ostentatious. "We want it to be a first-class, feel-comfortable-type place. It's part of the mystique about Bay Hill -- family. I bought it so that I could have a place to practice, and so I could feel like I was at home. It's worked out perfectly, and I've been improving it ever since."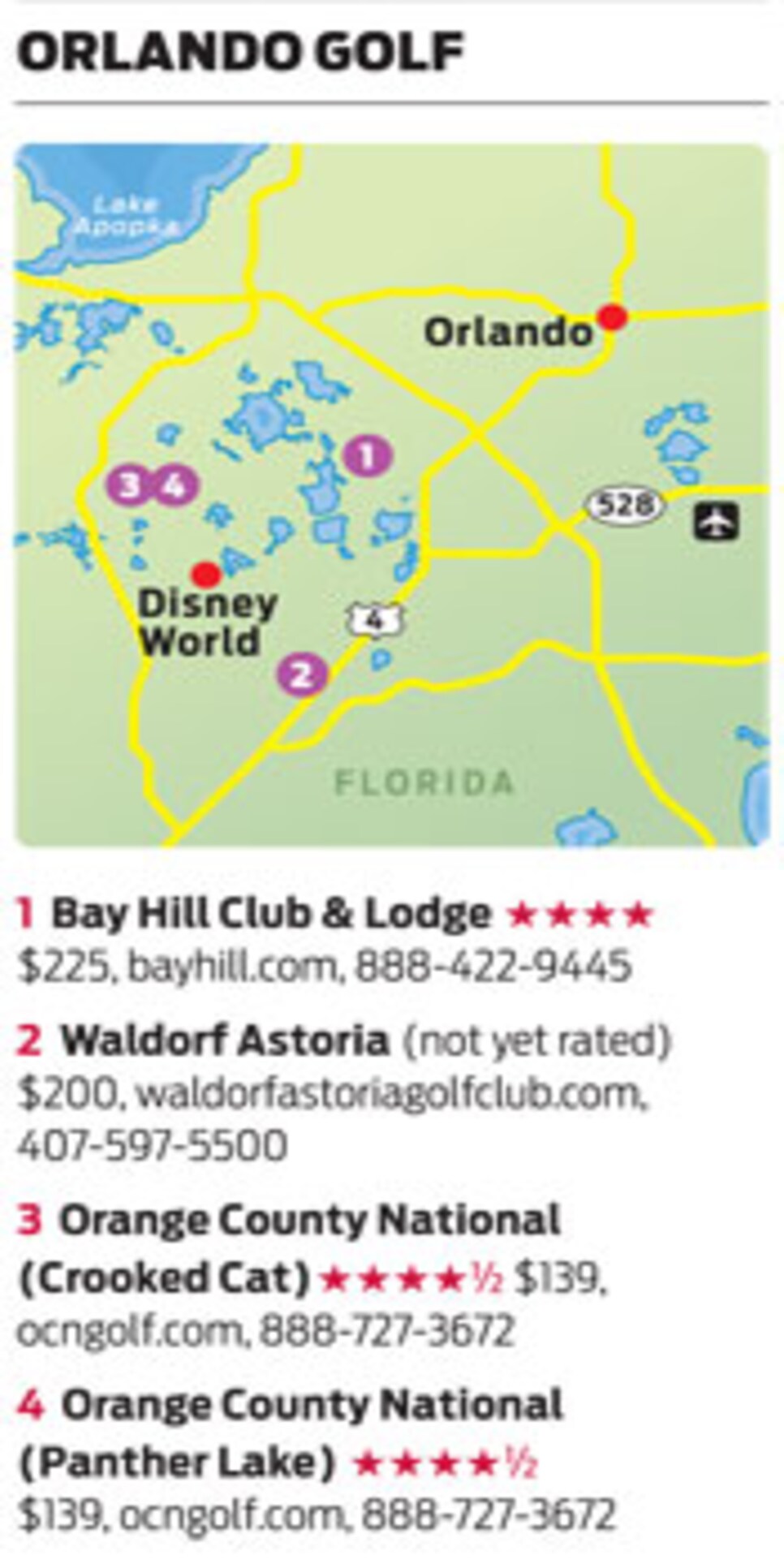 In 2007, Bay Hill finished a $7 million renovation of the lodge and an upgrade to the clubhouse. There are 70 guest rooms, 10 cottages (two bedrooms, two bathrooms), a spa, pool, four dining options, six tennis courts, a golf academy and 27 holes. In the peak season, January through March, golf packages start at $305 a night per person for double-occupancy and include breakfast, golf, cart and range balls. Forecaddies ($60 per group, plus gratuity) are required for a threesome or more.
Last May, Bay Hill closed the championship course for a $2 million makeover, mainly because the greens were old and in bad shape. "We needed to grow grass," says Erik Larsen, executive vice president of Arnold Palmer Design Co., also based on the property.
Palmer changed the grass on the greens to a new strain of Bermuda. He flattened tees, raised bunkers, defined lake edges, improved cartpaths, fixed some drainage issues and straightened fairway lines. The most recognizable difference is the bunkers. They come into play more often, and they're visible. "Now it's much more intimidating," says Larsen. "We lit the place up."
Other notable changes include the new angle of the par-3 second green, which tour players criticized because it wasn't deep enough to hold shots from 245 yards. The beach bunker in front of the par-3 17th green has tripled in size. With the exception of 10 more yards, the grass on the green and the creation of two new pin positions, Bay Hill left the 18th hole alone. "We were leery of changing a hole that has provided so much drama over the years," says Larsen.
There are now more tightly mowed collection areas around the greens, which have been squared off to create more options for pin placements, especially when the PGA Tour comes in March.
The course reopened in September. Palmer thinks it actually plays easier for the average golfer. The forward tees were moved up, and there are now spots in front of some greens that will be receptive to the roll-up shot, which Palmer might take advantage of the next time he's trying to win a few bucks off his buddies. I played it from the 6,895-yard blue tees, and I had a blast achieving mediocrity. My water-cooler recap: On the par-5 sixth, where John Daly made an 18 in '98, I made an efficient 4.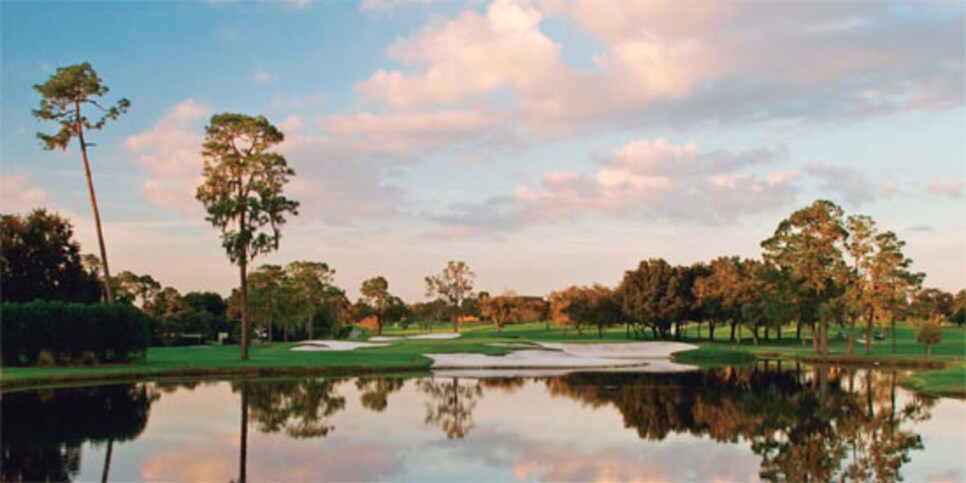 Though I can't speak to all 170 in the Orlando area, of the 15 or so highest-rated public courses that I've played, Bay Hill is my favorite. I've been there three times, and I'm three-for-three on Arnie sightings, which admittedly has a little to do with my favorable review.
Palmer is 80, flies his own plane, plays golf and rides his bike eight to 10 miles through the community three days a week. When asked about a Bay Hill without Arnold Palmer someday, he takes a sip of coffee and contemplates the future: "We think we're unique in this area. We're a more homey, enjoyable-type club where you can play good golf and stay here and feel isolated from the hubbub of what's going on around you."
Speaking of which, Mr. Palmer, can I trouble you for a quick picture?