News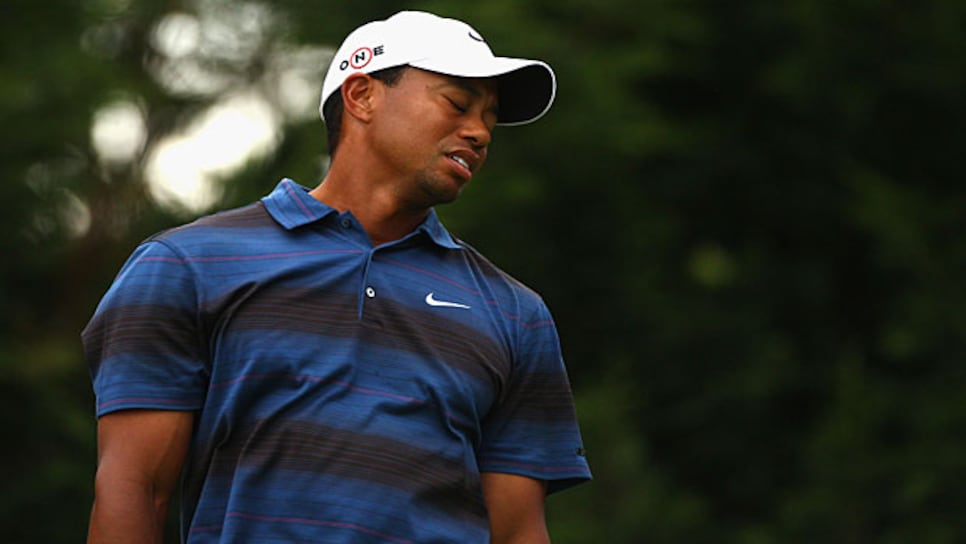 Woods completed a winless 2010 season.
MELBOURNE, Australia (AP) -- Stuart Appleby received hardly any fanfare at the Australian Masters until he slipped on the gold jacket that a year ago belonged to Tiger Woods.
He wasn't among the five faces on promotional posters around Melbourne, nor was he invited to the gala dinner. And even though none of the others had more wins this year -- and none had ever shot a 59 to win a PGA Tour event — that was fine with him.
"I noticed it, but it was not even close to annoying me," Appleby said Sunday after closing with a 6-under 65 for a one-shot victory. "I have an ego, no doubt about it. But it wasn't like, 'Oh, they haven't got me up there?' It's the Tiger Woods show, and the others. You know what? It didn't play out that way."
The only entertainment value from Woods came in his final hour, when he made two eagles over the final four holes and shot 65 to match his best score of the year. He still ended a full year without winning, as he finished in fourth place as the defending champion.
"I didn't play good enough," Woods said. "I didn't make enough putts. That's what happens."
Appleby was as golden as the winner's jacket he wore.
He rallied from a seven-shot deficit in the final round, stayed in the game by making a 30-foot par putt on the 16th, pulled ahead with a 25-foot birdie on the 17th and two-putted for birdie on the final hole.
Adam Bland, who had a three-shot lead going into the final round, was the last one with a chance to catch him. Bland hit 6-iron to 10 feet on the par-5 18th, but missed the eagle putt that would have forced a playoff.
Appleby already had reason to celebrate this year, winning The Greenbrier Classic with a 59 on the last day. This might have been even sweeter. It has been nine years since he won on home soil, dating to the 2001 Australian Open.
It wasn't from a lack of effort, or attention.
"We play around the world for big money and big tournaments and big fancy ratings and everything like that," he said. "But you come home to Australia, and it's real. That's probably hurt me too many times, really wanting to win."
Not many would have given him much of a chance going into the final round seven shots behind. With four birdies on the front nine, he got back into the game, then holed the two long putts to finally win the third leg of the Australian Slam. He previously won the Australian PGA and the Australian Open.
Appleby finished at 10-under 274 and won for the 12th time worldwide.
About his only mistake was nearly missing the trophy presentation. Coming out of the bathroom, he saw what looked to be the closing ceremony on a big video screen, then heard his name announced as the winner and sprinted under the grandstands and onto the 18th green. Another big gallery — the Sunday attendance approached 18,000 — stuck around to watch him.
Appleby thanked them, realizing that they weren't all there to watch him.
Woods was not quite the same character they saw a year ago at Kingston Heath, when record crowds topped 100,000 for the four rounds and the world's No. 1 player -- at the time, anyway -- delivered a memorable performance with a wire-to-wire win.
That was his 82nd victory around the world. It remains his last.
Twelve days later, Woods was in a car accident outside his Florida home and soon after came revelations of extramarital affairs. He sat out for nearly months, struggled through the year with his game, was divorced from his wife and is still piecing his game together with a brand new swing.
It remains a work in progress. He didn't show up on the leaderboard at Victoria Golf Club until the final hour.
The culprit all week was putting, and Woods replaced his reliable Scotty Cameron putter with a Nike Method version, which he uses at home in practice. It was the second time this year he swapped out putters, also doing it for three rounds at the British Open. Both times, he attributed the switch to slow greens. It wasn't terribly effective either time.
Woods missed two par putts inside 4 feet on the front nine and fell as many as 12 shots behind. He played the final six holes in 6 under, highlighted by the eagle putts on the par-4 15th and a 15-footer on the par-5 18th that brought the only fist pump of the week.
"It would have been nice if I had gotten off to that start," Woods said.
He finished three shots back at 7-under 277, the closest he has been to the winner all year. He also was three behind Graeme McDowell at Pebble Beach in the U.S. Open.
Woods now gets two weeks at home -- including Thanksgiving, where his troubles all began -- before finishing out the year in California for his Chevron World Challenge.
"I can do this in streaks," he said of his final six holes, and referring to his Ryder Cup singles match when he played the last seven holes in 7 under par. "Unfortunately, I haven't done this for an entire round. It takes time. The streaks are now lasting longer. I still need to do it for an entire round. Obviously, I didn't do it for 72 holes."
Appleby finished his amazing day by signing dozens of flags, along with a couple of posters that featured Woods, Geoff Ogilvy, Robert Allenby, Sergio Garcia and Camilo Villegas.
"They could have put, 'Mr. 59' in capital letters down the bottom," Appleby joked. "I don't need a picture."