News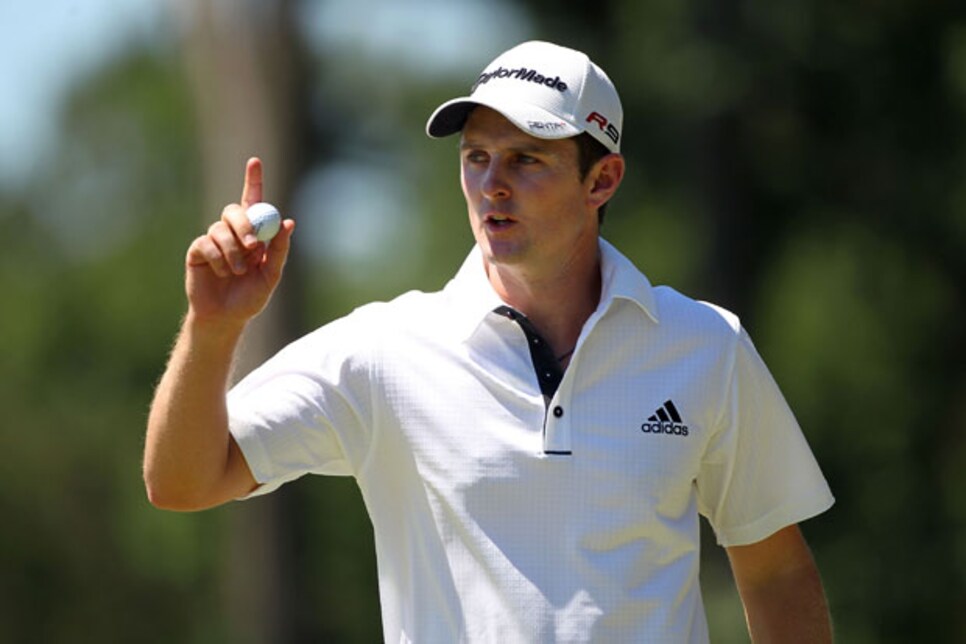 Rose won for the second time in the last month.
NEWTOWN SQUARE, Pa. (AP) -- Clinging to a one-shot lead, Justin Rose stood over his tee shot on the 18th hole at the AT&T National when he heard fireworks in the distance. The celebration had started somewhere in Philadelphia, just not Aronimink.
Rose knew that from experience.
Only a week ago in the Travelers Championship, he took a three-shot lead into the final round and collapsed on the back nine for a 75. On Sunday at Aronimink, he was five shots clear going to the back nine and found himself in a battle he didn't expect.
He lost another big lead. This time, he didn't lose the tournament.
Rose hit every green in regulation on the back nine, including the final one, and closed with seven straight pars for an even-par 70 to win for the second time in three starts on the PGA Tour.
The relief at the Memorial came from winning for the first time in America.
The relief at Aronimink was for learning not to lose.
"I knew having not closed out last week it was important for me -- just for myself -- to do it today," Rose said after his one-shot victory over hard-charging Ryan Moore. "Still, it's never easy to close these things out, I'll tell you."
He sure made it hard on himself.
Staked to a five-shot lead at the turn after a 5-wood to tap-in range for eagle on the ninth hole, Rose had three-putt bogeys on the 10th and 11th holes — after having gone 274 holes without one on the PGA Tour — and just like that, the game was on.
Moore one-putted his last eight greens, including a 12-foot par putt on the 18th hole, for a Sunday-best 65 to make Rose work to the very end. Rose two-putted up a dangerous ridge on the tough 17th for par. And with the Fourth of July fireworks booming in the distance, he hit the fairway and green for one last par.
"I knew level par would get the job today," Rose said. "Every two-putt felt like hard work coming in, I've got to tell you. It was good fun. I felt very much in control of my emotions, and it's been a long week. But I'm very glad we've got to this point with a win."
Tiger Woods wasn't close at all. The defending champion shot a 1-over 71, marking the first time in 11 years that he didn't break par over four rounds in a regular PGA Tour event. He wound up 14 shots behind Rose, the most Woods has finished out of the lead since the 2006 Players Championship.
Moore thought he had a chance when he started the final round six shots behind, mainly because of major conditions at Aronimink.
"Justin played really good, solid golf today," Moore said. "He won the golf tournament. I did everything I could to make him think about it, and he played better at the end."
The consolation prize for Moore, who finished second, was a trip to St. Andrews for the British Open.
Rose earned a spot in the British Open through a special money list, along with Travelers winner Bubba Watson, who did not play this week. Another spot was available for the leading player not already eligible among the top five at the AT&T National. Moore wound up winning that little battle over Jeff Overton, who shot 67 to finish third; and Charlie Wi, who shot 69 to finish fourth.
All of them were chasing Rose and that silver trophy with a Liberty Bell.
It didn't appear to be much of a tournament when Rose hit a fairway metal from 264 yards up the hill on the par-5 ninth, onto the green and to tap-in range for an eagle, giving him a five-shot lead.
But when he walked off the 11th green, his lead already had been trimmed to two.
From 35 feet below a ridge on the 10th, Rose left it 7 feet short and three-putted for bogey. From 45 feet below a ridge on the 11th hole, he overcompensated and hammered his putt some 10 feet by, missing that par putt, too.
Rose collected himself, walking slowly to the tee. He hit every green the rest of the way.
When he won the Memorial a month ago by coming from behind, the U.S. Open exemption deadlines had already passed and Rose failed to qualify for Pebble Beach the next day. He felt as if he played a U.S. Open this week on a course that was firm, fast and demanding.
"This was my U.S. Open the way the course was set up," Rose said.
He finished the AT&T National at 10-under 270 and earned $1.08 million, moving up to No. 2 in the FedEx Cup standings behind Ernie Els. Rose also will crack the top 20 in the world ranking, likely going to No. 16.
Woods left Aronimink in good spirits, despite his tie for 46th. It was the first time he finished a regular PGA Tour event out of the top 40 since he tied for 53rd in The Players Championship five years ago.
Even so, he hardly sounded worried. Woods hit the ball off the tee better than he has all year. He hit his irons decently enough, but his putting was simply atrocious. Woods took 120 putts for the tournament.
"It does feel good to hit the ball as well as I did this week," he said. "I just need to get my putter organized a little better and really work on my putter over there."
It was almost like two tournaments Sunday.
The gallery showed up in thousands to watch the world's No. 1 player, even if he doesn't look like one at the moment. About the time Woods tapped in for his 71, thousands headed for the parking lot. Rose played before a moderate-sized crowd, but he had enough to worry about inside the ropes.
And he managed just fine.