News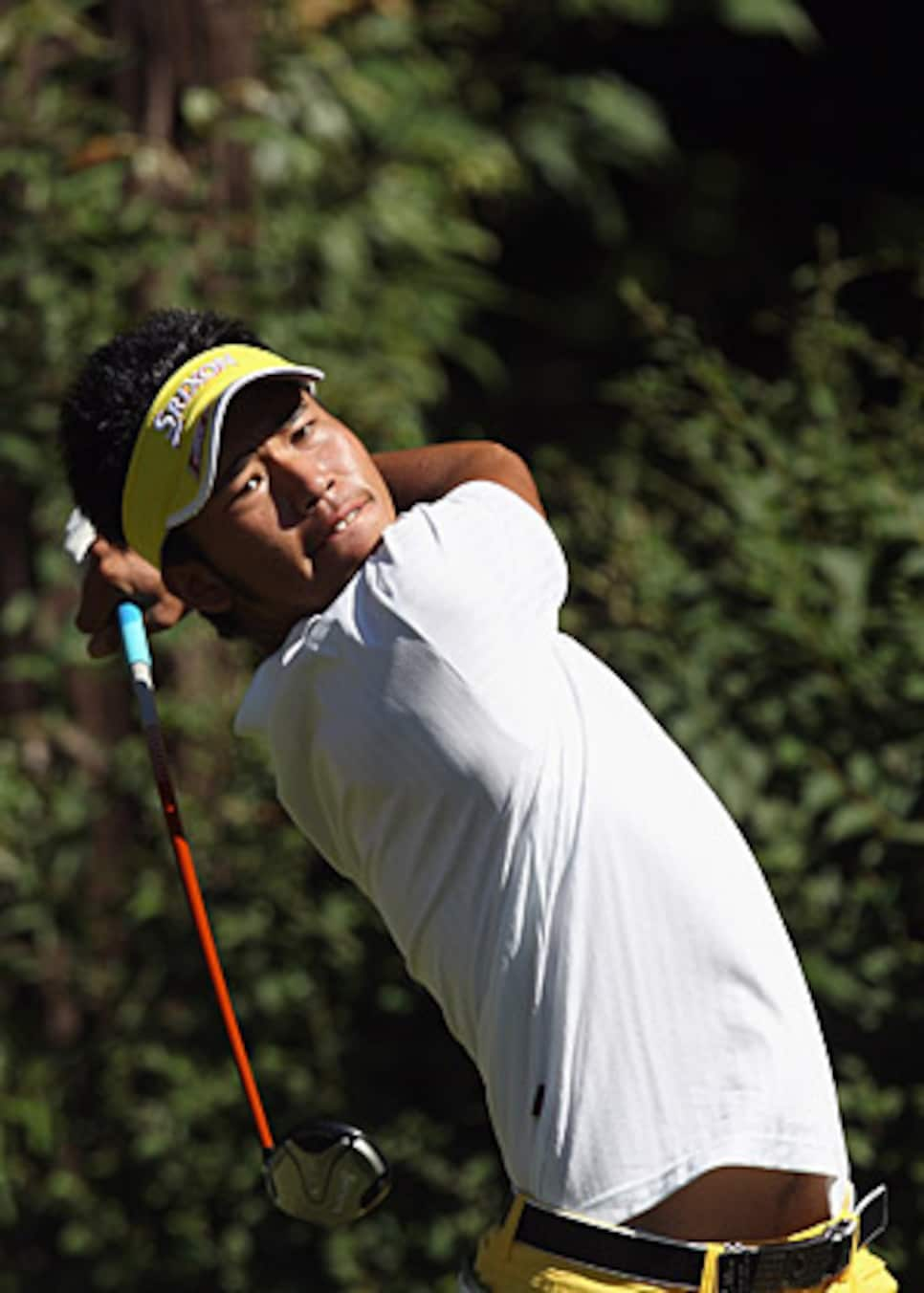 The 18-year-old Matsuyama never led by less than two on Sunday.
KAWAGOE, Japan -- Nerves don't appear to affect 18-year-old Hideki Mastuyama -- until he leaves the golf course. The Japanese college freshman, so smiley and carefree with a club in his hands, looked absolutely petrified on the awards podium, even as he gingerly held the Asian Amateur Championship trophy he had just earned in convincing fashion. He didn't crack a smile until he heard the two words that had been whispered with almost mystical significance over the past several days at Kasumigaseki Country Club in suburban Tokyo: The Masters.
The Asian Amateur trophy is nice, but the real prize for Matsuyama is the automatic entry into the 2011 Masters that comes with it. Next April, Matsuyama will become the first Japanese amateur to tee it up at Augusta National.
"I never imagined going to the Masters this early in my life," Matsuyama said after finishing the four-day, 72-hole stroke play event at 15-under (68-69-65-67), five strokes clear of runner-up Tarquin MacManus, 21, of Australia. "Rather than being satisfied by just being there, I would like to play well in Augusta, as well."
Over the weekend, on Kasumigaseki's 78-year-old par-71 West Course, Matsuyama proved he not only has the potential to play well, he also can be downright dominant -- and he doesn't need a downpour to do so. After posting a course-record 65 in heavy rain on Saturday, Matsuyama shot a bogey-free 67 under surprisingly sunny Sunday skies and never led by fewer than two strokes.
Matsuyama and MacManus were the only two golfers who appeared unaffected by Saturday's sloppy conditions. Only seven players entered Sunday under par, and the tournament had all the looks of a two-man competition: Matsuyama, at 11-under, and MacManus three back at eight under. Their next closest competitor was Yosuke Asaji, also of Japan, who had flirted with the lead in the opening rounds, but sat six shots adrift of Matsuyama after shooting 72 on Saturday.
On Sunday, Matsuyama and MacManus played shot for shot over the first seven holes, trading pars on one through five and birdies on six and seven. Then on the 403-yard, par-4 eighth, MacManus broke the trend and holed a 40-foot birdie putt to pull within two strokes. He'd get no closer.
"I thought I might have a bit of a chance when I birdied those three holes in a row, but from there, it just went a bit flat," said MacManus, a senior at the University of Arizona, whose second- place finish earned him a place, along with Matsuyama, in International Final Qualifying for the 2011 British Open. "I played well out there, gave it everything I had and just got beaten. He played some amazing golf out there and I just couldn't quite match it."
MacManus discovered it's hard to make up ground when the guy you're going against just doesn't make many mistakes. And the few times Matsuyama did slip, he always had an escape route, some more sensational than others.
Take, for example, the fairly straightforward 380-yard, par-4 14th. Matsuyama sent his tee shot wide right, and his ball landed directly behind one of the many ornamental Japanese black pines that line the Kasumigaseki fairways like oversized bonsai trees. He didn't give much thought to playing it safe for his second shot, opting instead to aim for the pin and weave the ball between two tree trunks. His gutsy shot ended up eight feet from the hole, and he carded a birdie to take a commanding four-stroke lead.
"Even though I hit it in the woods, I knew there was a pathway to get out from there," said Matsuyama, who also birdied 14 on Thursday and Friday. "I was talking with my caddie, and we decided we should go for it. Throughout this tournament, I felt like I had luck on my side."
Launched in 2009, the Asian Amateur -- which this year featured 118 golfers from 27 nations -- is a joint effort by Augusta National, the R&A and the Asia Pacific Golf Confederation, with the stated mission of growing the game throughout Asia. Han Chang-won of Korea won the inaugural event, held at Mission Hills in Shenzhen, China, and shot 79-76 at this year's Master's to miss the cut. Runner-up Eric Chun, also from Korea, a junior at Northwestern, qualified for the British Open and missed the cut by one stroke at St. Andrews.
Matsuyama, who entered the weekend in third place, two shots back of Singapore's Lam Zhiqun, sealed his ticket to Augusta on Saturday. He holed seven birdies on his way to a six-under 65, which tied the course record set by Indian pro Jeev Milkha Singh at the 2006 Japan Open. Matsuyama's only bogey came after finding the sand on the 224-yard par-3 seventh, when a long par putt just lipped out.
Despite the high stakes of the tournament -- and the television cameras following his every move -- Matsuyama appeared laid back and loose on the course. He smiled often and could be seen joking with his caddie, Taisho Okabe, himself a scratch golfer and Matsuyama's classmate at Tohuko Fukushi University, in northeastern Japan.
"Actually, during rounds I do not usually joke or have fun," Matsuyama explained Saturday in his first major press conference. "But Taisho is a good friend, and he tends to make me laugh and smile. Today during the round he made me feel more relaxed and enabled me to have more fun and not get too caught up in thinking about the score."
Matsuyama appeared anything but relaxed fielding questions from the international media after his 65. The teenager admitted being nervous, and he kept sneaking peeks at the big screen TV to his left that was showing highlights from his record-setting round.
After his big win on Sunday, a reporter asked Matsuyama whether he planned to take Okabe to Augusta next year for his first time competing on American soil.
"I would like for him to caddie for me," he responded. "But neither one of us speaks any English. We should probably consult with some people before we make our decision."
Next year's Asian Amateur Championship is slated for September 29-October 2 at Singapore Island Country Club.