News
'Pony' Query: One And Done?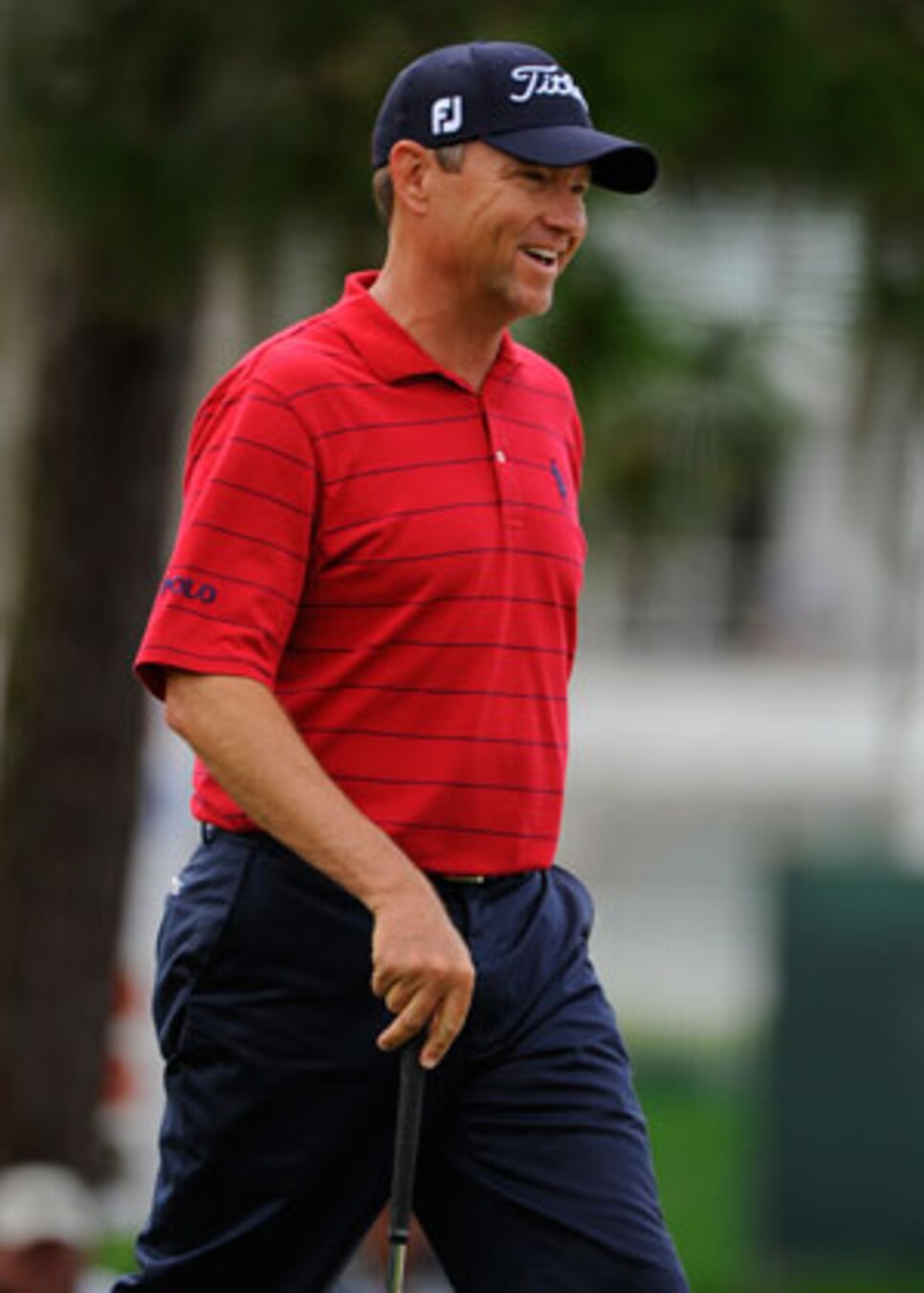 King For A Week: Of the 55 majors in the Tiger era, 20 have been won by players such as Love (1997 PGA), who own a single Grand Slam title.
Now that Louis Oosthuizen has won the British Open, will his first major be his last? Or will he win two or three or four, or maybe more?
Only time will tell, but of the 55 majors in the Tiger Woods era that began with his 1997 Masters rout, those with one major to their credit comprise the largest group. They have won 20, including five of the last six, compared to 16 by those with multiple majors, 14 by Woods and five by those who had won majors prior to 1997.
Of those 20 one-trick ponies, only Davis Love III, the 1997 PGA champion with 20 PGA Tour triumphs, has performed enough other lesser tricks to be virtually assured of eventual entry into the World Golf Hall of Fame.
Jim Furyk, the 2003 U.S. Open champ with 15 tour wins, appears on track for the hall, but David Duval (2001 British) was sidetracked by injuries despite 13 tour wins, and David Toms (2001 PGA) stalled after 12. Mike Weir (2003 Masters), Geoff Ogilvy (2006 U.S. Open), Zach Johnson (2007 Masters) and Stewart Cink (2009 British) have more to prove but the time to do it.
Those with much more to prove -- maybe too much -- are Ben Curtis (2003 British), Shaun Micheel (2003 PGA), Rich Beem (2002 PGA), Paul Lawrie (1999 British), Todd Hamilton (2004 British), Michael Campbell (2005 U.S. Open), Trevor Immelman (2008 Masters), Lucas Glover (2009 U.S. Open) and Y.E. Yang (2009 PGA). This year's surprise newcomers were Graeme McDowell at Pebble Beach and Oosthuizen at St. Andrews. Each had the game to win at a classic venue, but will either or both be a multiple-major winner?
Of that "multiple" group, Phil Mickelson reigns with four (three Masters, one PGA). Padraig Harrington (two British, one PGA) and Vijay Singh (one Masters, two PGA), both have three. Mark O'Meara (Masters, British), Retief Goosen (two U.S. Opens) and Angel Cabrera (Masters, U.S. Open) have two. Five others won majors before the Tiger era and again after it began -- Ernie Els (1994 and '97 U.S. Opens, 2002 British); the late Payne Stewart (1989 PGA, 1991 and '99 U.S. Opens); Lee Janzen (1993 and '98 U.S. Opens); and José Maria Olazábal (1994 and '99 Masters).
Two or more majors usually assure unlocking the door to the World Golf Hall of Fame, but one major has been enough for some with a distinguished résumé. Tom Kite had only the '92 U.S. Open at Pebble Beach, but he's in. One professional major was enough for Tommy Bolt, Gene Littler, Lloyd Mangrum, Bob Charles and Kel Nagle. Chi Chi Rodriguez made it with no majors. But one major hasn't been enough for Tom Weiskopf or Bob Rosburg, and nowhere near enough for Jack Fleck or Orville Moody. And if two majors have not yet been enough for Dave Stockton or Janzen, will one be enough for Fred Couples, Hal Sutton, Steve Elkington or Mark Calcavecchia?
Sadly, five pros who finished a close second at a certain major will never know what might have been if Woods had not been there. Chris DiMarco lost their Masters sudden-death playoff in 2005 and lost to him by two strokes in the 2006 British Open. Rocco Mediate lost their 2008 U.S. Open playoff on the 19th hole; Bob May lost their three-hole 2000 PGA playoff. Sergio Garcia lost by one stroke at the '99 PGA, and Woody Austin lost by two at the 2007 PGA. If Tiger hadn't been there, maybe DiMarco would have won two majors; maybe Mediate, May, Garcia and Austin would have captured their first major. Then again, maybe Tiger's presence inspired them.
Such is life in the Tiger era for those five and all those who want to be more than a one-trick pony.