News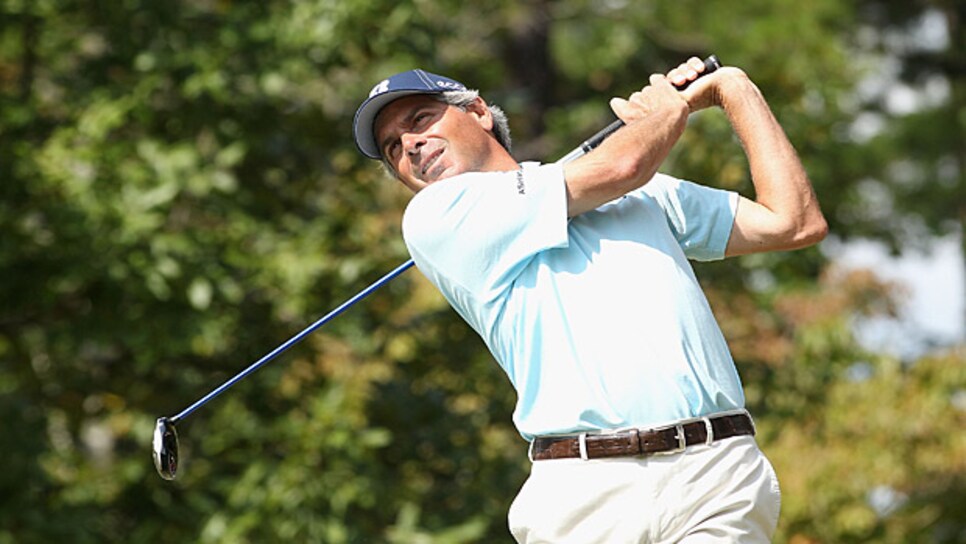 The win for Couples came some seven months after rattling off three straight wins earlier in the year.
left Corey Pavin and everybody else way behind in the Administaff Small Business Classic, shooting a 9-under 63 on Sunday for a seven-stroke victory.
Two strokes behind Pavin after 10 holes in the final round, the 50-year-old Couples played the final eight in 7 under, making an eagle -- his second of the round -- and five birdies.
"I don't know if I putted like that on the PGA Tour, ever," said Couples, who had only 24 putts in the final round. "I used to putt well and once you hit your mid-40s, every putt is important."
The former University of Houston star finished at 17-under 199 on The Woodlands Country Club course and earned $255,000 for his fourth Champions Tour victory of the year.
Mark Wiebe (71) was second, Dan Forsman (66) and Brad Bryant (66) followed at 9 under, and Pavin (74) and John Cook (67) tied for fifth at 8 under.
Couples birdied Nos. 11 and 12 to tie Pavin, then made a long eagle putt on the par-5 13th. After Couples' eagle, Pavin made a bogey, missing a 7-foot putt.
"That was something," Couples said. "I played well yesterday and I felt I'd play well today. I assumed one of us (in lead threesome) would win. To be honest, I hit the ball well and made a lot of putts and it all added up to a 63."
Couples moved two more shots ahead on the next hole with another birdie and Pavin's bogey.
Couples also birdied Nos. 16 and 18.
"Fred played great, it was a pretty amazing nine holes," Pavin said. "It was tough to keep up with him. I wasn't playing well anyway. I was out in front of the ball today. I struggled all day and it never turned around. ... Things weren't clicking, I'll try again next week. I haven't played much golf lately, only the second event since Oregon. I hope to compete the next two weeks. It would be nice to get a win."
Bernhard Langer, 535 points ahead of second-place Couples in the Charles Schwab Cup standings, shot a 66 to tie for 13th at 3 under. Kenny Perry tied for 35th in his first start on the 50-and-over tour, closing with a 70 to finish at 1 over.
Couples is skipping the AT&T Championship this week in San Antonio.
"I'd have to say it is important, but I physically couldn't play next week," Couples said. "I'm exhausted. If I played next week, I wouldn't be ready for the Schwab Cup.
"I physically couldn't play next week I'm drained. I'd get a couple of days off and then have to play in the Wednesday pro-am and the Thursday pro-am."