News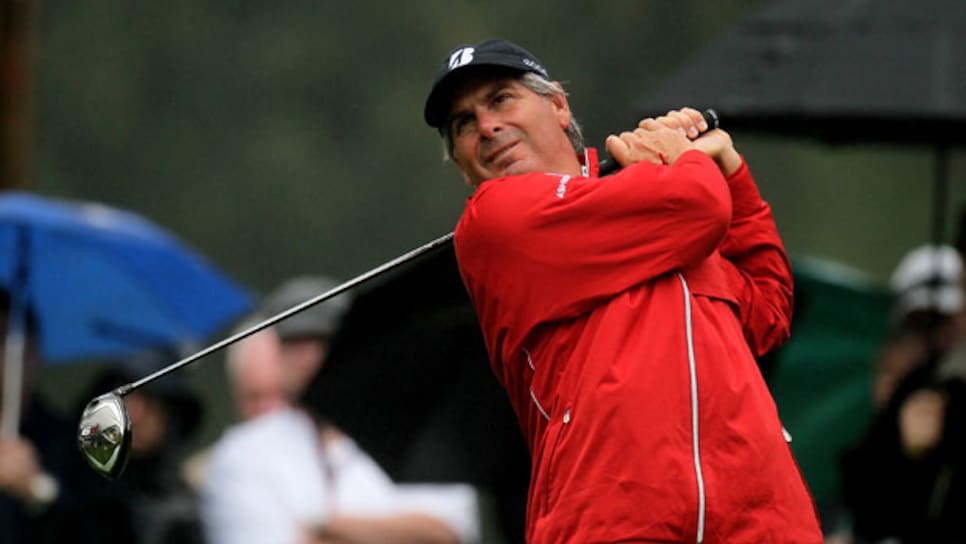 Once holding a five-shot lead, Fred Couples saw his lead whittled to one by the end.
NAPLES, Fla. (AP) -- Fred Couples gave the attention-starved Champions Tour a big boost.
The 50-year-old star won the ACE Group Classic on Sunday for his first victory on the 50-and-over tour, holding off Tommy Armour III by a stroke.
Couples closed with an 8-under 64 to finish at 17-under 199 at The Quarry, while Armour -- making his Champions Tour debut -- matched the tour record for lowest score in relation to par with an 11-under 61.
Couples made a 5-foot birdie putt on No. 17 and a tap-in par on 18 to wrap his first official victory since the PGA Tour's 2003 Houston Open.
"That's a long time," Couples said. "I am very excited that I won and I'll keep trying to win out here and I have a couple chances on the PGA Tour to make the cut. That's really not the idea of fun."
Couples and Armour, friends since college, had some fun earlier in the week, exchanging text messages.
"And then three days later I wasn't all that thrilled about the text when he was 11-under par after 53 holes," Couples said.
Armour started his charge with an eagle on the par-5 seventh, and birdied Nos. 8, 9, 12, 14, 15, 16 and 17.
"I wish he would've shot two shots higher," Armour joked about Couples.
Armour tied Couples with the birdie on No. 17.
"I hit an iron on the 15th green and I looked at the leaderboard and I was tied and seriously was shocked," Couples said.
After the second round was halted due to darkness Saturday night, Couples came back to play five holes Sunday morning to complete a 67 and take a two-stroke lead over Dan Forsman. Couples birdied four of the first five holes in the final round to push his advantage to five strokes -- six over Armour.
"I thought that would easily be enough," Couples said.
Armour's 11-under round tied Walter Hall (2002 AT&T Canada Senior Open) and Tom Purtzer (2004 Toshiba Senior Classic) for the lowest in tour history.
"Birdied half of them and then one more," said Armour, who made the decision to move to the Champions Tour this year after undergoing back surgery last June.
Armour said he never looked at the leaderboard, but had a number in mind.
"I figured 15 under was as high as he was going to shoot, so I figured I had to get below 15, and I did, but he's a pretty awesome player."
Couples was in contention in his Champions Tour debut last month in Hawaii, but Tom Watson birdied the last two holes to beat him by a stroke.
"I got to watch that," said Couples, who was in the same group as Watson. "That was easier, I think even easier to take."
Scott Hoch, the 2008 champion, shot a 69 to finish third at 9 under. Bernhard Langer and Mike Goodes tied for fourth at 8 under. They also shot 69s.