The Loop
Going Back To Bristol: A Tour Of SportsCenter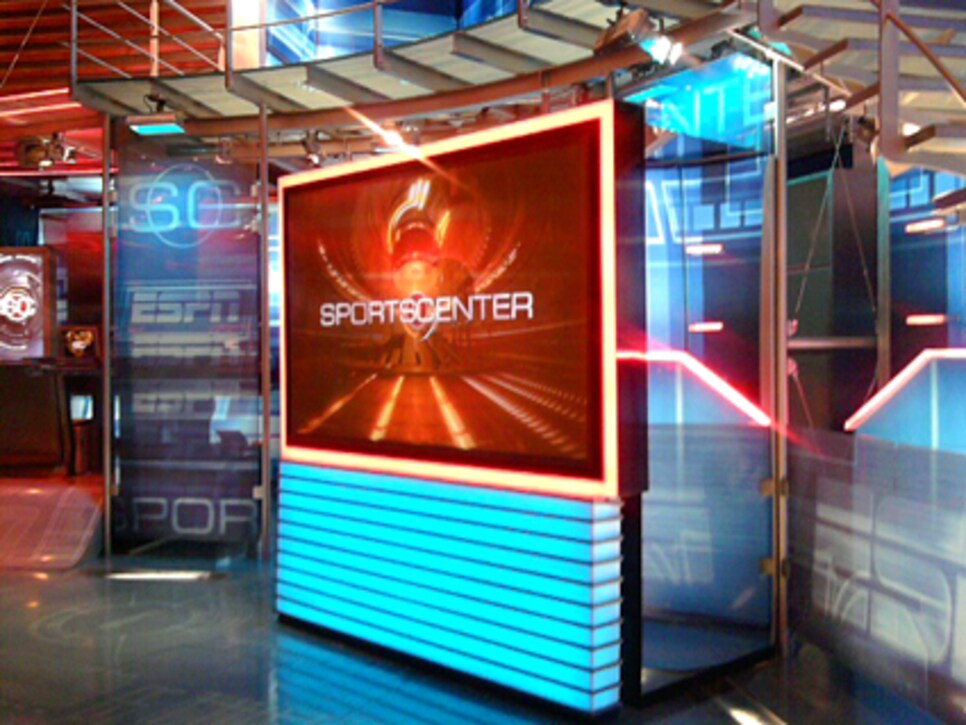 It was the summer of 1995. I was a non-paid intern at Sports Illustrated and I drove to Bristol for an interview to be a production assistant at ESPN. The interview was set up by Father Mike Russo, the director of communications at Saint Mary's College at the time, and one of my many spiritual and career mentors. Father Russo performed the marriage of Bob Ley and his wife, Barbara. (Ley is an original ESPN anchor, going back to 1979.) Russo and Ley have known each other since their days at Seton Hall. Russo made a call to Ley; Ley helped me out.
The interview at ESPN was a series of sports queries conducted by Al Jaffe, vice president of talent and one of the judges on the TV show, Dream Job. Among many questions I remember being asked by Jaffe: break down the teams in the National League East. And, in your opinion, who deserved the Vezina Trophy last year? At the end of the interview Jaffe asked if I liked Sports Illustrated.
Which is when Jaffe delivered some priceless advice: "Then I recommend you stay at Sports Illustrated. If you work here you'll be cutting highlights for $1,200 per month, no overtime, no benefits and no guarantee we'll keep you for more than seven months. Besides, you'd be living in Bristol as opposed to New York City."
If life was presenting a set of sliding doors that summer, Jaffe helped me jump the right train. I'm forever grateful.
Cut to last week, which was especially cool for me on several levels. It's not really related to travel, but I share because I can. On Wednesday I went to lunch with Josh Elliott and Bob Ley. Elliott and I worked together, lived together and ran around New York City together in what I consider the last great decade of Sports Illustrated (the '90s). Those who were there and are still there know what I mean. I've stayed in contact with Ley through Russo and now Elliott. I consider Bob Ley the Walter Cronkite of sports journalism. In an industry being (over) ruled by the advertisers, Ley is still a voice I trust. And to wrestle a lobster roll (no mayo) on a hot August afternoon overlooking a New England waterway and to be privy to stories about Ley's stay in South Africa covering the World Cup--which he said is one of the most memorable events of his lofty career--was a significant treat.
Two days later I chauffeured a few friends to Bristol for a tour of SportsCenter during an Elliott-hosted hour of the show. As far as I could tell, Bristol hasn't necessarily grown since '95, but ESPN has. I remember one building and a big satellite. Now it's a "campus" the size of a mid-major.
SportsCenter for me is like dirt bikes, baseball cards, blue jeans, and steak dinners with friends all rolled into one. It's a staple of my life bridging every generational gap. So to step onto the set to watch one of my best friends barking highlights to America was utterly surreal. After all, SportsCenter replaced reading the back of a cereal box at breakfast; it's the new wallpaper of insomnia and it will forever be Charley Steiner laughing uncontrollably, Chris Berman's array of nicknames and the greatest run of commercials since the invention of that aforementioned advertising. (By the way, I didn't see Palmer ordering an Arnold Palmer, but I did see Scott Van Pelt in the lunch line. I didn't see Albert Pujols, Landon Donovan or Roger Clemens at the copy machine, but I did see Michelle Bonner in the mailroom looking for a lost package.)
I thought I'd share a few phone photos--pardon the quality.
This is SportsCenter . . .
Elliott (far right) wraps up the show with his co-host for the day, Sage Steele. Elliott's co-host is usually my first and forever crush of female sports anchors, Hannah Storm. David Lloyd (far left) and his co-host, Dari Nowkhah, prep to take over after Elliott and Steele sign off: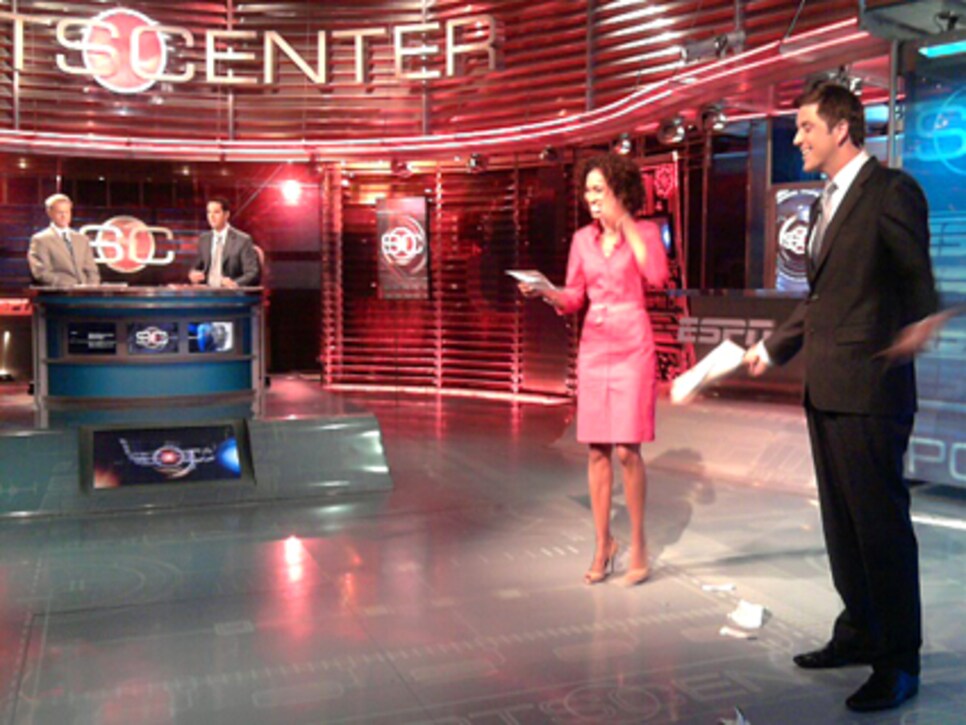 For production geeks, you might appreciate a picture of the control room: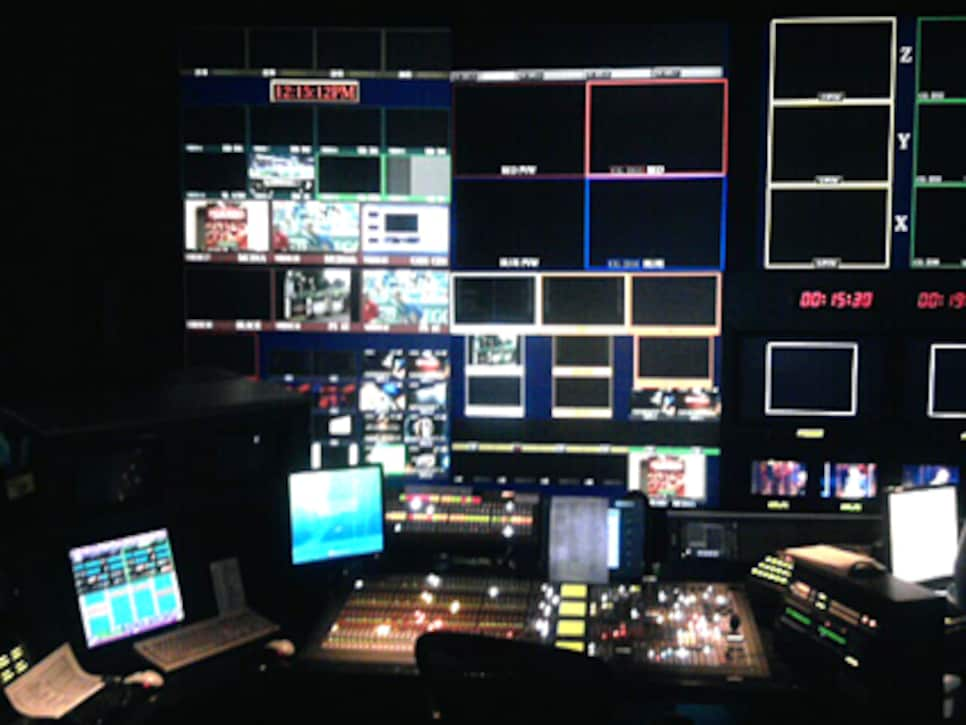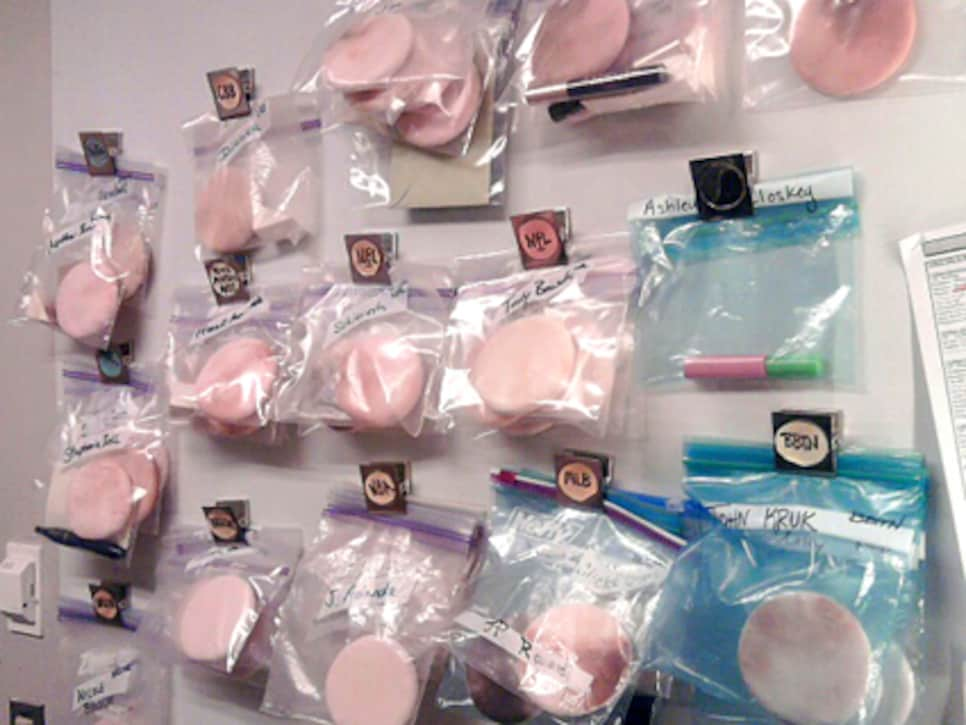 And finally, a shot of me and Steele, who is tall, stunning and very sweet: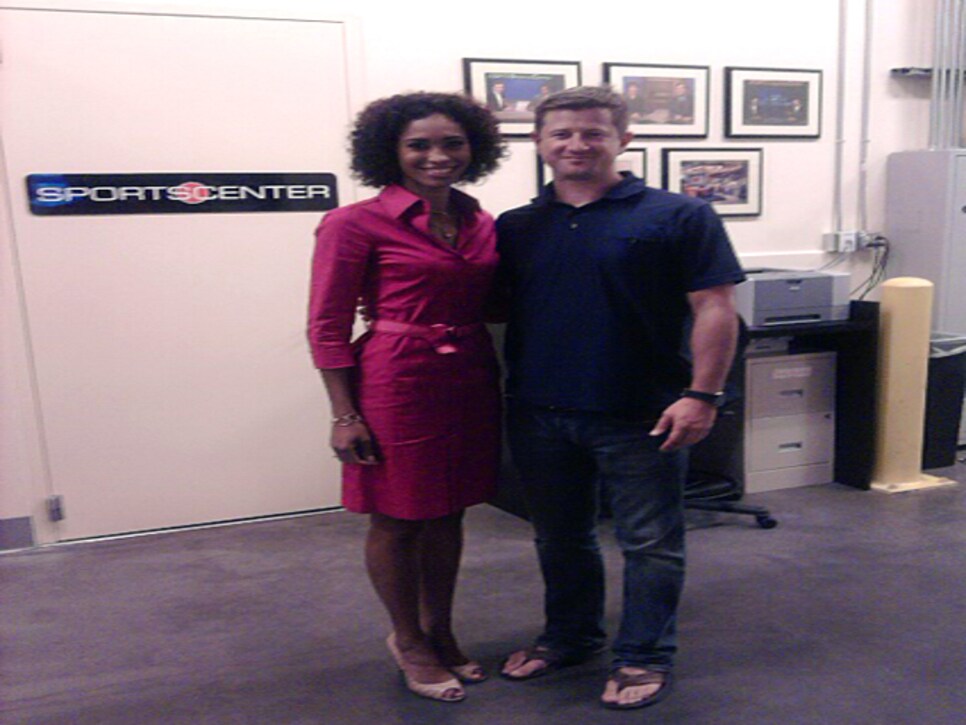 They say ESPN reaches 76 million homes in the U.S., and can be heard in 21 languages overseas. From multiple cable outlets, the radio, the Internet and print, they are without doubt The Worldwide Leader In Sports, but they need to stop swinging side deals with the likes of LeBron and Jim Gray.
Have a great PGA Championship-infused weekend.