Got your goat
Who are the GOATs of golf and soccer?
Editor's Note: This article first appeared in Fire Pit Collective, a Golf Digest content partner.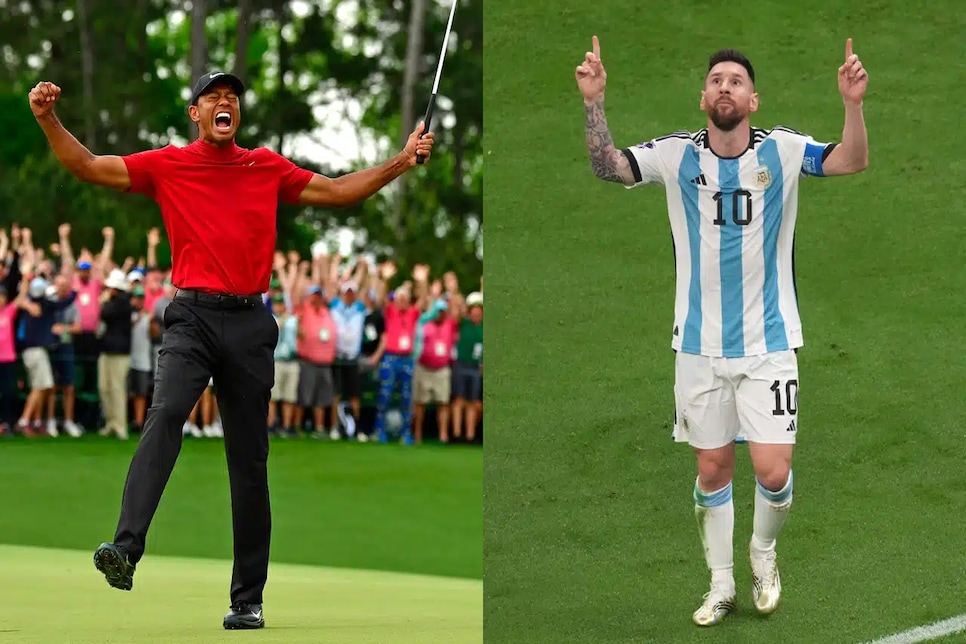 It's always fun to throw around opinions on who the GOATs (greatest of all time) are for our many passions. Music, golf, cinema, whatever it is, I enjoy the debate. During Sunday's World Cup final children's author and Golf Channel host Shane Bacon asked via Twitter who was soccer's GOAT? It led to some colorful golf and soccer GOAT discussions.
People will tell you it's impossible to compare athletes from different eras. I say it's entirely possible and people who would tell you otherwise simply have difficulty letting go of the past.
With apologies to Kathy Whitworth and Brazilian legend Marta Vieria da Silva, I offer you, the golf fan, the 2022 Men's Golf and Soccer GOAT Comparisons. There are only three men in the discussion for both golf and soccer, so that makes this a fairly clean exercise. I welcome all of your critiques and praise equally.
Tiger Woods and Lionel Messi
Say what you will about blood spinning, surgery, rehabilitation, infidelities or any of the other obstacles Tiger Woods has overcome, he is the greatest golfer to ever walk on this planet. His statistical dominance in a wildly competitive era is staggering. No, he hasn't won the most majors, but.…he still might? And let me say this: Amateur golf at the absolute highest level matters. And no man has dominated that arena like Tiger Woods.
Lionel Messi has just become a World Cup champion for the first time. He didn't need to for this exercise because was the GOAT before the '22 final. On the pitch Messi is a talisman that not only dominates play but also makes those around him notably better. While his goal-scoring totals are astounding, it is the art, pace and tenacity with which he plays that separates him from all the others.
Tiger and Messi are the GOATs of golf and soccer, respectively. They are two of the most popular and important athletes of our time. Both possess skills that leave even their most accomplished peers in awe. We are incredibly lucky to witness their greatness.

Jack Nicklaus and Diego Maradona
Both Jack and Diego were somewhat short and rotund athletes. They used their bodies very differently. If Nicklaus possessed skills that left you saying, "Wow," Maradona's gifts had you wondering, "How?"
Eyeballing Jack in his prime, we're talking about a 5'9", 215-pound powerhouse who was longer, more dedicated and intense than anyone who had come before him. He was hitting persimmon McGregor woods with wound balls well over 300 yards before the Beatles first came to America. There was no one like Jack before he hit the scene.
Diego was a street kid-turned-tornado who was impossible to get off the ball. He left his native Argentina as a teenager and went on to dominate in Europe and on the world stage. And he did all this battling addictions. We are left to wonder what might have been if he had stayed clear of his many vices (as is the case with Woods).
Nicklaus would dig deep to win 18 major championships—more than any other player. It was as if he could summon shots when others couldn't. Maradona also had a rare will that seemingly would not be denied. He would lead his team to victory by any means necessary, to include divine intervention. Two great champions, and for a period of time of their lives, the GOATs, but no longer.
The final players who can enter the GOAT discussion are Bobby Jones and Pelé. There are still people who feel Jones and Pelé are GOATs. Sorry, they are not. I'll list them out of respect for those of you who feel that they are seminal figures in their respective sports.
Let me start by pointing out that both Bobby Jones and Pelé played in an era when athletes would cross the Atlantic Ocean by boat. In the Jones era of golf, there were golf professionals, but no real place for professional golfers. Jones, who was considered an amateur, was the game's best and brightest star, even if he didn't play that much by today's standards, or face quality competition.
Pelé was a revelation to soccer. He is the only player to win three World Cups. Granted, there were only about 16 teams that competed, but good for Brazil! A win's a win. In 2000, Pelé was named the FIFA co-Player of the Century (alongside Maradona) as a nod to his importance.
Jones quit playing competitively fairly young due to health issues. Pelé never played in the great European leagues of his era for political reasons. For all of their legendary greatness, the world was left wanting.
That's it. That's the list of GOATs in golf and soccer. There are others who may not be GOATs, but we'll call them "Greats but Not GOATs." An "honorable mention" list, of sorts.
Greats But Not Quite GOATs
Ben Hogan and Johan Cruyff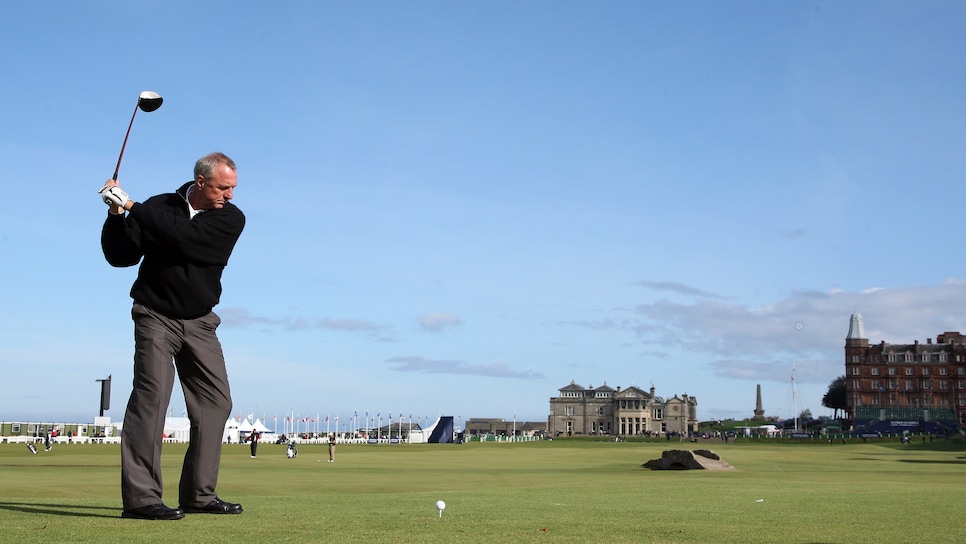 Who knows what Hogan would have accomplished had he not suffered a horrible car accident, or what Cruyff would have done had he not retired extremely young? Their influence on other players who followed them also binds these two giants.
Hogan is almost mythical to many top players who followed, and Cruyff's impact is still seen today in the greatness of FC Barcelona. Cruyff has traded in his soccer boots for golf shoes these days. Hogan would be proud.
Arnold Palmer and David Beckham
Flamboyant, creative, popular with men and women alike. Two GOATs in their own right. Arnold Palmer and David Beckham were the rare champions who caught the attention of people who didn't follow sports.
England struggles on the world stage in all sports, but Beckham's run at Manchester United is legendary. Palmer's place in golf is cemented forever and extends beyond his greatness as a player.
Lee Trevino and (Brazilian) Ronaldo
Much like Jack and Diego, a portly duo. Also extremely entertaining. Two great champions who delivered on the highest level and brought tremendous joy to their respective sports.
Seve Ballesteros and Zico
Magicians who were adored by fans but likely left a little too much meat on the bone to be considered in the "all-time great" discussions of their respective sports.
Phil Mickelson and (Portuguese) Ronaldo
A lot of championship and a healthy dose of ME, ME, ME, ME, ME with these two. And also a massive chunk of Saudi money as Phil helped launch the LIV Golf league and Ronaldo is nearing a deal to join Al-Nassr of the Saudi Pro League.
Gary Player and Franz Beckenbauer
Two giants of sport in the 1960s and '70s who have found themselves in suboptimal ethical and legal scenarios of late.
Rory McIlroy and Landon Donovan
Both have been relatively quiet on the major world stage since 2014 yet seem to be on television quite often.
Some 35 years passed between the time Bobby Jones won the Grand Slam and the '65 Masters when he said of a young Nicklaus, "He plays a game with which I am not familiar." It was 32 years after that when Tiger Woods changed professional golf forever after his dominant win in the '97 Masters.
Similar gaps occur in soccer, it seems. Pelé in late '50s, Maradona in the '80s and Messi debuting in about 2004 with FC Barcelona.
Technology and competition in any era are what they are. There are many great champions, but very few transcend. GOATs just don't show up that often. Let's enjoy them while they're here.