The Loop
GIF: Yelling fans wreak havoc during final round of PGA
Remember the days when we only had to deal with fans yelling "get in the hole" after ever single shot?
It's fair to say things were taken to a new level this week at Oak Hill. Since the start of the tournament fans have been yelling everything from the old standbys to" Chewbacca," "Baba booey" and "mashed potatoes."
Ian Poulter was one of the many who took issue with it on Twitter, writing: "This baba boo sh-- & mash potato crap shouting wouldn't happen at Augusta, The Open, nor would it happen at Wimbledon. Tazer the thrushes." Things even got so bad at that after Furyk hit his drive on 16, he turned around to the crowd, pointed, and looked to tell them something that didn't exactly appear to be a stamp of approval.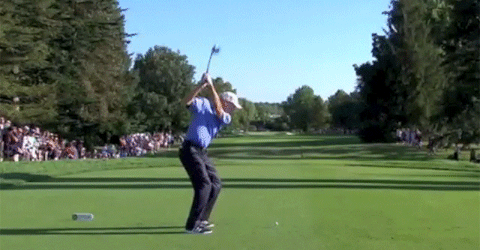 We should be allowed to take 10'000 volt tazers onto the course and tazer ever muppet who shouts out something stupid. I would laugh then.
Clearly, Furyk is done with the bonehead after-shot screamers as well.