The Loop
GIF: Tiger Woods is getting angry. A LOT.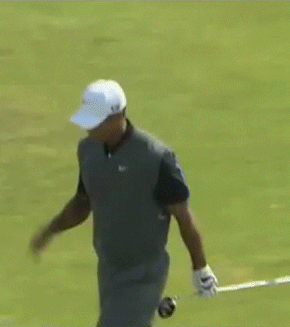 Throughout the third round of the British Open, Tiger Woods was jostling for the lead with Lee Westwood while practically all of the other competitors in contention at the start of the day had fallen away. By Woods' body language, however, you'd think his Open chances were long gone.
A number of shots, by any standard, didn't even turn out very poorly, but Woods often reacted as if he shanked his ball into the crowd (the GIF on the right, for example, was his reaction after his second shot into the long par-5 5th, which finished pin high right of the green and resulted in a good opportunity for birdie).
See for yourself. Here's his reaction to his second shot into the par-4 15th, which resulted in a two-putt par to stay at two-under, one behind then-leader Lee Westwood: