Monday Superlatives
Giannis Antetokounmpo just made us all eat crow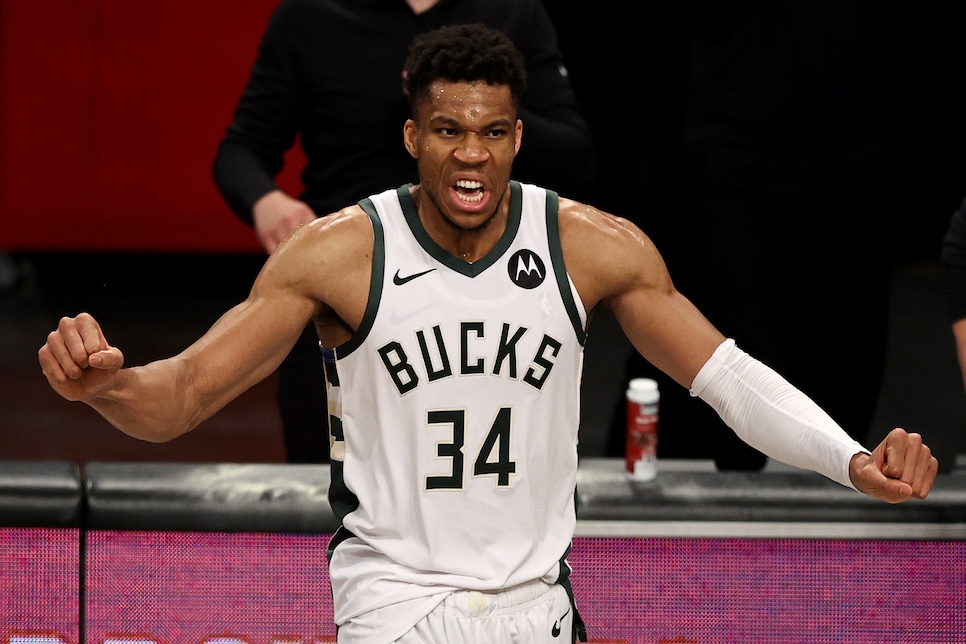 It was only by the luck of scheduling that I didn't write a piece last week about how Giannis (I wrote his last name once, in the title, it's first name only from here on out) has a game that's not suited for the playoffs. I was raring to go after Game 5, when the Bucks blew a massive lead in the fourth quarter, and Giannis looked hopeless while Kevin Durant torched his entire team. Coupled with Ben Simmons' dud against the Atlanta Hawks in the other eastern semis series, the lesson seemed clear: No matter how good you are in the regular season, if you can't shoot, you're going to suck in the playoffs. Giannis and Simmons can't shoot, and they were letting their teams down again.
Then Giannis dominated Game 6, and when Game 7 happened on Saturday night in Brooklyn, he put up an all-timer:
And while he did airball a free throw in crunch time, he largely overcame his iffy shooting, played his style of basketball, and made it work when the chips were down.
I still think it's hard to come away from this series feeling great about the Bucks, since they barely eked by a team absolutely crushed by injuries and putting the entire weight of the franchise on KD, but in these weird NBA playoffs, survive and advance is the name of the entire game, and Giannis refused to fade in the critical moment.
Let's watch that airball, though
This was probably James Harden's highlight of the entire series:
Bad shoe decision of the millennium: KD's shoes
This was great detective work by Sophia Benoit, but first, let's watch what KD did at the end of regulation—a moment that would have gone down in the annals if the Nets had pulled it off in overtime:
Inches! Millimeters! Which is when Sophia Benoit uncovered an old gem about Durant's footwear choices:
Basically, the dude wears shoes a size too big because it feels better, but in this case, it probably cost his team a game seven win and maybe an NBA title. We're going to see KD in those creepy toe shoes next season.
Surprisingly fun sporting moment of the week: Man throwing rock
Ryan Crouser knew he could break the world record in shot put at the U.S. Olympic trials this past weekend, but through three throws, he hadn't quite gotten there. The record was old as hell—31 years and counting, set by Randy Barnes in 1990—but Crouser had recently broken Barnes' indoor record and broken the U.S. Olympic trials record. He's also the defending Olympic gold medalist, meaning that he doesn't shrink from the heat of competition. So when he lined up for his fourth row, the record was in serious jeopardy. Watch:
Why is it so cool to watch a 45-second video in which the actual sports action lasts maybe five seconds? Not sure, but it is, so why ask why? Crouser knew it was good the minute he released the shot, and half the fun in this video is watching him wait for confirmation. In the end, he broke the record by just eight inches. He punched his ticket to Tokyo, and now he's part of history.
Breakthrough star of the week: Sha'Carri Richardson, track
You know that feeling when it's just really, really fun to watch somebody run? That's the case with Sha'Carri Richardson, whose name I hadn't heard before this weekend, but who is the reigning NCAA 100m sprint champion, and who will now be taking her talents to Tokyo. Like Usain Bolt, there's just a certain indefinable something that makes her great to watch, so I'll shut up and post her three races from this weekend's trials:
The 10.64 wasn't official because of a tail-wind, but the fact that she flew that fast shows how close she is to challenging the world record of 10.49 set by Flo-Jo. It would also have been good enough to win the gold medal at the Rio Olympics, which means she's going to be a contender in Tokyo. You can bet watching her fly down the track will be one of the highlights in Japan.
Legendary old dude of the week: Anderson Silva, 46
From Tom Brady to Phil Mickelson, we are living in the golden age of the olds, and Anderson Silva just added his name to that list. The MMA legend is 46, and decided after getting out of his UFC contract that he was going to try boxing, and he was going to try it against Julio Caesar Chavez Jr., a former middleweight world champion. Incredibly, he won by split decision. Not only that, he was good enough to actually taunt him at one point:
A natural fighter is a natural fighter, and even at 46, Silva is a bad, bad dude.