Fitness
Where to begin when you're just starting getting into golf fitness
With golf season on the horizon, it's not a bad idea to start prepping your body for better performance, says Kevin Duffy, one of Golf Digest's 50 Best Golf-Fitness Trainers in America.
"Not only will it make it easier to get your body used to making golf swings again, you'll greatly reduce your chance of getting hurt," says Duffy, who helps golfers at his gym, Rotational Power Strength in Acton, Mass.
Here Duffy offers five exercises to get you started on your quest for a healthier body and better golf performance. Do this workout three to five times a week for three to four weeks before you get out on the course again, he says.
"We're talking basic stuff that wakes your body up, but I think you'll feel the difference—especially if you tend to get off to a slow, achy start each golf season," Duffy says. "For equipment, all you'll need is a golf club and an elastic resistance band. You can do this workout without leaving your living room.
1.

SPLIT-STANCE, BANDED ROW
THREE SETS, 12 REPS EACH ARM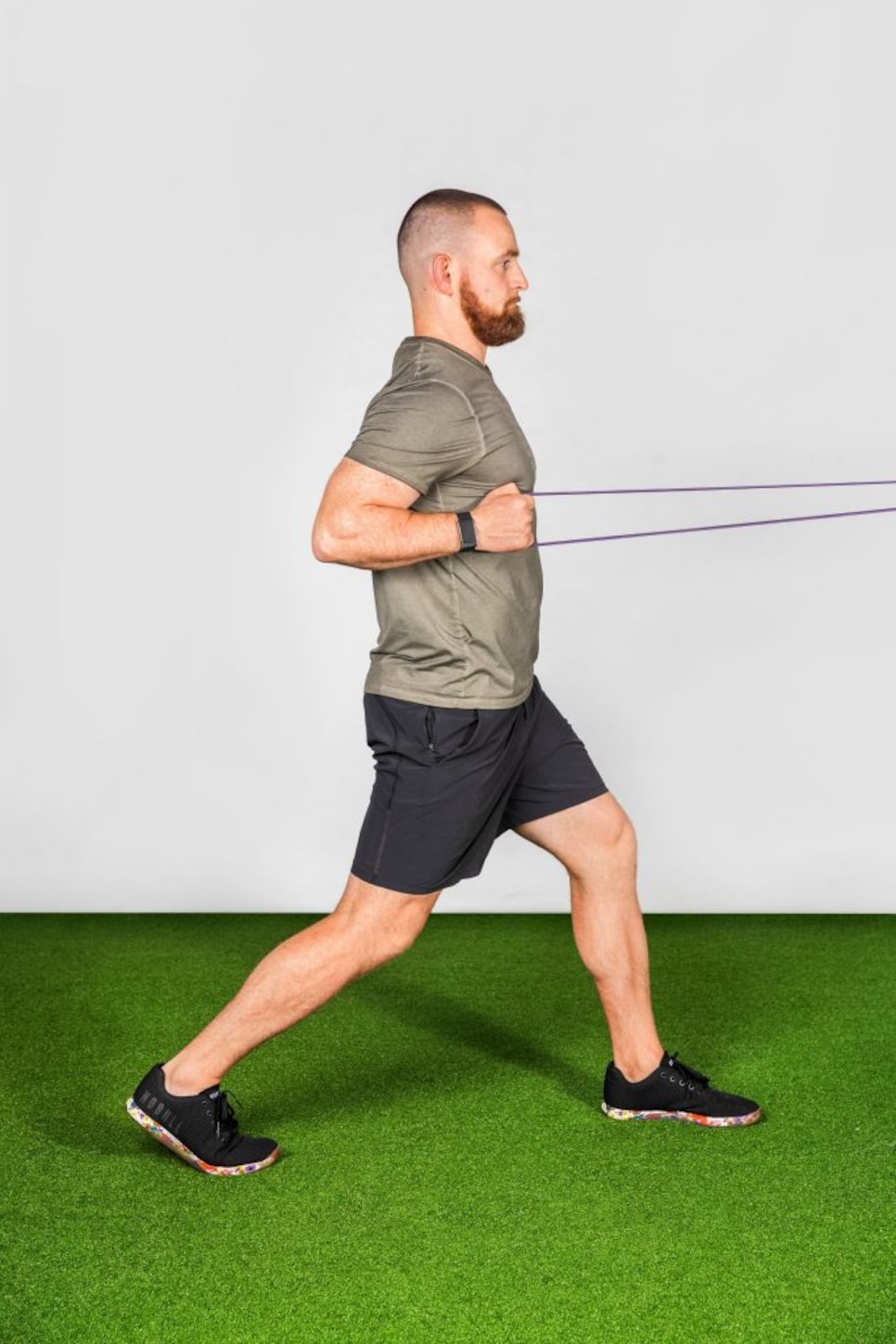 To improve your golf posture and stability when you swing, get in a staggered stance and pull a resistance band to the side of your torso with the same-side hand as the trail leg (above). Keep your torso upright and still as you pull, and focus on the retraction of the pull-side shoulder blade.
2.

REVERSE LUNGE AND TWIST
THREE SETS, 12 REPS EACH SIDE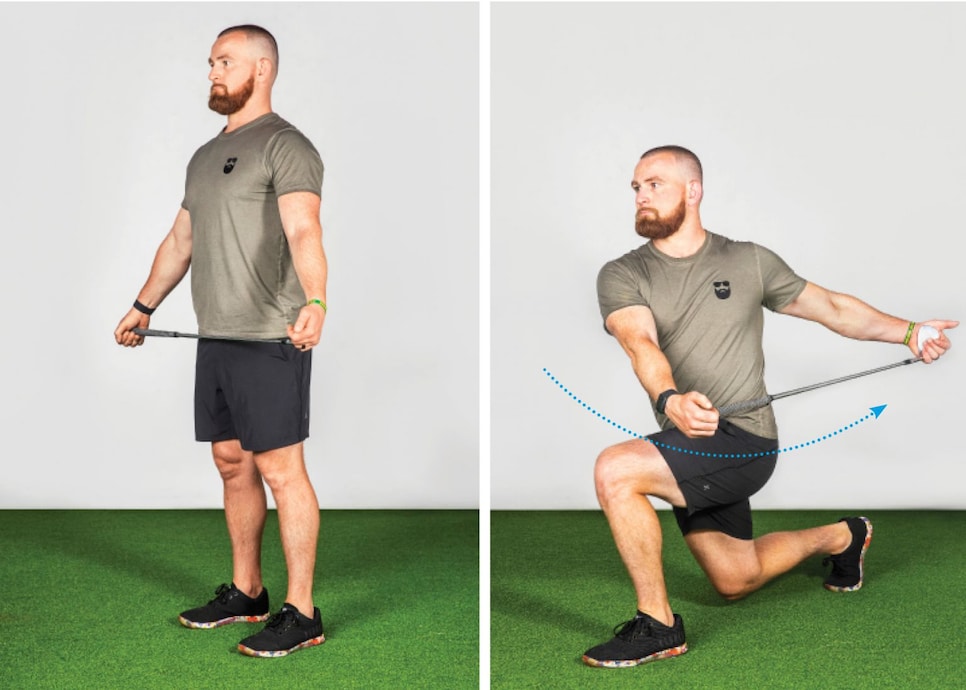 To maintain good balance as you make a powerful golf swing, grab a club at both ends and hold it in front of your chest. Then step back into a lunge while rotating your upper body toward the forward leg (above, right). Try to hover the knee of your trail leg just above the ground for a moment before standing back up.
3. SINGLE-LEG ASSISTED DEADLIFT
THREE SETS, SIX REPS EACH LEG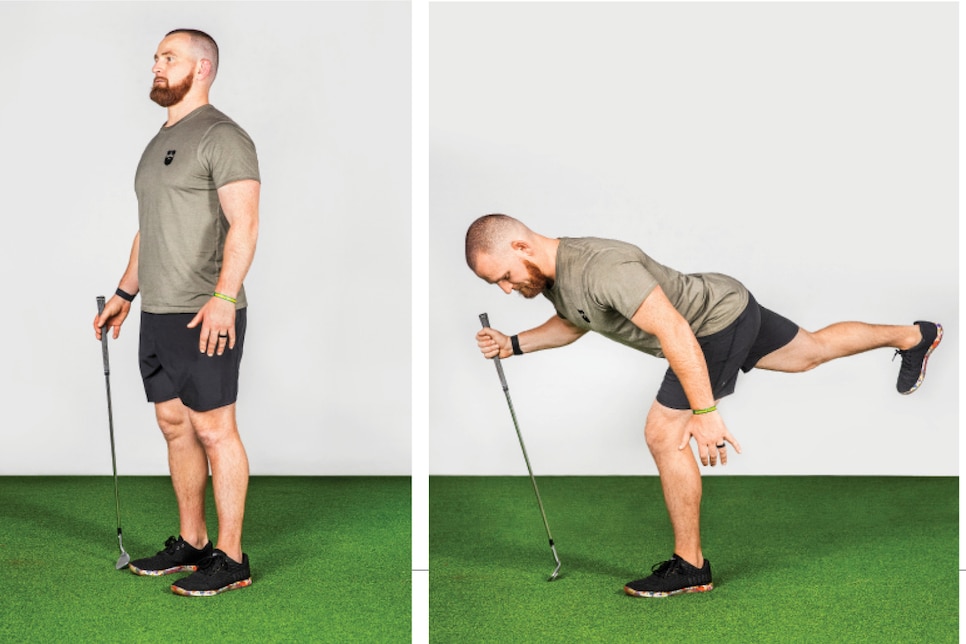 To train for the proper weight shift during the backswing and through-swing, grab a club for balance, and then bend forward from the hip joints with your torso while extending one leg behind you (above). As you bend, keep your hips from rotating and don't lock the posted leg's knee.
4.

CROSS-BODY, BANDED ROW
FOUR SETS, EIGHT REPS EACH ARM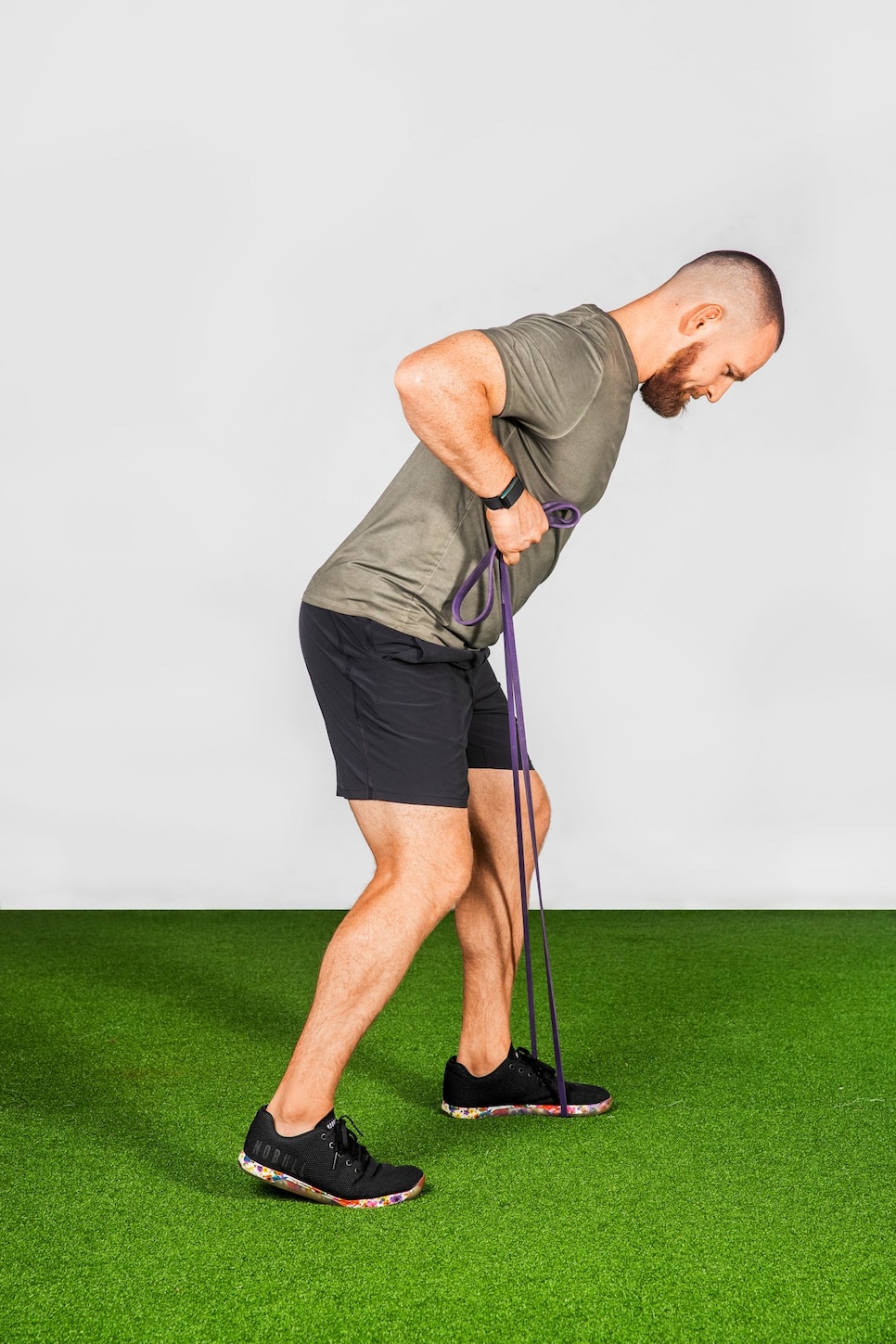 To help keep you from hitting fat and thin shots because of a loss of posture, stand with one foot pulled back and a resistance band anchored to the opposite foot. Pull the band up and across your body as you rotate your torso slightly in the same direction (above). Keep your hips from turning as you pull up, and hold the extended band position for a beat.
5.

SINGLE-LEG SQUAT TO BOX
THREE SETS, EIGHT REPS EACH LEG
To increase your ability to use the ground for leverage for powerful drives, balance on one foot and sink back and down toward a box, couch, chair, bed, etc. (above). Initiate the movement with the hips, not the knees. If this exercise is too difficult initially, perform the move on two feet instead of one.