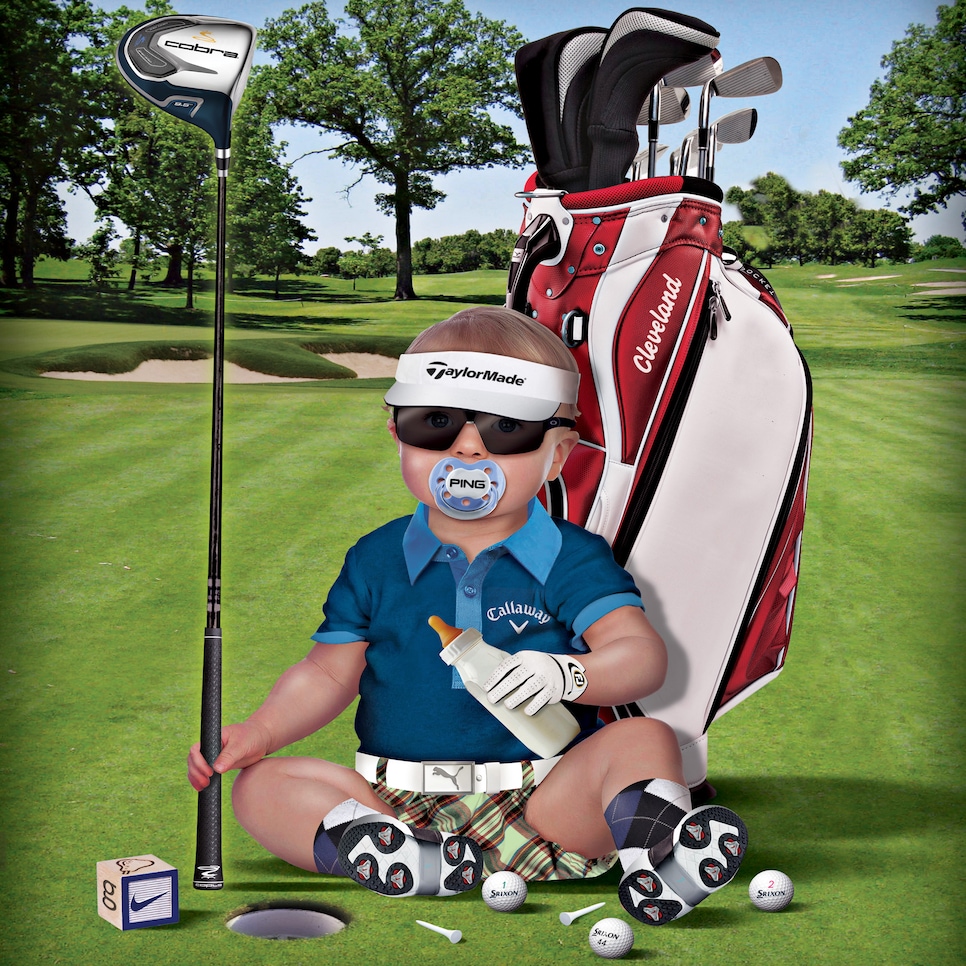 Illustration by John Uleland
In case the equipment pages in our Hot List issue don't work you into a frenzy, we might point out there are golfers who don't have to pay for the clubs featured on our Hot List. Who are these lucky folk? Well, they're not all tour players. And to rankle you more, it's their freebies that drive up the cost for the rest of us, if just a skosh. As with any product, companies must recoup the costs of manufacturing and research and development, but also marketing. That's the way the world works, bub, so save your crying. As the wisdom goes at the 19th hole, get better.
How good you gotta be for free? Where talent meets favoritism is an ever-changing hole location, but let's just say there's complimentary gear out there for shop assistants, mini-tour players living out of cars, insurance brokers contending in the state amateur, the worst players on solid college teams, bloggers on equipment forums, celebrities who can't break 100 and tweens shooting par. Indeed, free equipment is landing in the cadet-small hands of younger golfers. So even if your window has passed, old man, maybe you can have one of junior's drivers when he gets three new in the mail.
"The competition for players at the developmental level is night and day to what it was 15 years ago," says Eddie Erkmanis, director of global sports marketing for TaylorMade.
"More companies are trying to bring players through their amateur careers playing their brand of product," says Nate Radcliffe, the director of engineering at Nike. How soon can a youngster get on a company's "good list?" Radcliffe answers it this way: "A kid playing at the AJGA [American Junior Golf Association] level who is being considered by top programs for Division I golf, they've initially started down the path toward a professional career."
Beau Hossler, the University of Texas star who has already played in three U.S. Opens, thinks he was 12 when he received his first free clubs: "I used to take lessons from Jim Flick, so he dialed me right up with a set [of TaylorMades]."
"I got my first free set of irons probably in my sophomore year of high school, from Nike, and I was thrilled," says Lee McCoy, a first-team All-American at the University of Georgia. "Getting free golf balls is big. That's probably the biggest expense when you go through as many as we do, so you're not looking for them in the weeds as long."
'Kids get an overblown sense of entitlement. They get free stuff, and they think they've made it.' –Mike Dunphy, Player-development Manager for Cleveland/Srixon
No one spends more time in the weeds than equipment reps, who scrutinize tournament records, launch data, body types and whatever else they deem relevant—astrological signs?—to make predictions that border on divination. That is, which pubescent pipps out of a crowd will one day play on TV? Any junior given free equipment is under no obligation, because the relationship is non-binding for a minor. Still, rival reps tend to back off once a kid is clearly associated with one brand. In return, said brand hopes said kid will value their relationship if and when the time comes to strike a professional deal. No company is entrenched more deeply in elite junior golf than Titleist, which declined to comment.
Ping devotes a lot of energy in the collegiate ranks. Except for internationals Angel Cabrera, Miguel Angel Jimenez, Lee Westwood and Louis Oosthuizen (who didn't matriculate), every current PGA Tour staffer with a Ping hat received equipment support from Ping while in college. Westwood and Oosthuizen also got help as teens.
"I've had parents of 12- and 13-year-olds come up to me and say another company is willing to put their kid on staff," says Nick Raffaele, the former Callaway vice president of global sports marketing. "Those parents either misunderstand or are just trying to wrangle more free stuff. No kid is on staff. That's just product-seeding."
Watering a lot of seeds can get expensive. "The lower you go in age, the wider the net has to be cast," Raffaele says. "In high school, there are very few golfers who separate themselves physically. Top girls can be a little easier to identify, but especially for males, there's a real process of learning this game as you go through your 20s. ... It all depends on how a company is trying to market its brand. If you're not pursuing a count strategy, you won't feel pressure to go blanket all the mini-tours, college teams and junior events."
"I don't have the full sponsorship yet, but it's still been really nice," says Kyle Cottam, 16, who finished fourth in the Tennessee Class A-AA Boys high school tournament before committing to play at Clemson. "In my first shipment from Titleist, I received six dozen balls, six hats, two dozen gloves and two pairs of FootJoy shoes."
HOW THE RULES CHANGED
As for the rules of gifting, "There's not much of a gray area," says Gregg Hammer, who caddied for his son, Cole, then 15, at the 2015 U.S. Open. "The equipment manufacturers are very clear on what they can or can't do."
For a long time, college players were the only amateurs who could receive free gear, because all clubs and bags were technically the property of their university. At their discretion, coaches could allow golfers to keep equipment as "parting gifts" at graduation. But then in 2002, in a move that effectively ended any unseemliness of this club laundering, the USGA changed the rule to allow amateurs of any age to receive unlimited free stuff from manufacturers. This didn't change the college scene much. What it did was put American juniors on equal footing with their international peers, who, unconstrained by such an ethic, had been enjoying the latest gear, gratis, at every stage of development. It also poured gravy on the plates of adult amateurs.
"We like to think TaylorMade spearheaded the move toward mid-amateurs," Erkmanis says. "If you're regularly competing in events like the Coleman Invitational, Crump Cup, the Crane Cup, you can get products from us at no charge, just like a tour player. Or at the very least, get in our discounted program." Such programs vary across brands, but it usually means about half the retail price.
"We needed to find a code that worked for the 21st century," says David Fay, who was the executive director of the USGA during the change. "The old code favored the well-to-do. We decided we needed to treat golf more like hockey or baseball." In those sports, and especially football and basketball, companies have pursued high school phenoms with fervency largely unknown in golf. For now.
"No one wants to miss the next Michael Jordan or Tiger Woods," says Mike Dunphy, the player-development manager for Cleveland/Srixon. But Dunphy doesn't concentrate on juniors. "We only use tour players. I don't believe in possessing someone's children with golf product."
Regardless of principle, betting heavily on tomorrow's stars can mean ignoring the core audience: paying customers. Says Erkmanis: "In a way, a guy with a regular job who is contending in regional amateur events is way more important and influential. He's the best player at his club. How often are Sergio and Dustin playing in the same foursomes with our consumers?" Erkmanis would rather give clubs to a 30-year-old who misses the cut at a U.S. Amateur than a no-name collegian who makes match play.
A DIFFERENT ERA
Is amateurism in sports even a concept still worth fighting for? The idea was born in 19th-century Britain, in an age when men of privilege wanted an excuse to not have to compete against laborers—those brutish dockworkers could really take the fun out of a crew race on the Thames—and laborers couldn't afford to take time off for sport without the prospect of remuneration. So, the ability to pay one's way became the criterion to participate in the games of noblemen, a tradition that carried to America. In 1916, when Francis Ouimet was stripped of his amateur status on the grounds he was profiting from his golf reputation by owning a sporting-goods store, all caddies older than 16 were considered professionals.
Nowadays, college coaches can receive bonuses as high as five figures if their team reaches the NCAA Championship and every member has the irons and/or woods of the sponsor in the bag. So when it comes to giving shoes and wedges to a growing kid whose parents are already spending a fortune traveling to tournaments to impress college recruiters, should anyone object? And if a grown man wants to put his hand out, too, why not let the market decide if it will be filled?
'I talk to lots of head pros who are amazed by how many consumers walk into their shops and know more about products and upcoming releases than they do.'– Harry Arnett, Callaway Senior Vice President of Marketing
Dunphy doesn't like the smell, particularly with juniors: "It's created a very unhealthy situation, and I think it's stunted the growth of golf in our country. Kids get an overblown sense of entitlement. They get free stuff, and they think they've made it."
As one teen in the top 20 of the World Amateur Golf Ranking told us, "I saw some girls as juniors who really abused the system. They didn't necessarily want the new club they asked for, but wanted to show they could get it."
Ego fulfillment never gets old. "I know guys who like being able to say they can get anything for free," says one U.S. Mid-Amateur champion who preferred not to be named. "If I see something I like, I'll make a call, but for me that's like every three or four years. ... One company, not to pick on them, but they're at most USGA events with a trailer, and it doesn't matter who you are, you can get something."
Low esteem for goods given sometimes leads to unauthorized secondary markets. The practice of stamping a player's initials on wedges isn't only an appeal to vanity, but a method for policing. "We have somebody in our office who is our watchdog on eBay," Dunphy says. "They especially watch for prototypes, which have a higher street value." Although in this case there was no effort to sell it, who can forget Justin Rose's caddie, Mark Fulcher, mistakenly giving his boss' driver to his friend (he had a bunch of extras) during the 2014 British Open? Rose played the first two holes of his round without the club.
A top junior or collegian's clubs are often built by the same technicians who build clubs for tour players. Not only are the young players getting the best craftsmanship, their equipment must pass the strictest conformance standards when they compete in high-profile events.
How much stuff can you get? "A college kid or top junior will need as many as two sets of irons per year, as they're playing almost the same amount as a tour player," Radcliffe says. "We need to make sure they have reasonable grooves and grips. An average golfer might require new irons only every four years."
Even if the volume is similar, the relationship is different. "We expose only our contract athletes to our business plans" Radcliffe says. "They'll give us style comments and help shape our commercial direction. Though with all our players, we pride ourselves on using athlete feedback continuously to make products better."
Life can be cozy in college, but golfers often encounter less support when they turn pro. As various mini-tour seasons commence, companies experience a spike in players seeking whatever they can get.
"Pursuing a playing career is a very broad term," Raeffele says. "At the very least, I always asked for a résumé and a six-month tournament schedule. While there are needles in the haystack, collegiate pedigree is the strongest indicator of whether a guy will make it on the PGA Tour." Translation: If you weren't an All-American, you're probably not getting an incentivized deal. At best, you'll get one free set of clubs and some extra wedges. More often it's a discount program or a mix, or nothing.
The psychological boost can be as valuable as the gear. Duncan Littlefield, 27, is one of many who gave multiple developmental tours a go before finding a real job. He recalls the swagger of players with matching staff bags and caps: "A lot of guys just flat-out lied about being sponsored. They're out here trying to be the best and trying to get a mental edge over other players, and so maybe they lie to themselves."
Giving away shiny toys is easy, but it's not a business plan. The pool of golfers talented enough to warrant sponsorship consideration is quite small, but it's not insignificant. "By handing out product free, you're creating not just a no sale, but a never sale," Dunphy says. "These kids are never going to be your consumer. They'll be trying to bum a dozen balls the rest of their lives." "It is interesting to consider how many golfers you're taking out of the commercial cycle," Raffaele says.
Leigh Bader, the founder of the online website 3balls.com, thinks companies have become more efficient with handouts, at least in the retail arena. To "play Switzerland," Bader, a PGA Professional, hasn't been on staff with a company for two decades. According to him, the manner by which goods fall off the truck for salesmen and fitters is more structured with greater accountability to budgets. Not that it stops the asking. As Bader says, "Everyone turns into a millennial around a sales rep."
Consumers, too. Bader says more recreational duffers are hip to the idea that free stuff is available: "People say, 'Hey, I demoed your club. What can you give me, a free hat?' "
Forgive the corporate-speak, but companies want madly to "engage" their most passionate customers in our digital era. You don't have to be Justin Timberlake or Charles Barkley anymore. "Pyramid of influence is anachronistic to how consumers now make decisions," says Harry Arnett, Callaway's senior vice president of marketing. "The days are gone of everyday golfers just looking at what their club pro and favorite tour players are using. They're tapping into a vast 3-D network. I talk to lots of head pros who are amazed by how many consumers walk into their shops and know more about products and upcoming releases than they do."
"How big a digital footprint must one have to catch the attention of a manufacturer? That's a moving target every six months," says Richard Audi, the founder and president of the equipment forum GolfWRX.com. Audi has flown with bloggers—people with normal jobs, kids and handicaps—to the headquarters of golf companies in the San Diego area where everyone received a sneak preview of the line and a custom-fit set.
"As you become more vocal, you get more stuff, and the further a company might allow you in," Audi says. "Though we've had cases where we had to suspend members who were basically saying, 'Give me XYZ shaft, and I'll give you a full review.' "
"There are some paid shills out there, but not as many as you might think," Arnett says. "Simply, there's more opportunity than ever for a consumer to participate in the industry, to feel a part of the game rather than at the bottom of the pyramid. But if someone just enters the space and starts asking for free product, 100 percent of the time they will not get it." Better to engage first on Twitter, get invited into a company's online community, and then over time allow a relationship to develop. Perhaps a token headcover or hat might be an early gift.
Of course, any examination of the culture of free wouldn't be complete without a look inward, at my brethren in established media. The range of scruples is as varied, I suppose, as one might find among any industry or group of people. (Note: Company policy at Golf Digest requires our equipment editors to pay for any club that stays in the bag longer than a brief trial period.)
I've witnessed honorable refusals as well as some all-time goodie-bag moments. Like a row of monogrammed bags with shrink-wrapped clubs waiting on a tarmac to greet journalists deplaning from a private charter.
In their hands, gifted tablets loaded with press-release documents. Or the beat writer who, after receiving an entire free set at an outing, had the gall to ask for a travel case so he could check them at the airport. All these stories and more we save for another time, but you get the idea.
To any kid dreaming of free gear, just know this: If you don't make a ton of birds, you better be good with words.
Contributing reporting by Ryan Herrington and Mike O'Malley.