Equipment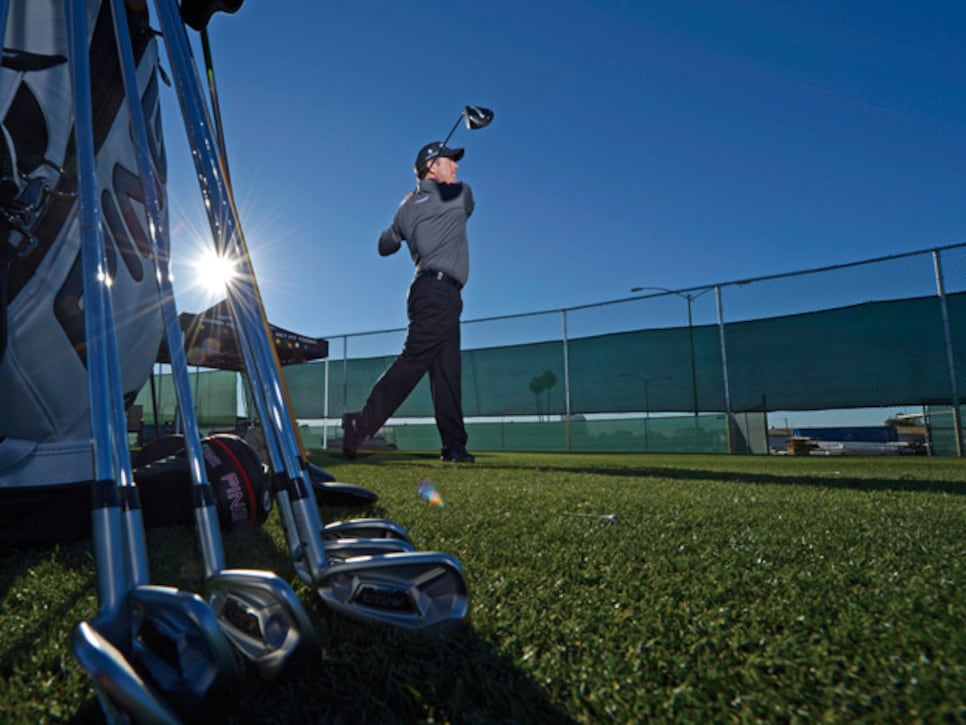 Lee Westwood spent a day testing candidates for his entire bag at Ping's Phoenix headquarters.
Some professional golfers are reluctant to switch equipment. Then there's Lee Westwood. To get Westwood to change clubs, especially his driver or irons, requires significant time, patience and a lot of testing. "Once I feel comfortable with something, I'm hard to get out of it," Westwood said earlier this year during his annual club-testing session with Ping. "I'm not always looking for every extra half yard. To me, the right equipment has more to do with ball flight. My eye knows what it likes to see." Westwood clearly has liked what his eye has been seeing with his Ping G10 driver—a model first introduced in 2007 and a club that helped the Englishman reach No. 1 in the world in 2010. A reluctance to change can put pressure on some companies trying to get players into their latest products. Although Ping has been eager to have Westwood switch to its new G25 driver, the company has taken a conservative approach, especially with a player who has been attached to the company for more than two decades.
As a 13-year-old, Westwood used a set of Ping Eye2 irons and has not used another brand since, essentially using just three iron models during his more than 20 years with the company, including a 13-year run with the Ping Zing 2s. So, although Westwood began the day hitting the company's Anser irons, it was more a formality. "Lee is very good at articulating what he sees and feels, and that's valuable feedback," said Christian Pena, a PGA Tour rep for Ping. "But we knew coming in he wasn't going to change irons."
Still, one new iron got Westwood's attention—a prototype Ping driving iron. After several laser beams with an 18-degree version, a chuffed Westwood said it would make a "fine addition" for the British Open.
However, as Westwood began driver testing, Pena and the Ping team sensed a change. "He's asking more questions than usual," Pena said. Westwood quizzed senior design engineer Marty Jertson extensively about the G25 before hitting a shot. As Jertson explained the differences between the G25 and his old G10, Westwood seemed intrigued. "There comes a point where you have to accept that something is better," he said. "Maybe I've been a little slow to realize that in the past."
Starting with the adjustable G25, set at 9.5 degrees (his G10 was 9 degrees), Westwood went to work, hitting ball after ball with a robotically efficient driver swing. Although a TrackMan launch monitor recorded every shot, Westwood didn't seem too concerned about distance, focusing instead on spin numbers (revolutions per minute) that were in the low 2,000s, or too low for his liking. He then tried a 10.5 (the driver he's now using) and hit 50 more tee balls, again checking only spin and his ability to move the ball each way. Hitting some 75 balls total, he asked for the distance just once. The answer: 324 yards. "I really hit that one," he said with a knowing smile. "Just curious to see how far it went."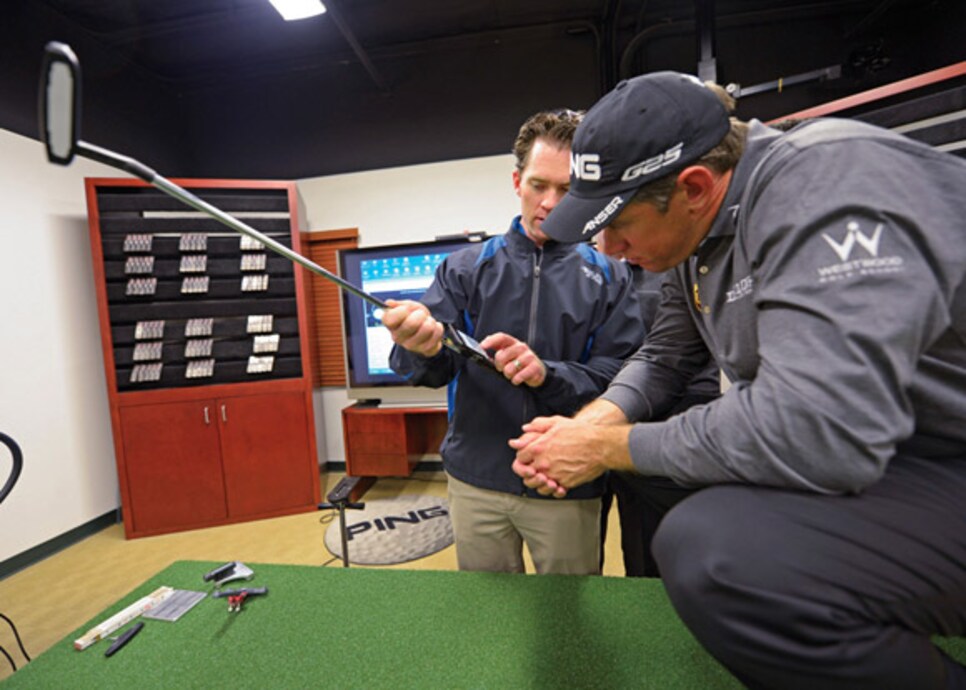 After a lunch break (in which Westwood showed off a video of his 12-year-old son's fluid golf swing), it was on to putters, where he studied the data from the iPing app—which uses an iPhone to measure tempo, impact angle and stroke type. But Westwood's real aha! moment in the putting studio came while hitting putts with a Scottsdale TR Shea and its adjustable-length shaft. The numbers revealed the midsize mallet matched his stroke, and he realized the shaft's locking ring provided a heft that felt good in his hands. "I'm taking this one with me," Westwood said, sounding more like a weekend warrior exiting a golf shop than an elite tour player ending an exhaustive testing session.
Reluctant to switch? Westwood appears to be a changed man.
Which Ping staff player has the most putters in Ping's putter vault? The answer is Lee Westwood, who has 39 putters. (Each time a player wins, a gold-plated replica of the putter he or she used goes in the vault.) Westwood has won titles with 11 Ping models (10 with a Pal 4 BeCu). Westwood hopes the next putter going in the vault is solid gold instead of gold-plated—Ping gives those to players who win major championships.