Beast Mode
This scoop n'score, double stiff-arm touchdown from a Georgia Tech defensive end was the sneaky play of the weekend
It goes without saying that the Jacksonville State Hail Mary to beat Florida State was the most insane play of the college football weekend. If you've not seen it by now, you must not have a television and/or an internet connection. Let's watch it again anyway:
Pure, unadulterated insanity. The type of play that probably should get second-year head coach Mike Norvell fired, though playing Notre Dame close a week ago likely bought him some time. What we can definitely agree on is this - Notre Dame, for the one billionth straight year, is extremely overrated. A near-loss to FSU, who embarrassed themselves against JACKSONVILLE STATE, and a near-loss to Toledo. Yikes.
OK, moving on. Yes, that was the marquee play of the weekend, but it wasn't exactly the prettiest or most athletic play. It was basically a tragic breakdown in coverage by the Seminoles and a miracle for the the J-State Gamecocks, a team that (checks notes) lost 31-0 to UAB last week. The same UAB that made Georgia backup quarterback Stetson Bennett look like Dan Marino on Saturday. OK, moving on again. The actual play of the weekend was made by another basement ACC team - Georgia Tech.
Up 7-0 against Kennesaw State, a FCS team, Yellow Jackets defensive end Jordan Domineck knifed into the backfield on 1st and 10 at the Tech 21-yard line and batted down an option pitch. He then scooped it and took off, with only the quarterback to beat. Not only did he beat him, he performed an exorcism on him, stiff-arming him into another dimension a la Marshawn Lynch. He then stiff-armed his own teammate into a block at the very end of the run. Enjoy this one:
We've got another angle, too!
Serious Beast Quake vibes on that run. We're we exaggerating when we called this an exorcism? Look at this dude: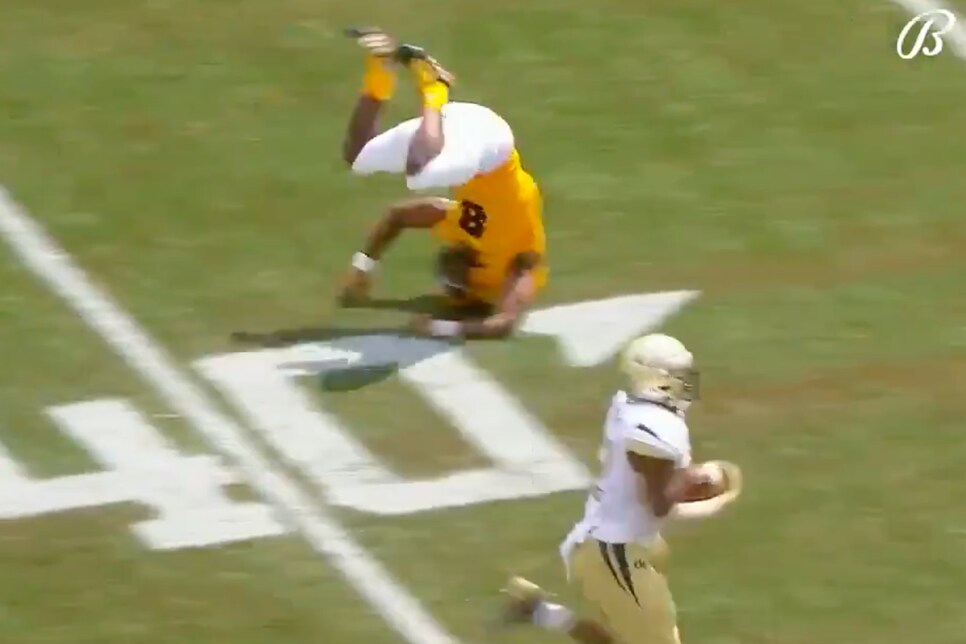 Soul leaving your body type stuff. You know it's a big-time play when it gets a former NFL MVP's attention:
That type of quote tweet is worth its weight in gold for Domineck, who is now officially on everyone's radar.