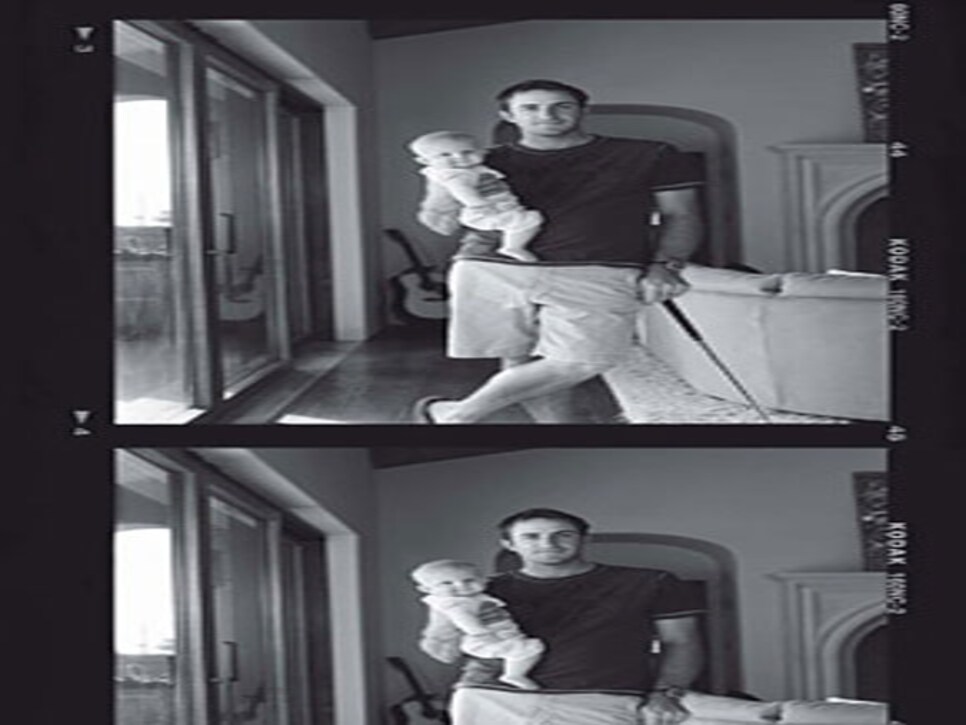 Photographed with daughter Phoebe at their Scottsdale home.
The term "old head on young shoulders" is often overused in sporting circles, but nothing sums up Geoff Ogilvy
better. In a golf world that has gone perhaps irretrievably high-tech in the last decade or so, the U.S. Open champion from Australia stands out like a hickory shaft in a sea of graphite. Home in Melbourne for a visit during the Aussie winter, Ogilvy went for an informal game with friends, one he calls "almost the most fun I've ever had on the golf course."
"I played at Royal Melbourne with persimmon clubs, and all of a sudden the game had so many more dimensions," he says. "I discovered that you don't have to hit a driver full out. You can bunt it out there with a little draw and let it run.
"The 3-wood was my favorite club. I could hit half-shots and shape the ball into the fairway or green."
perhaps the best course in the Southern Hemisphere, Ogilvy is passionate on the subjects of strategic options and course setup. And after receiving government-supported golf instruction in Australia and spending his early professional years knocking around on the European tour, he has a few ideas about why America's young players have struggled.
In search of more clues, including how Ogilvy won his first major title on a bizarre day last June at Winged Foot, Golf Digest spent more than six hours with him during a three-month span in late 2006. We sat with him during the PGA Championship in suburban Chicago, then again in downtown Sydney just before the Australian Open. Coincidentally, both interviews took place in Borders bookstores, the unassuming and largely unrecognized Ogilvy perfectly at ease among the browsers and coffee drinkers.
Golf Digest: You're the U.S. Open champion and one of the top-10 golfers in the world, but we sat in a Borders for two hours yesterday and no one looked at you twice.
Geoff Ogilvy: That's good. The no-hat thing still works.
Not really. I'm fine with the way it is. I don't think I'm ever going to have to change what I do or where I go. I'm never going to be like Tiger or Phil. You can't create that; it just happens. It is nice to see kids run off to tell their parents after they get your signature. That's seriously cool.
What was the most emotional moment for you at Winged Foot?
Talking to my parents on the phone just after the ceremony--when I was on the 18th green. That was the only time I got emotional, other than when I saw [wife] Juli right after I came off and realized how happy she was.
A lot was made of Adam Scott getting off the plane and coming back to celebrate with you. But that struck me as a perfectly normal thing to do.
It was normal for someone like Adam. I like to think I would have done the same for him. There are plenty who wouldn't have done it: jump off a private plane to delay a trip to England, then fly commercial the next day. That was a fair change of plans. But it was also a very cool thing to do.
He was very excited. And I'm sure insanely jealous at the same time. I think my winning the U.S. Open lit something inside Scotty. It fired him up to win one soon. Because he is going to win one.
That night after winning the Open you celebrated in the lobby of your hotel. Who showed up?
v [#image: /photos/55adb1ffadd713143b447e69]|||Geoff Oglivy|||
A bunch of Aussies. I was there until about 2 a.m. People will get annoyed if I forget them; I'd had a few drinks by the end of the night. The funny thing was that there must have been 20 or 30 people just watching us drink out of the trophy and stuff. And lots of people came up and asked for autographs and pictures. It really was good fun.
You turn 30 the week of your U.S. Open defense at Oakmont. Be a spokesman for today's under-30 players.
Adam Scott and Sergio aren't doing too badly. Sergio might need someone to dress him, though. [Smiles.] But when he starts making putts again--which he's going to do--he's going to win 10 times in a year. He just is. He's the best ball striker in the world, probably. How ugly was his last round in the [British] Open at Hoylake?
Do you mean the yellow shirt and pants, or his putting?
I was lucky; I was on the golf course and didn't see it. I like Sergio. We play together all the time. But his putting has gone a bit awry. It's odd. He's so analytical about his putting and not about everything else. I remember playing against him when he was a 16- or 17-year-old amateur. You could almost tell him to pick it up from 15 feet. It was a joke how good he was at putting. He was the best I had ever seen at that stage. So somewhere along the line he's changed something. It looks to me as if there's too much thinking and not enough doing going on. He'll work it out, though. And when he does, it'll be stupid how many events he wins.
There is a contrast right now between Europe and the U.S. when it comes to developing young players.
That's true. I know the U.S. press is looking for the next great American under 30.
It's an expensive sport in the U.S. It's cheaper in Australia, or the U.K. or South Africa. Anyone can play.
I do think that the American college system is really good at producing guys who can get the ball in the hole, but it neglects the technical aspects of golf. They're looking for the wrong things. I'm not saying the American guys aren't talented; all I'm saying is that some talent is getting missed.
If the Americans sorted their system out, we'd have only five on the PGA Tour [a dozen Aussies are among the top 100 of the World Golf Ranking]. We get more out of our talent than they get out of theirs. Their way of doing things can't be better than ours, because we have 20 million people and they have 300 million. It just doesn't add up.
Given the enormous influx of Australians on the PGA Tour, why hasn't a college coach wondered why and gotten himself down to the VIS [Victorian Institute of Sport] to have a look?
If you go way back to the early 1980s, the Australian government realized we weren't winning any gold medals in anything. Or hardly any. For such a proud sporting nation, that was unacceptable. So the Australian Institute of Sport was started, mainly for Olympic sports. We did well in Atlanta [nine gold medals in the 1996 Olympics], and Sydney [16 golds in 2000] was amazing. And we did even better in Athens [17 golds in 2004]. It's crazy how well we do for such a small nation.
How did golf become a part of that?
The Victorian government decided to supplement it with an institute. Golf kind of came along for the ride. The deal was that you got a scholarship for a year. You got access to the top coaches. You got physical training and nutritional advice. Anything that was going to help make you better.
If I had to sum it up, I'd say that they basically took the best boy and girl players in Victoria and gave them access to all the experts in Victoria--for free. It was brilliant, really. And the bonus was funding for travel.
The best part of it was that they never dictated where you went or how you went about things. They would simply make everyone and everything available to you and let you get on with it. You had to make your own way. And you got time to ride out any bad periods of play.
I planned my own trips. It wasn't like we went as a team. Which is how I ended up in Great Britain playing the amateur circuit in 1996. I was on the range one week hitting balls next to Tiger. He was hitting 3-woods into the top of the trees at the far end of the range; I was rolling drivers into the bottom of them. And I thought I was long. Two weeks later he won a third U.S. Amateur, turned professional, and the rest is history.
What's the best lesson you learned from your time in Europe?
When I went back to Australia, my mum says there was a big difference in me. A huge difference. And my golf was a lot better. We just had to fend for ourselves. So I went away a kid and came back a man. [Laughs.]
When you travel as an amateur as part of a team, you don't have to think. You just turn up where you're told to, and everything is taken care of for you. There's no stress. But on my first trip, I was away from home for three months with one suitcase and a small bag, driving across the U.K. with two other golfers. I look at it now, and it was a dream trip, but at the time we had to do a lot of stuff for ourselves, stuff we had never had to do before. I remember arriving at Heathrow and having to find a car for the next month. We went right down the line looking for the best deal. I think we ended up at "Cheap & Nasty Inc." or some such thing. But it got us there. Three guys, three golf bags and three suitcases: It was a tight squeeze. The B&Bs were the same. We would never take the one for £14 if there was another for £13.50. Even if you had to share a bathroom.
You don't learn that sort of stuff when it's organized for you. So when I turned pro, I was quite comfortable on the European tour, rough as it could sometimes be.
I'm glad I didn't turn pro until I was 21. As an amateur you can have your fun. On trips we'd play cards all night and have a few drinks until 3 in the morning. Then we'd get up at 6 and pile into the bus to the course. But that was fine, because the guys you had to beat that week were doing the same thing.
That time and your early years on the European tour were quite a life for a young, single guy.
Are you kidding? Come on, it was bloody fantastic! This tour [PGA Tour] sorely misses that sort of atmosphere. I hear the Nationwide Tour has it, but this one doesn't. There's too much money out here. In Europe, they all travel together. It's like a family, really. Or a circus.
Of course. I knew everybody.
Did it make you a better player?
It gets you out of your comfort zone, and you need to be able to play in such circumstances.
Now on the PGA Tour, you routinely receive gifts at events.
It's ridiculous. At the Tour Championship we had a BMW 750 courtesy car. Which, because it was too complicated to drive, we all complained about, but it was the best car I've ever driven. There was a DVD player and an iPod in my locker. Every day there was more stuff--it was ridiculous.
You must have that stuff already.
So what do you do with it?
If you don't have them, you use them. If you do, you give them to people. Every member of my family has an iPod. Squirrel [caddie Alistair Matheson] has one, too. The gifts are relentless, actually. All year we get things from tournaments trying to get you to show up six months later. Every tournament does it. It's nice, I suppose. It's their way of courting the players.
Does it make a difference?
Hmmm ... probably not. The things that make the difference are the golf course and if you like being there. It can be the biggest money event of the year, but if you never play well there, why go?
Ten years after hitting balls next to Tiger as an amateur, you won the U.S. Open at Winged Foot. Everyone remembers Phil Mickelson blowing the Open on the 18th hole, but take us through what happened to you at the finish.
I was two behind with three to play, and I'm thinking, Just keep making pars, and you never know what will happen behind. Maybe those guys will make bogeys, too. Basically we all [Jim Furyk, Colin Montgomerie, Padraig Harrington] were two behind Phil at that point.
Anyway, I hit a really good pitch to four feet at the 16th and made the putt for par. The 17th [a par 4] is the most likely birdie in the last four holes. But I drove it 50 yards right off the tee. Phil was in the rough on 16; looking back, I could see him. I thought he might make bogey. You need little things like that to keep you going.
I didn't hit a great shot, though; it ended up maybe 100 yards from the green, still in the rough. And just before I did that, Monty holed his bomb [for birdie] from the front of the green. So now there are two people ahead of me.
Was that the moment you thought you couldn't win?
After my third shot, which I had to play to the left of the hole because of a tree, stayed left instead of kicking toward the hole, I thought that was it. I was walking to the green thinking I was done. You don't chip in at that stage of the U.S. Open. You just don't. So the best part about that was that Monty and Vijay had to drive before I could hit my chip, the 18th tee being so close to the 17th green. I waited for them, which gave me three or four minutes to realize that the chip wasn't that hard and holing it was possible.
Oh, yes. I would have hit it much quicker. You can't walk around for three or four minutes, normally. Squirrel actually told me, "You can just chip it in." He's a man of few words, but when he needs to say something, he does. When it went in, I went from I'm not going to win to I could win! On the back nine I had hit four putts that I thought were all high enough but had missed low right at the last minute. And the chip looked low all the way down the green. Yet it went in.
Quite an adrenaline rush.
I flipped out for a while. I can't even remember whether Ian [Poulter] made or missed his putt right after me. We walked to the 18th tee and had to wait again, because Vijay was doing something over on the left side.
Waiting was what Monty said hurt him.
Yes, he had to stand there for about five minutes, which would have been frustrating in that situation. But what it did was give me time to calm down a little. If I had hit the tee shot right away, I might have rushed it.
This is a real roller coaster, isn't it?
It was unbelievable. The U.S. Open is different. You think you're out of it, then you make two pars, and you're right there again. Then you make a bogey, and you're out. Then another par, and you're in again.
Standing on the 18th tee we watched Phil find the 17th green from out in the stuff somewhere. So that looked like a par. I was five over, Phil was going to be four and Monty was four as well. Again, that doesn't look good for me.
We watched Colin hit his second shot; can't see where it goes because the hole doglegs. So I hit the tee shot, one I had struggled with all week. It's so awkward. But I nailed it. It was the best drive I hit all year. It was never going anywhere but on the fairway.
So you're thinking birdie?
I still thought that was necessary. With Monty and Phil both a stroke ahead, I had to think that.
Did that help keep you aggressive?
Probably. If I'd been told I had to make a par to win, that's a very different scenario. I don't know what I would have done.
By the time I got 'round to my ball in the fairway, I found it in a sort of divot hole. It wasn't really as bad as it looked on television, though. Later, I watched it and thought it looked terrible. But the reality wasn't that bad.
We stand there and watch Colin three-putt. I honestly figured that he had made bogey [instead, Montgomerie made a double-bogey 6 after leaving his second shot short of the green].
My heart skipped a beat: Now there was only one person in front of me, and Phil has to play this hole, one where I've already done the hardest part.
I had 145 yards and hit a 9-iron. That was plenty of club, but maybe the divot affected it a little. There was sand in front of the ball that maybe added spin to the shot, or deadened the impact. I got all ball, though. I was surprised to see it come up short. It had to fly only about 135 to make the carry and go forward to the hole.
When the ball was in the air, I thought I'd hit the shot of the U.S. Open, or the best shot in U.S. Open history.
Like Shaun Micheel at the PGA?
It had that sort of feel about it.
Oh, yes. [Laughs.] I looked at it for a long time. It hit up on the green, and even then I thought it was going to be all right. But then you hear the groans. And it starts trickling back. All week long shots had been taking big bounces up that green. I'm still surprised, given how hard the greens get at the end of a U.S. Open.
When I get to the ball, I realize it's in a pretty filthy little spot. But then I see that Colin had made 6.
I was thinking if I got up and down for par I wasn't going to be any worse than second. At that point, all Phil has to do is par the last to win, unless I chip in. But that wasn't realistic. The reality was that I was 30 yards from the hole, 10 feet below the level of the cup and chipping off a really tight lie. And he's one shot in front. It still didn't look great.
I hit a pretty good chip shot, probably the best of my life. It was way better than the one I holed on the previous green.
Did your upbringing in Melbourne help you there? Some people would have putted from where you were.
Two things helped me there.
One, growing up in the Sandbelt, all you have there is tight-lie chips up hills when you miss a green. And that was a very Sandbelt-type shot off a tight lie. So I'm sure there was a level of comfort somewhere at the back of my head, knowing I had done that a thousand times at home.
Two, about three years ago Lynchy [instructor Dale Lynch] decided that my chipping action was poor for that particular type of shot. I did what most people do: I was trying to spin the ball a lot. I was hitting sand wedge and lob wedge from anywhere, taking more and more loft off the club. Before I knew it, I was hitting the shot I should hit, but with the wrong club.
It sounds obvious, but if the shot calls for an 8-iron, you hit an 8-iron; if you need a wedge, you hit a wedge. That helps your technique. For the first 18 months I just couldn't do it. I was terrible. But I improved. And the reason I worked on it so hard was because of shots like I had at 18. Two and a half years ago I would have hit it a lot lower. So I would have had to really open the face and cut across the ball. Which is risky.
I played it with my lob wedge.
You made it look straightforward.
Maybe, but it was a shot I've spent maybe five minutes on every day for the last three years. Sixty degrees is a lot of loft. But I played the shot properly with the right height. It came off just like I wanted. Even better, if you can imagine. At that point I was, for want of a better phrase, s----ing myself a bit. There are 10,000 people 'round the green, and it's the culmination of 72 holes.
I putted well from inside six feet all week. I don't know how long it was. I know it felt like 12 feet, but it was probably five.
Nah, left side, I think. But it wasn't going to miss. As soon as I hit it, I knew it was perfect. I was nervous before it, but I definitely didn't think it was to win the event. I knew it was to beat Monty. And I figured it could get me into a playoff. It was to make Phil par the last [to win].
It's amazing how many thoughts can go through your head in only five seconds. After it went in, I started thinking about what I was going to do about my hotel. I knew a playoff would be 18 holes. And how was I going to change my flight; this was going to mess everything up!
At what point did you look up and see what Phil was doing?
He had hit his drive before I finished, while I was putting, maybe. So it was probably while he was stalking around looking at his second shot. But I never saw what became of it; they never showed him from behind the ball. So I had no idea if he had to cut the ball 10 yards or 100 yards. I knew it wasn't very good over there, but he was on trampled-down stuff, so it really wasn't that bad, either. Phil can hit a big slice from there, into the stand, maybe, and drop it next to the green. Then he hits it and immediately didn't like it. I knew he had hit the tree by his reaction--that's how every golfer looks when they hit a tree in front of them. His head went down, looking to see where the ball went.
When did you think you might win?
Right then. When he hit the tree, and five seconds later he's looking over his ball again. It looked like he's hitting his second shot all over again, but it was his third. I was still sitting in the scorer's hut, and Poulter starts nudging me. He had a look in his eye: We're looking pretty good here. At that point it became "we" because we had played together all day. It was like a team-spirit thing. So Poulter and I are having a little party in the scorer's hut. Then Phil hits his third shot, and it buries in the bunker. Which made me think I'd have to get unlucky not to win. He was going to do well to keep his next shot on the green.
At that point I sort of came to my senses and went to look for Juli. I go out and find out that the security guard wasn't letting her into the hut. So she's outside in a bit of a state. The guy wasn't very nice. She didn't know what was going on. I told her we were looking pretty good. And I was going to go back into the scorer's hut. But I decided not to. It wouldn't have been right to have been there when Phil came in. Good or bad, that wasn't where I should be.
So Phil finishes over the green [after blasting out of the bunker]. I thought of Greg Norman. In situations like that, people holed those shots on Greg. Earlier in the year Chris Couch had ended up chipping in to win a tournament. So you never know. But when Phil missed the chip shot, I win. Unbelievable.
And the reaction afterward?
The next half hour is still a bit of a blur. I was dragged out to the 18th green, and it was a weird situation. I hadn't realized there wasn't a scoreboard on the right side of the green, only the left side. So when I walked out, the people on the left side all thought there was a playoff [their view of Mickelson's second and third shots had been blocked]. They thought Phil had made bogey. I could hear people wondering if Phil had signed for the wrong score or something. They thought he'd hit his second shot into the bunker.
What was it like standing with Phil at the prize-giving?
He was classy, really. A lot of people wouldn't have been that way after what had happened. But he was pretty shaken up. He's pretty good at keeping his emotions in check until he's private. Most champions are. But you could see in his eyes that Phil really could not believe what he had just done.
There was no awkwardness?
I did feel a bit of that. I mean, what do you say to someone in that position?
As a young player, were you impatient on the golf course?
Oh, yeah. I was horrendous. I could hit five good shots in a row, then one bad one, but remember only the bad one. I'm sure I was a nightmare when I was 16 or 17, as many at that age are.
What sort of stuff did you do?
I'd throw clubs around. I broke a few. I used a lot of four-letter words. The temper stuff is easy to fix psychologically. You either get angry or you don't get angry; you have a choice.
I realize now that I was getting angry for everyone else around me, not for me. When you get that, that's the day you fix it. When you play by yourself, you never smack the bag with the club, or get angry. Ever. Because there's no audience. That's my theory, anyway. After you hit a shot you get angry because you want the person you're trying to impress to think that you're better than this. I think that's the root of it for nine out of 10 people. The other one is purely psycho.
You've criticized what has happened to the modern game. Is it that bad?
It's just different. There's a very large percentage of golfers who enjoy the game more with the large clubheads and the balls and all the rest of it. Playing with the old clubs was like driving an old car: They have a bit of charm about them. But it's still nice to drive a new car with all the bells and whistles.
Is the modern game better or worse as a spectator sport? A lot of people think it's less interesting to watch than even 10 years ago.
That's true. But it has more to do with the way golf courses on tour play today rather than the equipment. The equipment is just the catalyst. The trouble is that 99.9 percent of golfers don't hit the ball like a professional. They don't want to look for their balls in the rough all day. They play to enjoy the company of friends and watch the ball fly through the air.
OK, we have some true-false questions, followed by some quick hitters. Working out is overrated in golf.
Nah, you told me this was a one-word answer thing!
Major championships are overrated.
[Laughs.] False. It depends on who's rating them.
You've got a one-shot lead with one hole to play in the U.S. Open. You power-slice your tee shot into the trees. There are several trees blocking your route to the flag. You could hit a wild, curving semi-knockdown and try to get your ball to the green, or you could lay up to 100 yards and try to make par from there. What do you do?
[Laughs.] Next question. It's a good question, but it was never going to get an answer.
A lot of guys carry four, but three are hard enough to master, never mind four. Seve carried only one, and he was the best ever.
Did you ever play with Seve?
What stage was he at then?
Oh, gone. But so much fun to watch. He still hit a couple of great shots where you just went, Oh, come on, you can't do that.
Tell me about Whisper Rock in Scottsdale. Who do you play with there?
I play a lot with Gary McCord. He's a character. There are a bunch of tour guys and Nationwide guys who play there. Badds [Aaron Baddeley] is a member. So are Billy Mayfair and Andrew Magee. Miller Barber, Peter Kostis and Paul Casey, too. Most of the members have way more money than the golfers.
You play in the club championship?
A few times. And no, I've never won.
Is the FedEx Cup going to work, with so-called playoffs at the end of the season?
If the goal was to get the best players to play more, it just isn't going to happen. The top four or five guys--those who make up 95 percent of the marketing of the tour--are going to play when they want to play. There's no pot of gold big enough to make them do otherwise.
What has been your most recent extravagant purchase?
I bought a watch at Heathrow--which is a bad place to buy a watch, because it's expensive--on the way home from the U.S. Open. It was £5,000. I thought, Why not? It tells the time worse than a $5 watch, but it looks nice.
Who are the top-five Australians on tour right now?
Adam is obviously the best.
What is your ideal all-Australian foursome? Not necessarily golfers.
I'd have Scotty. And I'd have to have my mum. And Pat Rafter [Aussie tennis champion]. She would definitely want to play with Pat Rafter. My dad could caddie just to keep an eye on her!