The Loop
Geno Auriemma compares his UConn team to Tiger Woods in epic rant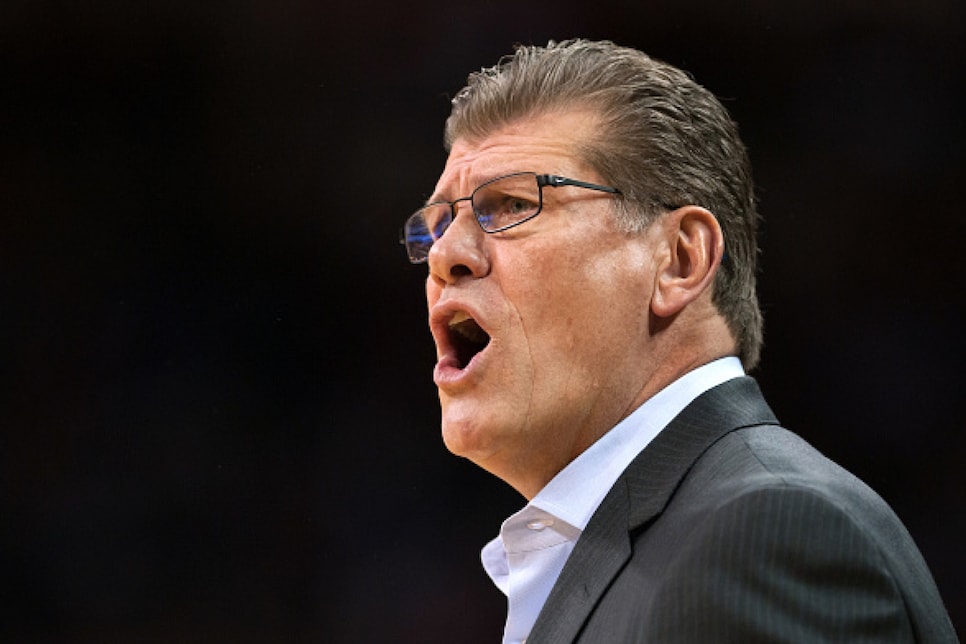 University of Connecticut women's basketball coach Geno Auriemma appears is headed for a fourth straight national title and an 11th overall. Not surprisingly, not everyone is happy about it.
After the team's most recent NCAA Tournament blowout, a 60-point(!) win over fifth-seeded Mississippi State on Saturday, Boston Globe columnist Dan Shaughnessy had this to say:
When asked about the comments on Sunday, Auriemma went on a rant in which he compared his squad to Tiger Woods in his heyday:
"Don't watch. Don't watch. Nobody's putting a gun to your head to watch. So don't watch, and don't write about it. Spend your time on things you think are important. If you don't think this is important, don't pay any attention to it. The fact you have to comment on it. That says something about you, doesn't it? When Tiger Woods was playing golf nobody said he ruined the game of golf. In fact, Tiger was good for the game. He made everyone else play better. There are a lot better writers than Dan Shaugnessy, but that doesn't mean he's bad for the game."
Nice little jab at Shaugnessy, Geno. And while we understand the point you're trying to make, it's a bit of a stretch. Yes, Woods dominated golf like no one before and that helped drive interest in the sport. However, while you can point to a few major blowouts (winning by 15 at the 2000 U.S. Open and by 12 at the 1997 Masters in particular), he didn't win every tournament he played (in his historic 2000 campaign, he won nine of his 20 starts), and he had plenty of classic tussles in the ones he won. UConn has won 72 straight games and it's been more than four years since they last won a game by single digits. Say what you will about UConn -- hey, it's not Geno's fault all the top high school recruits want to go there -- but their recent dominance has been overwhelming.
At Tiger's peak, he was still only even money against the rest of the field. As incredible as that is in golf, it's not exactly the same as the situation Uconn is in. The betting line on UConn before the start of the tournament was -900. That means if you wanted to bet on the Huskies, you had to risk $900 to win $100. Those are absolutely absurd odds. Although after that Sweet 16 beatdown of the Bulldogs. . . is it too late to place a bet?