The Loop
Genie Bouchard on her guilty pleasures, posing for the SI Swimsuit Issue, and learning how to play golf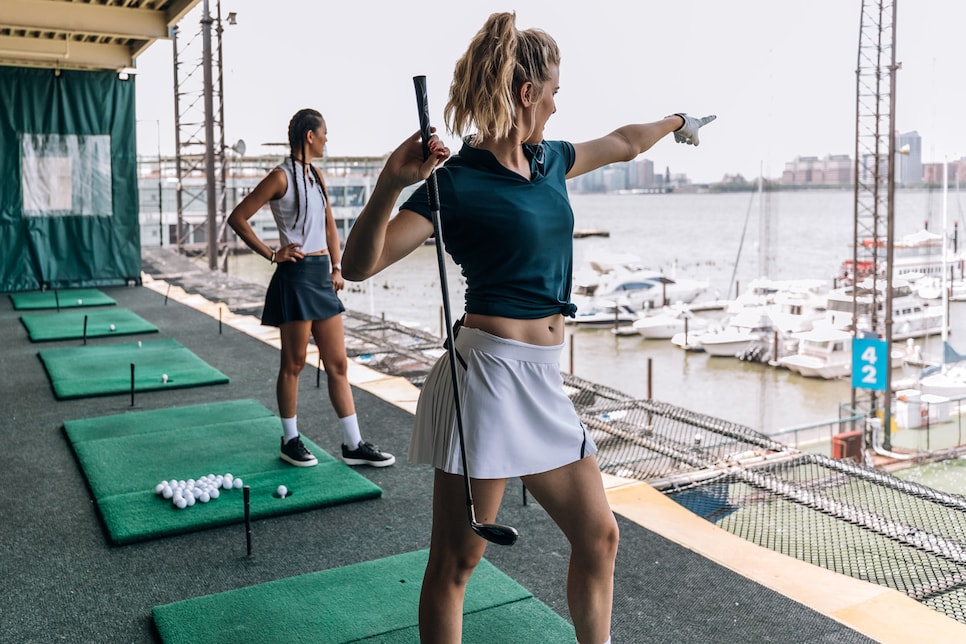 Welcome to our "Golfers We Like" feature, where we regularly talk to people in golf who deserve your attention. Genie Bouchard is back in New York City to compete in her fifth U.S. Open Tennis Championship, and her last visit to the Big Apple involved a golf lesson from Michelle Wie. Nike brought these two athletes together in Manhattan on July 17 so that they could teach each other their respective sports (Michelle gave Genie a golf lesson at Chelsea Piers, and Genie gave Michelle and tennis lesson at the Hudson River Park Tennis Courts), and even though they'd met that day for the first time, their intense interest in both golf and tennis made it seem as if they'd been childhood friends. We sat down with Genie during her day in New York City:
How much golf have you played, even at a driving range? Not much. I played when I was around 10 years old at summer camp, but besides that it's been more about mini golf. I was very disappointed in my golf game when I was 10 years old. I was already playing a lot tennis at the time and figured I had good eye-hand coordination but that wasn't translating from the tennis court to the golf course and I got frustrated. So I'm hoping Michelle's tips help.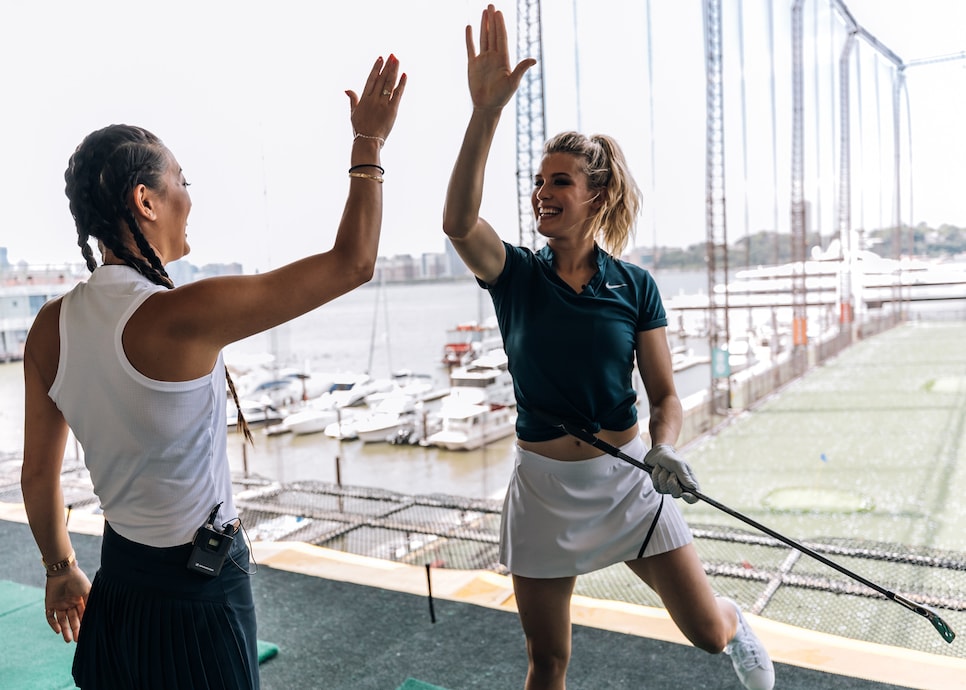 Can you see yourself getting into golf more as your tennis career winds down? It's funny because as I've gotten older—I'm 23, but I consider that old—I've actually gotten into golf more and I've been thinking about how I want to play more and get into it. It's hard to do now because I'm still playing tennis and traveling all the time but I'm watching more golf on TV and all that. I actually love watching golf on TV. I find it very relaxing but also interesting to follow along. It's very similar to tennis, so it's interesting to relate to players who are playing an individual sport like I do compared to all the other sports that are team sports.
When you travel for an extended stay, how do you make yourself comfortable? I usually travel to a different city every week so I wouldn't quite call that an extended stay. For the sake of saving time, I usually don't unpack and I just use my suitcase as a dresser. I make sure the curtains in my room are dark enough because I know I'll want long, uninterrupted sleep. And to make it feel like I'm home, I sometimes order room service and just chill out and watch Netflix.
What's a guilty pleasure you allow yourself when you're traveling? Mac and cheese. I'm more of a salty person instead of a sweets addict so my go-to's are more like chips and less cookies. Mac and cheese is my guilty pleasure and I think about it way too much.
So you agreed to go on a date with a guy from Twitter. What was the most surprising part of that experience? The most surprising part was that he was actually kinda cute.
I'm sure you had some kind of vetting process, right? Not at all. I was watching the Super Bowl and scrolling through Twitter bored because it was a blowout and I didn't even look at the guy's profile or anything like that. When I looked at his profile after the game, I saw that his avatar was a picture of Tiger Woods. That made me a bit worried because I thought he might be some kind of superfan and that he might be awkward. But John turned out to be very cool. He's a couple years younger than me so I was a little bit of a cougar that night, but we actually had a nice, normal evening.
Did you have a real-life boyfriend at the time? Yes.
And did he have to sign-off? No, absolutely not.
What was the most intimidating part of being in the 2017 Sports Illustrated Swimsuit Issue? The most intimidating part was my first shot of the day. We started the shoot very early and when I got out there on the beach I'd obviously just met everyone. Right then and there they were like, "Okay, take your top off." And I was just like, "Okay!" It was 6am and I'd just met everyone and the first shot was the topless shot. I was initially quite nervous but it actually helped because I got all my nerves out right away and by the end of the day I was like, "Wooooooooo."
And on what beautiful island did this photoshoot take place? We shot that at Turks and Caicos. I flew in and out specifically for the shoot but I really want to go back for vacation some day.
What app do you use most often on your phone? Probably Snapchat. Or actually the camera app just to take pictures. It's just about documenting everything.
Who's your favorite follow on Twitter and Instagram? That's tough. I follow Tony Robbins on Twitter, who I love. I love getting some inspirational quotes every now and then. And on Instagram? I follow some fashion bloggers, but I don't know if I have one favorite. I follow some of the Kardashians, I follow LeBron and he posts funny things sometimes. A little mix of everything.
You and Michelle picked out some golf outfits this morning. Did anything surprise you about golf outfits and golf attire, and how it's different from tennis? Some of it is quite similar to tennis because I wear a skirt when I play tournaments and I think she wears a lot of skirts as well. What surprised me is the socks, I've never worn high socks like this in my life. I think it's a pretty cool trend. The tennis guys wear these socks but girls always stick to very low or no-show socks. So I'm actually pretty excited about my socks right now.