U.S. Senior Amateur
After 36 tries, this 59-year-old amateur is finally a USGA champion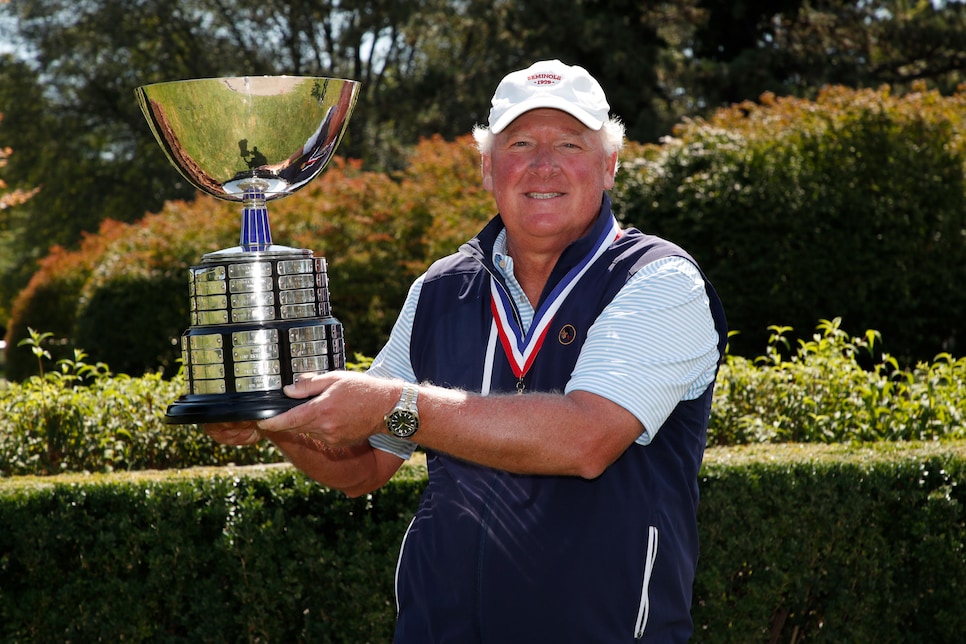 If Gene Elliott never won a USGA championship, he'd still go down as having an impressive amateur golf career. The 59-year-old is a legend in his native Iowa, having won the Iowa Amateur three times among 15 state titles. Nationally, he's been victorious at the Porter Cup (1998), the Terra Cotta Invitational (1998) and the Coleman Invitational (2007 and 2009), and been medalist at the U.S. Amateur (1999). Internationally, he won the British Senior Amateur in July at Ganton.
But on Thursday at the U.S. Senior Amateur, Elliott finally filled the biggest void in his considerable résumé. With pars to win the 17th and 18th holes at the Country Club of Detroit, Elliott rallied to beat Jerry Gunthorpe, 1 up, in the championship match.
"You know, just so much goes with that USGA title that maybe that's why I haven't won it in the past," Elliott said after claiming victory in his 36th career USGA appearance. "It's just so important and so meaningful to win a USGA championship. I'm relieved. I'm very proud."
Elliott never led over Gunthorpe, a 58-year-old Michigan native who had the home ground on his side, until the final hole. But he never trailed by more than a hole, either.
An Elliott birdie from five feet on the par-3 13th squared the match, but then he stumbled on the 16th hole when he missed a 2½-footer for par to let Gunthorpe take the lead.
On the par-5 17th, Gunthorpe had to lay up after a wayward drive, and his approach came up 40 feet short of the hole. His birdie attempt was five feet short, and then he missed his par putt to let Elliott tie up the match.
Gunthorpe missed another fairway with his drive on the par-4 18th hole, then hit his approach over the green. A chip left him with an eight-footer for par. Meanwhile, Elliott had a 27-footer for birdie and the win. It didn't fall, but settled within a foot, the par conceded. Gunthorpe tried to force extra holes, but missed his par putt to give Elliott the victory.
"Maybe a little nerves there where I couldn't get the putter to release," said Gunthorpe of his missed putts on 17 and 18, his only two bogeys of the match. "I thought I put a good roll on [the long birdie attempt on 17]. Same thing with the second one [for par], but I might have missed my line just a little bit."
Elliott's hard-earned victory came after going through a series of tests throughout the match-play bracket. Just to get to the final, the West Des Moines resident had to defeat fellow Iowan and former U.S. Mid-Am winner Mike McCoy in the second round (making an 18-foot par putt to take him to extra holes), former Senior Am champ Doug Hanzel in the third round and 2017 British Senior Am champ Craig Davis in the semifinals.
Whether coincidence or some cosmic fluke, the U.S. Senior Amateur has become a familiar destination for standout amateurs to secure better-late-than-never glory. In 2008, Buddy Marucci earned his elusive USGA title in the event after 51 career USGA starts. Sean Knapp did the same in 2017 after 41 career USGA, and Jeff Wilson followed in 2018, winning in his 34th start.
Elliott can't explain it why these career amateurs have used the championship as a final validation of their careers, but he's more than happy to have joined the eilte club.