News
Gear spotlight: Callaway Women's RAZR X HL
Callaway Golf has done a nice job with their Solaire set, which is made specifically for slower-swinging women golfers and available in either eight or 13 clubs plus bags (it's the type of "flow set" that includes everything you need from driver to putter). Designed to be as lightweight as possible, with very flexible shafts and high-launching clubheads, it helps slower swingers get more height and distance out of their shots.
But what if you're not a slower swinger and you still need help getting the ball airborne? Then you might want to check out the new Women's RAZR X HL hybrid-iron set.
There's one distinct difference between male and female golfers that's almost universal, and it's the way we interact with the turf. Most men take divots, and most women don't. Perhaps it's biological (guys are built to be diggers, girls are built to be sweepers), perhaps it's mental (women are afraid to make contact with the ground) -- we don't know. But what we do know is that the large majority of women pick the ball cleanly off the grass on good shots, and top the ball on misses. Either way, they're making contact with the ball with the lower part of the clubface, a technique that's not exactly conducive to launching shots high and far.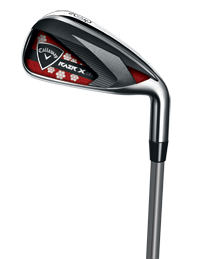 To combat this problem, Callaway has equipped the RAZR X HL irons (above, left) with a largely unsupported face that is especially responsive on low hits. The wide sole and low, deep center of gravity (CG) also aids in launching the ball higher, which adds distance for average-to-slower-speed swingers (i.e., anyone who's not on the LPGA Tour). The multi-material medallion in the back of the clubhead absorbs vibration and gives the club a softer feel.
RAXR X HL hybrids (above, right) are available as options to the longer irons in the set, and we highly recommend women go this route. Also designed with high launch as priority No. 1, the hybrids boast a thin crown that helps lower the CG. The clubface doesn't have the typical curvature on the bottom that you typically see in woods and hybrids; a clever trick that sets shots on a higher trajectory right from the get-go.
These are bigger hybrids, built to inspire confidence and move through all kinds of turf, with plenty of offset to keep shots from going right.
The Women's RAZR X HL set sells for $850 for six irons and two hybrids, and you can learn more about it at callawaygolf.com.