Instruction
Tiger Tips: How to spin it from the sand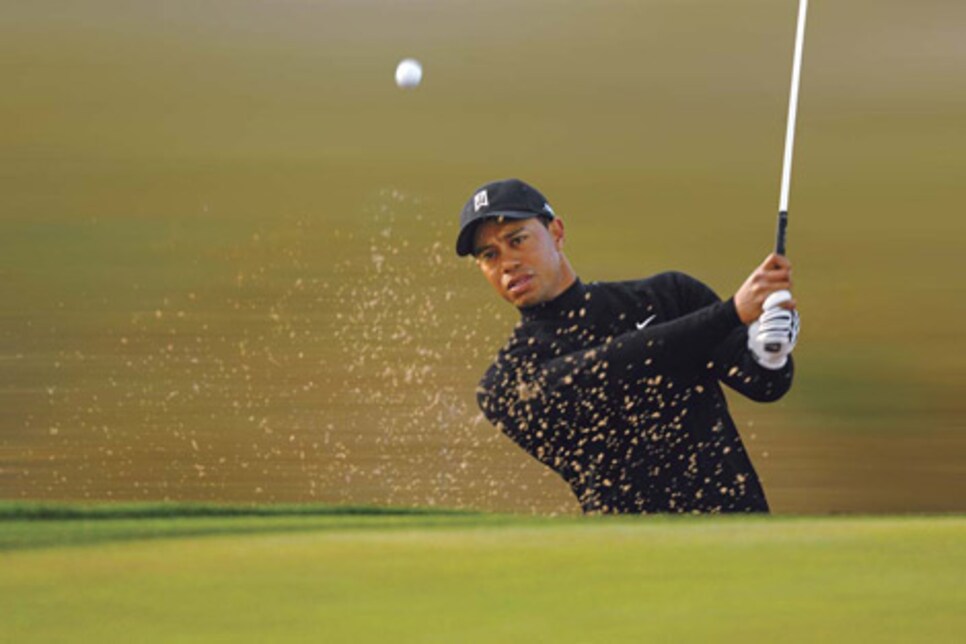 Short 'n' soft: To play a spinner that stops where it lands, grip it more in the fingers and fire your right hand.
Because of the way I learned to release the club during my recent swing change, two of my favorite shots--the spinner from the sand and the flop shot--suffered for a while. I've always played both shots with a lot of hand action, and the hands are restricted in my new swing. Over the past six months, though, I've regained the touch, especially on the bunker shot to a close pin, where you have to get it up quickly and stop it fast.
Here's how I play it. I grip the club a little more in my fingers to get more flip in my release. This is one time when I think the flip is good. Then, I open my stance, play the ball well forward and lay the clubface wide open but square to the target line. I make a vertical backswing, which sets up a steeper angle of descent into the sand. The key is increased clubhead speed through impact, so I really fire the club through with my right hand. The ball comes out high and soft and settles fast after landing.
__What do you expect at Southern Hills for the PGA Championship?
*--Helmut Kruger / Bonn, Germany *
It's going to be hot. Endurance will be a part of it, especially if you're near the lead. That means you'll be out in the afternoon, when it's the hottest. You have to be able to shape your ball around that place, for sure. You have to be able to hold the ball into the slopes off the tee, because a lot of them tend to make your ball run out. The course is a little awkward in the sense that you don't really hit a lot of drivers. There are a lot of 3-woods, 5-woods, 2-irons or hybrid clubs off the tee. And when you do hit driver, you're usually shaping it one way or the other, so you really have to be in control. The only straight drive you hit is on No. 13, the par 5.
__ Who is your favorite band?
*--Paula Reeder / Memphis, TN. *
I like all kinds of music: hip hop, jazz, rock. It depends on my mood and where I am. Hootie and the Blowfish played at my wedding, so I'd have to say I'm partial to them.
__ Everyone seems to want to create a rival for you. What's your take on all that?
--Matt Cline / Grand Rapids, MI.
Different guys have made runs through the years: David Duval, Phil Mickelson, Ernie Els, Retief Goosen, Vijay Singh. My feeling? As long as I'm part of the conversation, I'm doing OK.
Mark Soltau is a contributing editor to Golf Digest and the editor of TigerWoods.com.