Courses
America's 50 Toughest Golf Courses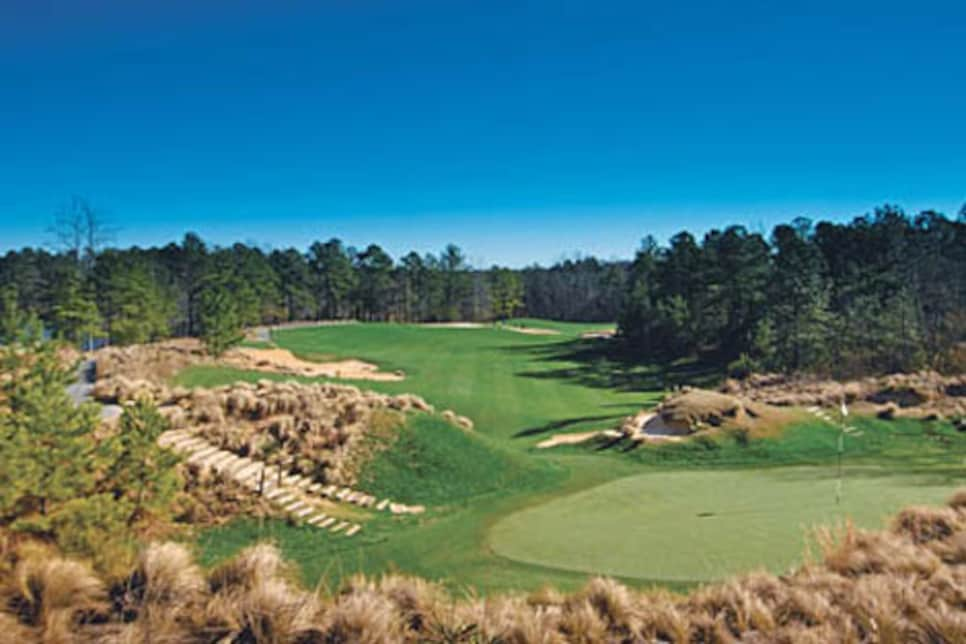 Tobacco Road is "Pine Valley seen through a funhouse mirror." Here, the 10-foot flagstick at No. 13.
KIAWAH ISLAND / S.C. / 7,356 YARDS / PAR 72
Pete Dye, 81, has been torturing golfers for half his life, and the Ocean Course, strung along the Atlantic coastline with fairways and greens perched above sand, sea oats and sweetgrass, is perhaps his most Dye-abolical design. (Eight of our top 50 were created by the man they call the "Marquis de Sod.") The Ocean has the highest combination of Slope Rating (155) and Course Rating (79.6) in America, according to the U.S. Golf Association. With forced carries over marshes, endless waste bunkers and roll-resistant Bermuda grasses, the Ocean is a rare course that can bring tears and fears even to tour pros--it was dubbed Looney Dunes after multiple mishaps in the 1991 Ryder Cup. For the rest of us, it kicks sand in our face--literally when howling winds turn club covers into windsocks. Play it in the mornings when it's walking only. You can't cross the Rubicon in a golf cart.
2. THE INTERNATIONAL (THE PINES)
BOLTON / MASS. / 8,325 YARDS / PAR 73
It has pounded its chest as the longest golf course in the land since 1957, only once adding new back tees when someone dared to challenge its supremacy. The numbers are laughable: 8,325 yards, par 73, with a Course Rating of 80. The closing hole is 656 yards--and it's not even the longest par 5 on the course. There's also a par 6, the 715-yard fifth hole, and the par-3 seventh is 277 yards. Length isn't its only overindulgence: The fifth green is 91 yards long and takes more than an hour to mow, and the 11th, a modest 590-yard par 5, has 24 bunkers. If you plan to play it from the tips, be sure you have a three-day weekend.
__KANEOHE / OAHU / HAWAII / 7,310 YARDS / PAR 7__2
With parts of the course receiving 130 inches of rain a year, this is target golf at its soggiest. You won't need a caddie so much as a backcountry guide. The roughs are tropical rain forests, the hazards mostly uncharted ravines filled with jungle and undiscovered reptilian life forms. Typical of the course's unsubtle presentation, the 474-yard, par-4 18th features two long forced carries over canyons plus a 330-yard bunker off the tee and a 220-yard bunker to the green. Legend has it that the course record was once 63 ... lost balls. Koolau used to have a Slope Rating of 162, even though the maximum possible is 155.
4. PGA WEST (STADIUM COURSE)
LA QUINTA / CALIF. / 7,266 YARDS / PAR 72
Using moguls, pot bunkers and lumpy lies--a style he called his "grenade-attack look"--Pete Dye designed the Stadium Course to play mind games with the world's best players, and he won. In the late 1980s, PGA Tour players successfully petitioned for its removal from the Bob Hope Desert Chrysler Classic because it was too hard for them, the sissies. Relegated for years mostly as a video-game monster, PGA West has re-emerged as a Q school final exam for aspiring tour pros. With holes like the island-green 17th called Alcatraz, it's no wonder the late Jim Murray summed up PGA West with these words: "You need a camel, a canoe, a priest and a tourniquet to get through it."
OAKMONT / PA. / 7,255 YARDS / PAR 71
No kidding, this is the only place where the USGA asked the club to slow down its greens for a U.S. Open. At the 1935 Open, Gene Sarazen putted off a green into a bunker, prompting Ed Stimpson to invent a tool to measure green speeds, the infamous Stimpmeter. Problem is, no green at Oakmont has enough flat spots to use it. The club used to post estimates of the green speeds each day. They've now stopped that, but the old chalkboard sign still exists, etched with a ghostly image of the number 13. The club hosts its eighth Open in June when the greens and bunkers will inflict much pain. (The "Church Pews" bunker has been deepened, with new back benches added, to catch more sinners.)
6. BETHPAGE STATE PARK GOLF COURSES (BLACK)
FARMINGDALE / N.Y. / 7,386 YARDS / PAR 71
At one time, the Black was what public golf courses were like when we were kids, with hardpan fairways, crabgrass greens and pockmarked tees. After being revamped by Rees Jones for the 2002 U.S. Open, it's in much better shape, but still big and brawny--a 6 1/2-mile hike over hill and dale where no carts are allowed--with massive bunkers and tiny greens, several of them hidden from view, even from the center of some fairways. The Black's magic is that it makes us all feel like kids again, inadequate to the task. It's New York tough.
7. TOT HILL FARM GOLF CLUB
ASHEBORO / N.C. / 6,543 YARDS / PAR 72
This is where the late Mike Strantz perfected Extreme Golf and proved that golf courses don't need to be long to be murderous. Smashed from solid rock, holes plunge down mountainsides, jump creeks and climb canyon walls. Rock outcroppings congregate along the top edges of many bunkers. Boulders squeeze approach shots and frame greens as well as tees. Stones line Betty McGee's Creek, which intrudes on 13 holes. Hand-stacked rock walls even wind along several fairways. At Tot Hill Farm, a round without a ricochet is a major accomplishment.
8. WHISTLING STRAITS (STRAITS)
HAVEN / WIS. / 7,362 YARDS / PAR 72
Dire Straits would be a better name. Given the opportunity to transform an abandoned Army bombing range along Lake Michigan, Pete Dye produced a blend of Ballybunion and Beirut, with ragged 70-foot-high faux dunes peppered with a million bunkers, some the size of your golf bag, others the size of the clubhouse. When Pete's wife, Alice, urged him to create harder holes that even the pros would double bogey, he added more bunkers and some railroad ties. So much for Alice being the gentler half of the team.
PINE VALLEY / N.J. / 6,999 YARDS / PAR 70
Long regarded as the best golf course in America, Pine Valley leads the league in intimidation. It might have a lot more green grass these days, but still, the turfed areas are just slivers compared to the acres of sand, with gnarly, twisted pine trees thrown in for good measure and hazards like "Hell's Half Acre" and the infamous "D.A." funnel-shape-bunker on the par-3 10th (the "D" stands for Devil's; you can figure out the "A"). The great writer Henry Longhurst put it best: "Your ball is either on the fairway, in which case it sits invitingly on a flawless carpet of turf, or it is not. If it is not, you play out sideways till it is." Brutally tough--but we'd never turn down an invitation to play it.
10. TOBACCO ROAD GOLF CLUB
SANFORD / N.C. / 6,554 YARDS / PAR 71
This is Mike Strantz's version of Pine Valley, as seen through a funhouse mirror. Bunkers become craters, greens become sinkholes. The sand hills are taller and more eroded, the pits are steeper and deeper. Some greens are three times as wide as they are deep, and others are twice as long as they are wide. What's not distorted is that there are five blind shots at Tobacco Road. That makes it cotton-pickin' hard.
11. WINGED FOOT GOLF CLUB (WEST)
MAMARONECK / N.Y. / 7,229 YARDS / PAR 72
Tree-lined fairways, elevated greens, killer rough. Its U.S. Open victims are legion (winning score in 2006: five over; in 1974: seven over). The latest: Phil Mickelson, ahead by one last year, hit a lefty slice into the woods on the 72nd hole and was never heard from again.
HOBE SOUND / FLA. / 7,157 YARDS / PAR 72
Another Dye routing, but overlaid by Greg Norman's architecture. No rough, just scrub pines and swamp. Lots of forced carries. Wayward drivers are gator bait.
13. DESERT MOUNTAIN GOLF CLUB (RENEGADE)
SCOTTSDALE / 7,412 YARDS / PAR 72
There are four sets of tees and two flags on 16 of the holes, but playing from the gold tees to the gold flags is almost inhumane. The greens are a nightmare, especially when you're hitting hybrids to them all day.
14. TPC SAWGRASS (THE PLAYERS STADIUM COURSE)
PONTE VEDRA BEACH / FLA. / 7,215 YARDS / PAR 72
Renovated last year to make it even tougher, it's only navigable if you keep the driver in the bag to avoid cross hazards that abruptly end most fairways. Monstrous rough. The island green 17th is on your mind all day--it's a depth charge waiting to sink any round.
15. HALLBROOK COUNTRY CLUB
LEAWOOD / KAN. / 6,938 YARDS / PAR 72
The toughest Tom Fazio design ever. There are 15 lateral water hazards adjacent to its 18 rocking, rolling greens.
16. THE TRADITION AT ROYAL NEW KENT
PROVIDENCE FORGE / VA. / 7,304 YARDS / PAR 72
Mike Strantz's rugged homage to Ireland's Ballybunion baits unsuspecting golfers with fishhook-shape holes, lots of sharp corners, crazy mounds and deep pot bunkers. You'll be in need of a Guinness after this one.
17. BLACKWOLF RUN (RIVER)
KOHLER / WIS. / 6,991 YARDS / PAR 72
The winding Sheboygan River, in play on 10 holes, can tie you in knots. Plus, the club can flood the waste bunker on the 18th to create yet another water hazard--convenient for throwing your clubs into after a tough day. Or throwing yourself into instead.
18. GRAND TRAVERSE RESORT (THE BEAR)
ACME / MICH. / 7,078 YARDS / PAR 72
The owner told Jack Nicklaus to give him the toughest golf course in the country. He got a bear--along with some six-hour rounds.
EDMOND / OKLA. / 7,412 YARDS / PAR 71
There used to be a hangman's noose on a tree behind the 16th green--many competitors in the 1988 PGA, in 100-plus-degree heat, must have been tempted to use it. It's gone now, and the greens have been softened, but the ponds, pot bunkers and punishing rough remain.
20. THE CONCORD RESORT & GOLF CLUB (THE MONSTER)
KIAMESHA LAKE / N.Y. / 7,650 YARDS / par 72
The Monster is long in the tooth but still has plenty of bite before a renovation of its miles of pine-lined, water-skirting fairways.
ZIONSVILLE / IND. / 7,220 YARDS / PAR 71
All you need to know about this early Steve Smyers torture track is that its founder, the late Jack Leer, was a dentist. To relax after your round, go have a root canal.
22. SILVER LAKES (BACKBREAKER/HEARTBREAKER)
GLENCOE / ALA. / 7,674 YARDS / PAR 72
The first of three courses on our list from Alabama's mighty, merciless Robert Trent Jones Golf Trail. The names of the nines say it all. There's also a third nine, called the Mindbreaker. When we played here, we thought of some other names for these courses, too.
23. BUTLER NATIONAL GOLF CLUB
OAK BROOK / ILL. / 7,523 YARDS / PAR 71
A manly, men-only course with all the subtlety of a two-by-fours to the head. Back when it hosted the Western Open, the PGA Tour often refused to use the back tees.
24. SPYGLASS HILL GOLF COURSE
PEBBLE BEACH / CALIF. / 6,953 YARDS / PAR 72
Play The Glass from the tips on a typical foggy day and it's a monster. Dreaded iceplant and barking seals accompany you on the first five holes beside the sea, then it's mostly an uphill climb through a soggy, foggy forest, punctuated by the clank of balls caroming off the pines.
NOBLESVILLE / IND. / 7,754 YARDS / PAR 72
Who knew? Turns out hell's waiting room has 133 bunkers, knee-high rough and only three par 4s less than 450 yards. The unlucky 13th is a 741-yard par 5. Devilish.
IJAMSVILLE / MD. / 7,036 YARDS / PAR 72
Said young Dye--the younger of Pete's two sons--who built the course: "I'm a golfer's worst nightmare--a bulldozer operator with a scratch handicap and an Irish sense of humor." The result: triple-tiered greens edged by bunkers faced in wooden planks.
27. THE SHOALS (FIGHTING JOE)
MUSCLE SHOALS / ALA. / 8,092 YARDS / PAR 72
Another Trent Jones Trail killer, named for Joe Wheeler, the only Confederate general to attain the same rank later in the U.S. Army (he volunteered in the Spanish-American War at 62). Good thing the ninth hole doesn't return to the clubhouse, because many golfers would probably surrender at the turn. Fighting Joe always wins.
PALM BEACH GARDENS / FLA. / 7,021 YARDS / PAR 72
Pete Dye (him again?) based this design on two children's games: hopscotch (over wetlands) and hide-and-seek (behind mounds and moguls).
29. ROCHELLE RANCH GOLF COURSE
RAWLINS / WYO. / 7,925 YARDS / PAR 72
Thoughtfully kept a tad below 8,000 yards--thanks for that--this muny is wide but windy, with roughs of salt flats and sagebrush. A desolate, cruel beauty.
30. BULL VALLEY GOLF CLUB
WOODSTOCK / ILL. / 7,325 YARDS / PAR 72
Built to compete with nearby Butler National in caveman chest-thumping, it's lovely--tall pines, ancient oaks and hickories--but lethal.
MESQUITE / NEV. / 6,939 YARDS / PAR 72
A fantasy golf calendar come to life, with holes high atop cliffs and down in box canyons across an otherworldly landscape.
32. PINEHURST RESORT & COUNTRY CLUB (NO. 2)
PINEHURST / N.C. / 7,305 YARDS / PAR 71
One of four survivors on our list from America's top-10 "Most Testing" courses in Golf Digest October 1969 (the others are Oakmont, Pine Valley and Medinah). It's the toughest course where you won't come close to losing a ball. Or keeping one on those roller-coaster greens, which deftly repel bad shots--and some good shots, too.
33. LA PURISIMA GOLF COURSE
LOMPOC / CALIF. / 7,105 YARDS / PAR 72
The Bethpage Black of the West Coast. Locally, it's known as "La Piranha." To soothe the pain, there are plenty of terrific Santa Ynez Valley wineries nearby.
HOBE SOUND / FLA. / 6,954 YARDS / PAR 72
At the tee of the par-3 16th, two signs point in opposite directions. One says: "Bar--400 yards." The other reads: "Hospital--4 miles."
35. BAYONET & BLACK HORSE (BAYONET)
SEASIDE / CALIF. / 7,117 YARDS / PAR 72
The old Fort Ord Military Base layout has been renamed and turned into a public course, but it's still armed for combat. Only expert marksmen can avoid the Monterey Pines that frame every hole. Nos. 11 to 15 are a procession of jagged doglegs, a part of the course known as "Combat Corner."
36. CRYSTAL SPRINGS GOLF CLUB
HAMBURG / N.J. / 6,808 YARDS / PAR 72
This is a classic Robert von Hagge melodrama: Fairways are a mass of towering, tumbling grassy knolls leading to greens perched on limestone ledges or beneath rocky ridges.
MYRTLE BEACH / 6,799 YARDS / PAR 72
There are more railroad ties than common sense on this jolting, brawny P.B. Dye design. Even some of the cartpaths are railroad ties. Stay away from "Hell's Half Acre" on the 270-yard, par-4 16th.
38. DIAMANTE COUNTRY CLUB
HOT SPRINGS VILLAGE / ARK. / 7,560 YARDS / PAR 72
Purposely designed to challenge local hero John Daly from the back tees. That makes it one more demon for him to contend with.
39. ROBERT TRENT JONES GOLF TRAIL AT ROSS BRIDGE
HOOVER / ALA. / 8,191 YARDS / PAR 72
The latest addition to the Robert Trent Jones Trail. It's what Trent would be building if he were still alive--impossibly long with enormous greens and bunkers.
40. STONE HARBOR GOLF CLUB
CAPE MAY COURT HOUSE / N.J. / 6,992 YARDS / PAR 72
What had been a mishmash of clashing symbolism created by Desmond Muirhead has been softened (no more island bunkers, jagged edges, etc.). But the awkward peninsular fairways and greens remain.
41. MEDINAH COUNTRY CLUB (NO. 3)
MEDINAH / ILL. / 7,561 YARDS / PAR 72
If Butler National is the Al Capone of Chicago golf, then Medinah is its Frank Nitti--cruel and relentless.
42. COLBERT HILLS GOLF COURSE
MANHATTAN / KAN. / 7,525 YARDS / PAR 72
Kansas State alum Jim Colbert co-designed it to be the toughest college course in the country. It's constantly blasted by a fierce south wind that can blow the hairpiece right off your head.
43. THE SHATTUCK GOLF CLUB
JAFFREY / N.H. / 6,764 YARDS / PAR 71
It once boasted the highest Slope in New England. It still features the most bridges over wetlands: 33 in 18 holes. Get your ball retriever regripped before you play.
44. THE COURSE AT YALE UNIVERSITY
NEW HAVEN / CONN. / 6,749 YARDS / PAR 70
Scene of many a heated Golf Digest intramural battle, the rugged C.B. Macdonald layout can be a brute, especially the 238-yard ninth, whose green has an eight-foot-deep ravine running through it, and the par-5 18th, where between tee and green is something akin to Table Mountain. One frustrated editor described the course as 18 good reasons to send your kid to Harvard.
45. MONTOUR HEIGHTS COUNTRY CLUB
CORAOPOLIS / PA. / 6,719 YARDS / PAR 72
The contour of Montour is mostly mountain slopes. The fairway on the uphill 14th is so steep, it would make a perfectly fine Olympic ski run.
46. THUNDERHILL GOLF COURSE
MADISON / OHIO / 7,504 YARDS / PAR 72
A fish-hatchery-turned-golf course, it once had nearly 100 water hazards, but 26 of them have been eliminated. If you think you can finish the round with the ball you started with, you're all wet.
47. ORONOQUE COUNTRY CLUB
STRATFORD / CONN. / 6,573 YARDS / PAR 72
Another local for Golf Digest HQ. Every state has a course like Oronoque--a triple-bogey farm with O.B. everywhere, doglegs at 220 yards, Humpty Dumpty greens, narrow hogback fairways. Perhaps not Desmond Muirhead's proudest achievement.
__HAYWARD / WIS. / 6,379 YARDS / PAR 72
__ Some fairways are no wider than their tee boxes. Apparently, no trees were harmed in the making of this golf course.
49. MOOSE RUN GOLF COURSE (CREEK)
FORT RICHARDSON / ALASKA / 7,324 YARDS / PAR 72
The course is fearsome, so is the weather and the wildlife: bears, wolves, mosquitoes on steroids. Rule 23-1: Moose dung counts as a loose impediment.
50. FURNACE CREEK GOLF COURSE
DEATH VALLEY / CALIF. / 6,236 YARDS / PAR 70
What's hard about a short, flat course? It's the lowest in the world (214 feet below sea level), and the barometric pressure makes the ball go even shorter and more crooked than usual. But to be really tough, play this oasis in the desert in midsummer, when it reaches 110 degrees at 9 a.m. and keeps climbing (a temperature of 134 degrees has been recorded in Death Valley). Don't worry, though: At night it cools off to about 100.