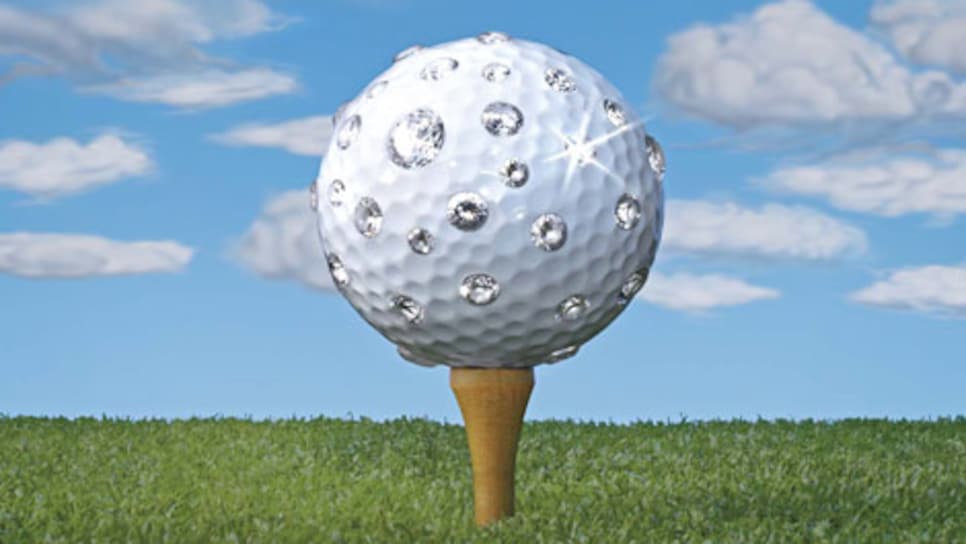 Though the global recession came too late in 2008 to affect this year's Golf Digest 50 all-encompassing money list, agents and corporations will need to be more creative in packaging deals in 2009, and players will need to be more giving of their time in return for endorsement dollars. Likely to get hurt most are middle-of-the-pack players as the stars continue to draw big bucks and the bottom-end players remain endorsement bargains.
The gap that exists on the GD 50 will likely widen. Twenty-two players have made the list all six years of its existence, led again by Tiger Woods with $117,337,626 in on-course and off-course earnings, moving him within $115 million of becoming golf's first $1 billion player (see chart below). And even Woods is not immune from the economic turmoil. His contract with General Motors, which earned him nearly $50 million over nine years, was terminated by mutual consent at the end of 2008 with a year left to run.
But despite the economic situation, it appears companies will stay active with athletes and the games they play for one simple reason: It makes business sense. The PR difficulty of investing in athletes during tough times "certainly is a perception issue," says David Carter, University of Southern California sports-business professor and founder of Sport Business Group, a strategic-marketing firm based in Los Angeles.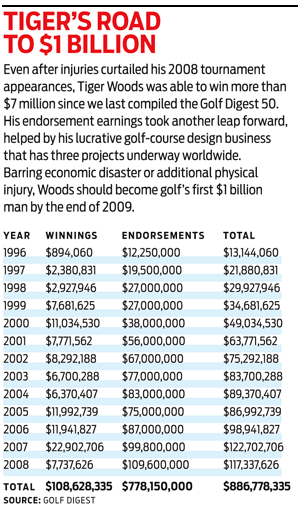 "But for 100 years companies have been using sports to sell their products," Carter says. "If it didn't work, they wouldn't still be doing it. They have to describe with precision to stockholders and the public the value to the brand to be involved with sports and athletes." Carter says deals might have less guaranteed money and more incentive clauses, or have the payoff tied to corporate performance.
"You'll have to be more creative in how you structure deals," says Mark Steinberg, global managing director of golf for IMG and the agent for Woods and Annika Sorenstam, another perennial member of the GD 50. "But there still needs to be advertising, there still needs to be marketing. In an economy like this, it's even more important to get your brand out there."
Davis Love III, who has been on the GD 50 all six years, says his American Express outing will trim expenses by entertaining fewer clients. And experts say players who offer to give more corporate days (normally two or three a year per contract) to their endorsement partners will likely be rewarded for their loyalty when the economy rebounds.
Andrew McLean, president of mediaedge:cia, which buys media exposure for corporations, says the charitable component to professional golf is a useful tool. Companies involved with golf can "highlight the cause-marketing/community element and fund raising" associated with the game, McLean says. "In down times, sport still appeals, so integrating in the right way still has huge value," he says.
Those topping the GD 50 list -- Woods is joined in the top five by Phil Mickelson, Vijay Singh, Arnold Palmer and Greg Norman -- have two things in common: internationally recognized names and diversity in their businesses.
Asia and the Middle East remain growth areas for golf-course construction, and all five are active as designers. The top guys might not be recession-proof, but they seem to be recession-resistant. The scramble on the next GD 50 will likely be on the last half of the list -- but No. 50 this year, Paul Casey, still made more than $4.4 million.
ON-COURSE INCOME includes all money earned on the PGA Tour and the five international tours (Japan PGA, PGA European, Australasian, Southern Africa, Asian) and the Champions Tour, LPGA Tour, Ladies European Tour and the Japan LPGA. It also includes unofficial money won through Dec. 1 in non-tour events.
OFF-COURSE INCOME includes estimates of all money earned from endorsements, bonuses, appearance fees, corporate outings, speaking engagements, licensing fees (video games, trading cards, etc.), course architecture, books, instructional videos and businesses that capitalize on a person's status as a player, such as product lines including clothing, wine and turfgrass. Investment income is not included.