News
Do new changes equal new status?

DURING (left): A new circulation system under the greens -- here at 17 -- can absorb moisture or add cool air as needed. AFTER (right): The front left of the 17th green was widened by two to three yards to create a new flagstick location.
If ever the Players Championship is to be elevated to the status of a major golf championship in the mind of the players, the media and the public, this is the year.
That's not going to happen, but allow us to make the case.
The PGA Tour has always had a primo field for its No. 1 event, conducted in the back yard of its headquarters in Ponte Vedra Beach, Fla. It's the strongest field in golf: just professionals who have won a tournament or enough money or rankings points in the previous year to qualify; no amateurs or sweater-stacking club pros allowed.
The tournament has mostly had a primo golf course, at least since 1982, when it moved to the TPC at Sawgrass, recently renamed the Players Stadium Course at TPC Sawgrass. Its Pete Dye layout was contrary to every feasibility study ever published, designed to test the best golfers in the world, paying customers be damned. Paying spectators, however, were accommodated as never before, with lofty spectator mounds and built-in stadium seating.
Dye's original design proved unpopular among players at first, but after being tinkered with by a gang of player-consultants, it became more predictable in its bounces and amenable to their autopilot games. Thankfully the course has regained some spunk after an extensive, expensive renovation last year.
Beginning this year, the Players also has primo dates, early May instead of late March, avoiding college basketball's March Madness and the madness of March weather in its Jacksonville locale. We're expecting sunshine, not squall lines, and gentle breezes that will set flags aflutter.
Tour commissioner Tim Finchem has done what he can to elevate the Players. It fills the major-championship void between the Masters in April and the U.S. Open in June, if indeed such a void existed. Like the majors, it's not burdened by an overbearing corporate name or pro-ams, and in the new year-long FedEx Cup competition, the tour made sure the Players pays off as good as a major, with identical inflated point totals.
The tougher sell is to the media and the golf public, who traditionally need time to warm up to an upstart. That time is up. Now in its 34th playing, the Players has established plenty of history. Jack Nicklaus won two of the first three, and three of the first five. Trevino, Norman, Price and Woods have all won; in fact, 24 of the 33 winners also have at least one major championship.
Maybe what the tournament has lacked is a defining personality. The Masters has always been about bursts of cheers and color, the U.S. Open about strangling rough and choking leaders, the British Open about high winds and stark venues, and the PGA Championship ... well, the PGA was a major wallflower until recent compelling finishes, mostly involving Tiger or Phil.
To most writers and fans, the Players has primarily been about its infamous island-green 17th hole. Fear factor and survival make great television but lousy trademarks. To be fully embraced, the Players Championship needs to prove it's a complete, legitimate examination of golf, and not just a one-hole carnival-show ring toss/dunk tank.
The new and improved Players Stadium Course gives the event the personality it has always needed, because it's the golf course Pete Dye has always wanted. From the time Dye first scribbled its routing on a cocktail napkin, he wanted the course to play like an Old Country links. After all, it was to be created from a swamp just a mile inland from the Atlantic, with plenty of available sand once he drained the swamp.
But TPC Sawgrass soon experienced grass-roots problems -- literally. Its Florida location dictated the use of warm-weather Bermuda grasses, but they were dormant and the color of straw in March, terribly unphotogenic for television, and, because they weren't growing, no divots would fill in. So the course was always overseeded with ryegrass, making it green and pretty but soft and wet. It was impossible to mow fairways, greens and chipping areas tight and fast. Worse, in late spring and early summer, when tourists arrived to play the course they'd seen on television, the course was always in miserable shape, with the emerging Bermuda competing with the dying ryegrass, forming patchy, clumpy conditions. The rye would decay and end up in the root structure, an ever-increasing layer of muck that made tees and fairways even more spongy.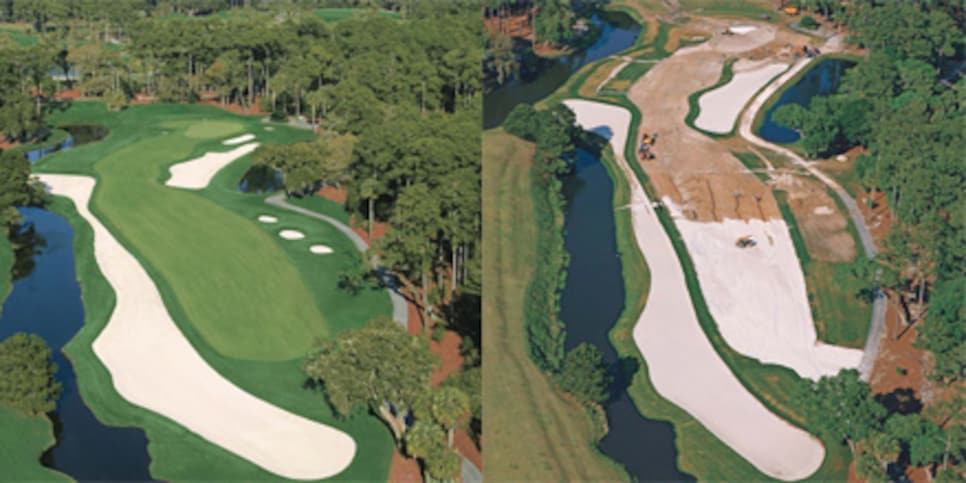 Moving the tournament to May offered Dye and longtime superintendent Fred Klauk the opportunity to install links-like characteristics. But first they had to perform golf course liposuction. The top layer of turfgrass was peeled off, and the six inches of organic muck beneath it was scooped out and hauled away, 24,000 tons in all. Then the equivalent of seven miles of dump trucks rolled in, and a six-inch layer of sand was spread across each hole, after subsurface drainage had been installed, to quickly dry everything in the event of a cloudburst. A state-of-the-art air-circulation system was installed beneath each green, allowing Klauk to suck water out on soggy, wet days, or pump cool air to the roots on hot, humid ones.
For greens, Dye selected the latest turfgrass innovation, MiniVerde Ultradwarf Bermuda, as fine-bladed as any bent-grass green, so it can be mowed as short as bent. It's never grainy, and it's also the rare Bermuda that keeps its green color throughout the winter.
The hybrid Bermuda on tees, fairways and chipping areas was upgraded; for a contrasting rough, workers mixed it with old-fashioned Common Bermuda, a gnarly combination when allowed to grow to three inches.
None of the new turfgrass will be overseeded. The course can remain tan in the off-season because it will naturally turn green by early May in time for the championship. As for wear-and-tear from routine play over the winter months, the course will be closed for play three weeks before the Players Championship, ample time to repair scars.
The impact is that the course will play much firmer and faster than in any prior championship. Won't that benefit long hitters? Not at all, says Dye, who extended a handful of back tees, lengthening the course from 6,954 yards to 7,215 yards, par 72.
"Players will not only have to worry about their carry now, they'll also have to worry about their 'through,' " Dye says, meaning a player must worry that his ball will bound through a fairway into trouble. More than any other course, TPC Sawgrass has an inordinate number of fairways that end abruptly, bisected by lagoons or sand bunkers. Several other holes have S shapes, so tee shots that don't fit the curvature of the hole will run through a dogleg into sand, rough or water.
Few of the changes to the course will be apparent to players or fans when they walk onto the property this May. (Oh, a few might notice that all the old coquina-shell waste bunkers have been converted to conventional sand. "Good players treated those waste areas as an extension of fairways," Dye grumbles.) Far more noticeable are the massive new clubhouse and the re-contoured gallery mounds providing more comfortable seating, their tops widened to make more room for skyboxes and a continuous elevated walkway around the last three holes.

This is now a golf course, and a championship, that combines attributes of all four majors. If the tour wants, it can grow U.S. Open- and PGA-style rough, because the May dates provide extra growing time. The Players' finish is akin to Augusta National's Amen Corner, only in reverse: a short, gambling par 5 followed by a treacherous little par 3 before the long, hard par 4. And it will surely play British Open firm and fast. The Players Stadium Course will play much like Royal Liverpool did for the British Open last year, forcing players to calculate roll, maneuver shots and invent strategies to avoid hazards and hit targets.
That's the best of all worlds. Not even a major championship can say it has that.