Oh my gosh, Alice, I made a hole-in-one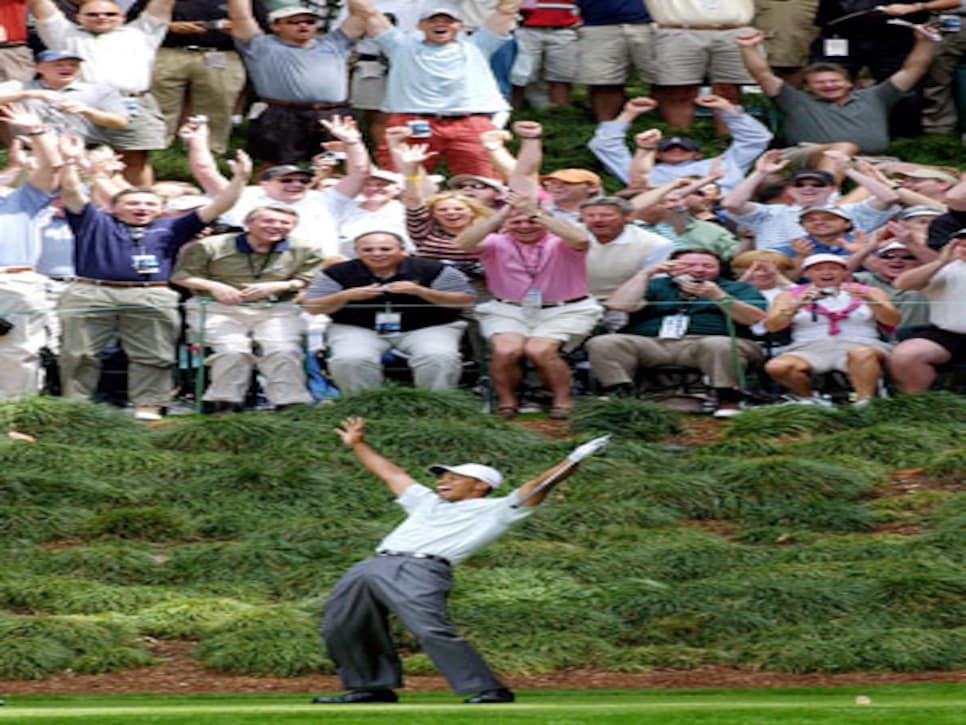 Whee! Even Tiger Woods gets a special kick out of an ace, this one with Arnold Palmer during the Par-3 Contest before the 2004 Masters. To check Tiger's odds of making an ace versus yours, read below.
It was a gorgeous 7-iron shot, drawing slightly, and it hit the flagstick on the fly. From the tee, my friends and I could see that the ball had wedged itself between the stick and the front of the cup. I didn't hoot or jump up and down. I walked to the green at my normal pace, wearing an expression of placid nonchalance that said, "This is how I play golf."
When we reached the green, we realized that my ball was not actually in the hole but was merely perched on its front edge. There was a deep ball-shaped dent in the turf just above the back of the cup, and the dent, the flagstick and the ball were aligned perfectly--a physical impossibility, you would think. Had the ball dematerialized briefly after bouncing off the rim, then passed, undeflected, through the stick? I had to write 2 on the scorecard, but I've always thought of it as a 1. The next day, I played again and used my thumb to press my dent, which was still visible, more deeply into the rim. "My ball did that," I said to the people I was playing with. "It should have been a hole-in-one."
Golf, a famously unfair game, never seems more unfair than when it narrowly withholds the only laurel that nongolfers are impressed by. Unlucky bounces off trees or sprinkler heads don't bother me; I accept them as the rub of the green. But that almost-ace still rankles. A couple of years later, I made an official hole-in-one--in a tournament, no less--and got my name added to a plaque in the golf shop. But when I see the plaque I can't help thinking, I ought to be on there twice.
__Tour player making an ace
Rounds needed to do it: 900
__Low-handicap golfer making an ace
__Average golfer making an ace
__Tour player acing designated hole
__Low-handicap golfer acing designated hole
__Average player acing designated hole
__Average player acing 150-yard hole
__Rounds needed to do it:__23,000
__Average player acing 200-yard hole
Rounds needed to do it: 40,000
__Two average players, same foursome, acing same hole
Rounds needed: 17 million
__Low-handicap golfer making two aces in same round
Rounds needed: 67 million
Almost as bad as just missing a hole-in-one is making one and not receiving credit for it. On a trip to Ireland in 2001, five friends and I played a round at the Portmarnock Pitch and Putt Club, a micro-scale links not far from the full-size Portmarnock Golf Club. In Irish pitch-and-putt, the maximum hole length is 70 meters--about 77 yards. One of my friends, looking over the compact layout from behind the first tee, asked the club's captain how often players made holes-in-one, and he said, "Not as often as you'd think." Ten minutes later, though, we heard a shout on the far side of the course: an ace. Ten minutes after that, I made one myself, on a 50-meter hole. "I guess I owe everybody a beer," I said expansively. One of my friends gave me a look. "It wasn't even 60 yards," he said.
In Florida in March, I almost had my second, third or fourth hole-in-one, depending how you count them. I hit what might be the best-looking 6-iron I've ever hit, into a strong wind off the ocean, and my ball landed softly and rolled toward the hole at the speed of a confident putt. It stopped about six inches away. "Unlucky," one of my friends said. "That was almost a great shot."
If the ball had gone in, we'd have celebrated; if it had ended up a couple of feet farther from the hole, outside of almost-a-hole-in-one range, my friends would have toasted my brilliant shotmaking, because even hitting the green in that wind was an accomplishment. As it was, though, none of us could think of anything except the thing that hadn't happened.
Of course, I can't actually claim responsibility for any of my shots, good or bad, lucky or unlucky. Like most golfers, I don't so much aim at the flag as try to bracket the green with my margin of error. Even my single uncontested ace deserves an asterisk: "Player had no idea what he was doing." Still, there's something deeply satisfying about a hole-in-one. Did I mention that my name is on the plaque?